That's now something as four weeks that I didn't write anything on this blog. To tell the truth, a post about the E-Type should have followed the last one within the usual three-day delay, but I simply lacked any inspiration for writing it...
A little history
...for what is still to be written about such a mythical car? It probably is the ultimate sports car of the Sixties, a sleek, powerful, glamorous yet relatively affordable roadster. By affordable, I obviously mean that it enjoyed a rather low factory price in its time, keeping in touch with the Jaguar tradition, as it saw since then its value skyrocketing at auctions. And what is marvellous with this car is the fact that, more than any other Jaguar, with its muscular, tastefully curved body, it fully incarnates the animal the Coventry factory took its name from.
Jaguar had to replace its long-running XK series. All what its engineers learned during the Fifties with the C- and D-Type racing cars was put to good use when designing the road-going E-Type. The most noticeable similarity between the Le Mans-winning D-Type and its heir was the rounded bodysides/small track combination, a typical characteristic that was supposed to favour high speeds on long straights. Another heritage was the four-wheel disk brakes system. It had been pioneered in motor racing by Jaguar with its C-Type, and was now made part of its road-going cars' equipment. Power came from the trusted 3.8-litre DOHC straight six used by the XK150. Available as two equally rakish roadster or fastback coupe, the E-Type was introduced in March 1961.
The car's career would last for fourteen years, during which it didn't change much overall, or rather, evolved by constant yet tiny steps. Jaguar tried to improve two aspects of its E-Type: its comfort, which, as with most other British roadsters of the time, wasn't its main quality; and its performances, in order to stay competitive as younger rivals were seeing light.
More than anywhere else, comfort was crucial on the American market, where the car was widely sold as the XKE. New seats and a fully-synchromesh gearbox solved a few of the limitations of the initial car. Jaguar couldn't avoid offering an automatic transmission, which was done by 1966. Simultaneously, a 2+2 coupe was added to the strict two-seater offered at first.
Regarding performances, the early E-Type's 3.8-litre block was replaced by a larger 4.2-litre six as early as 1964. The new engine also addressed a common problem of the first production cars: overheating. Finally, Jaguar was able to squeeze its 5.3-litre V12 under the E-Type's bonnet in 1971.
More than 38,000 E-Type left the Jaguar factory before the model was discontinued in 1975, in favour of the larger, heavier and somewhat blander XJS. Commercial success was its first goal, and was fully attained. As an iconic automobile, the role played by the E-Type to further enhance Jaguar's image cannot be measured. On the other hand, the racing career of the E-Type was, unlike that of the XK series, virtually non-existent, except during its very first years when a special "lightweight" version was developed.
About the models
I often said that I prefer to spend my money on scale models of vintage cars rather than modern ones. I should add that among my priorities, I buy die-casts of plain cars rather than classics. For this reason, all of my E-Types are very simple and cheap models – one day perhaps I'll finally buy a decent model of this great car.
Model:

Jaguar E-Type
Year:
1961
Maker:
High Speed
Scale:
1/43
Distributed by:
High Speed, "Model Collection" series
Acquired:
brand new, in May 2005, in Manila, Philippines
High Speed over-simplified its E-Type. The front end suffered most. The rear window has odd proportions in my opinion, while the wire wheels... oh no, better not to even mention them. My rating is 6/20.
Model:

Jaguar E-Type
Year:
1961
Maker:
High Speed
Scale:
1/87
Distributed by:
High Speed, "Model Collection" series
Acquired:
brand new, in August 2005, in Manila, Philippines
Obviously, High Speed's approach is less damageable in the smaller HO scale, though the wheels remain unacceptable. I'll increase my rating to 10/20 for this model.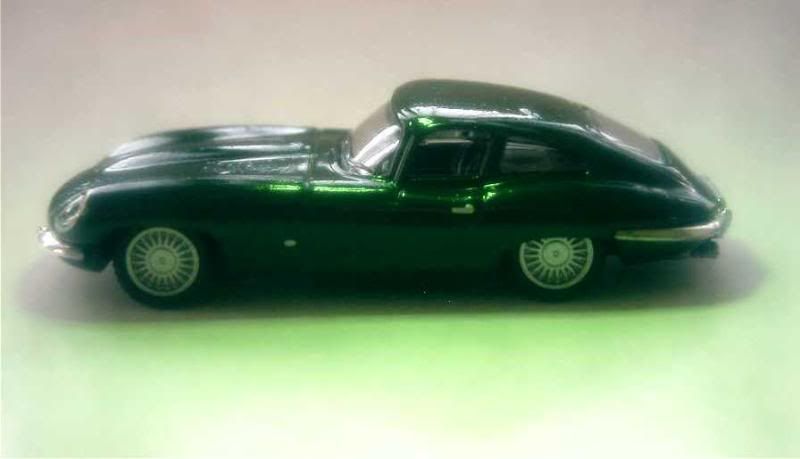 Model:

Jaguar E-Type
Year:
1961
Maker:
New Ray
Scale:
1/43
Distributed by:
New Ray, "Auto Model Kit" series
Acquired:
brand new, in September 2003, in Manila, Philippines
To make it short: it's a New Ray, period. My rating is 2/20. "No more?", some of you could ask. Oh no, believe me.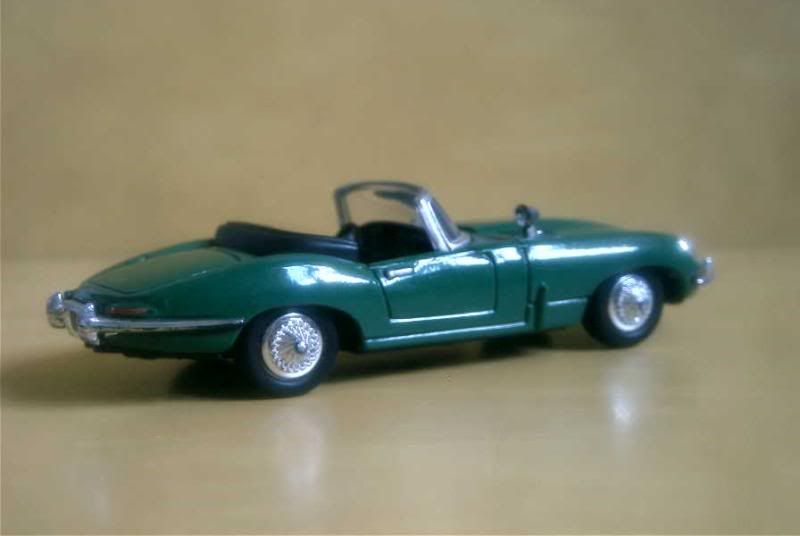 Model:

Jaguar E-Type
Year:
1961
Maker:
Del Prado, or whoever builds models for Del Prado
Scale:
1/43
Distributed by:
Del Prado through an unknown Japanese press series
Acquired:
second hand without box but with stand, in April 2006, in Manila, Philippines
...and the winner is...
Only marginally better than the previous models, this Del Prado features more details, and is proportioned correctly enough. Headlights don't receive any cover, though, which was only a trait of the last E-Types built. Wire wheels aren't good (Del Prado definitely has no idea about how to make them, whatever the model) but are still better than the ones of its rivals. Let's give it a 9/20.