A little history
After World War Two, though its executives had initially declared that the company had "ceased to exist", Mercedes-Benz' production was painfully restarted. Among all of its pre-war models, the company select the most popular ones (that is, "popular" by comparison) at the expense of the most exclusive. Despite the many difficulties that laid ahead of such a car maker in a country brought to its knees by military defeat, Mercedes-Benz made it into the Fifties, helped by its extraordinary reputation, its spotless record for reliability and its popularity among taxi operators.
Just a few years later, Mercedes-Benz was again a major player on the automotive scene. In 1951, it significantly introduced a top-of-the-line 300 model (W186). It entered production in November, marking the company's return in the luxury field. Passing through four successive stages, the 300 was built until 1962, being gradually replaced by the W111 "Heckflosse" in 1959 and the W112 in 1961.
Though the 300 had been nicknamed "Adenauer", by reference to the then-German chancellor Konrad Adenauer's use of four different 300s, the W112 wasn't made for heads of state and monarchs. A better suited vehicle was still due to be launched.
This car, the 600 (W100), finally appeared in September 1963, entering production during the following year. Powered by a massive 6.3-litre V8 engine (and not a 6.0-litre as its name could have implied), the 600 could boast performances that few sports cars of the time could, notably a 200+ kph top speed and a very good handling despite its extreme size and weight. Nevertheless, it was as a luxury car that the 600 was obviously built. One of its most striking characteristics in relation with comfort was the use of an adjustable air suspension, resulting in an extremely smooth ride. A centralized hydraulic system also allowed the 600 to benefit from power-everything: even the boot could be closed automatically. Disk brakes on all four wheels were fitted as standard, as was an automatic transmission. In fact, the 600 was so exceptional that it was voted "best car in the world" in 1967. Not surprisingly, such quality comes with a price – quite literally. A very expensive car, the 600 was boxing in the same category as the Rolls-Royce, nothing less, which limited its production to very low volumes.
The base model was a large four-door limousine (many sources speak of a saloon, but having six side windows, even the smaller 600 is, stricto sensu, a limousine), available with or without glass separation between the front and rear compartments. In standard guise, the 600 was already astonishing, but even more incredible was to come as the Pullman, set on a stretched chassis. Seating seven, the 600 Pullman could be acquired in four- and six-door forms. In addition, a landaulet, this rare type of body in which the rear seats are covered by a collapsible top, was also available and became a favourite for the pope and several African dictators alike.
The oil crisis hit the world late in 1973. The production figures of the 600 were already low; the plummeted even further, making useless to plan a replacement for the car, which external design was showing wrinkles by that time. The career of the 600 thus extended until 1981, when the venerable limousine finally retired.
About the models
Model:
Mercedes-Benz 600 Pullman
Year:
1963
Maker:
Ixo
Scale:
1/43
Distributed by:
Altaya as no.2 of its
La Légende Mercedes-Benz
press series
Acquired:
brand new, in January 2008, in Souillac, France
A few years ago, Ixo released a very nice 600 that logically joined the series initiated by Altaya. Pluses include the photo-etched star on top of the radiator, and the very nice treatment of the rear compartment, which features curtains and handle straps. A good 15/20 for this model.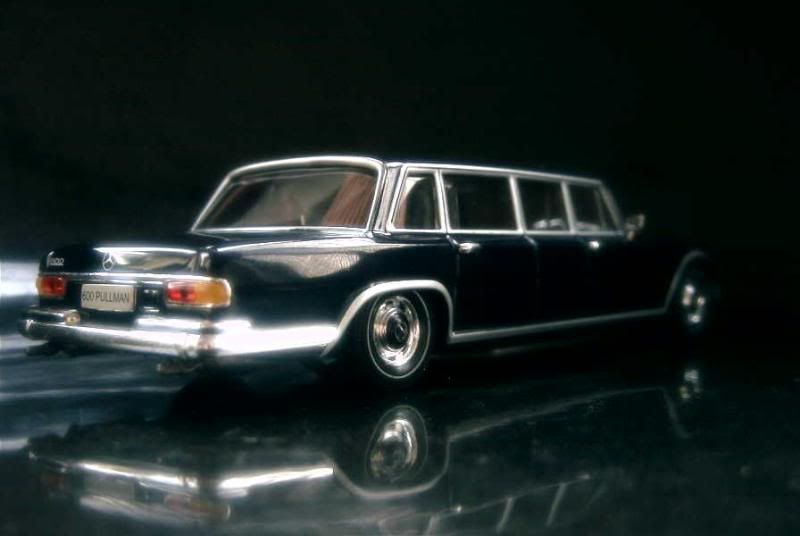 Model:
Mercedes-Benz 600 Pullman

Year:
c.1968
Maker:
Vitesse
Scale:
1/43
Distributed by:
Vitesse
Acquired:
brand new, in December 2006, in Hong Kong, S.A.R.
Vitesse's reproduction of a 6-door Pullman is older than Ixo's rendition, though it doesn't show so much. Though the famous star isn't photo-etched and therefore the front doesn't necessarily compare favourably, Vitesse fitted its model with silver plastic mouldings round the wheel arches (these parts are only painted on the Ixo) and the exhausts, though somewhat large, are hollow. All in all both models are equal in terms of quality and detailing so I'll again give a 15/20.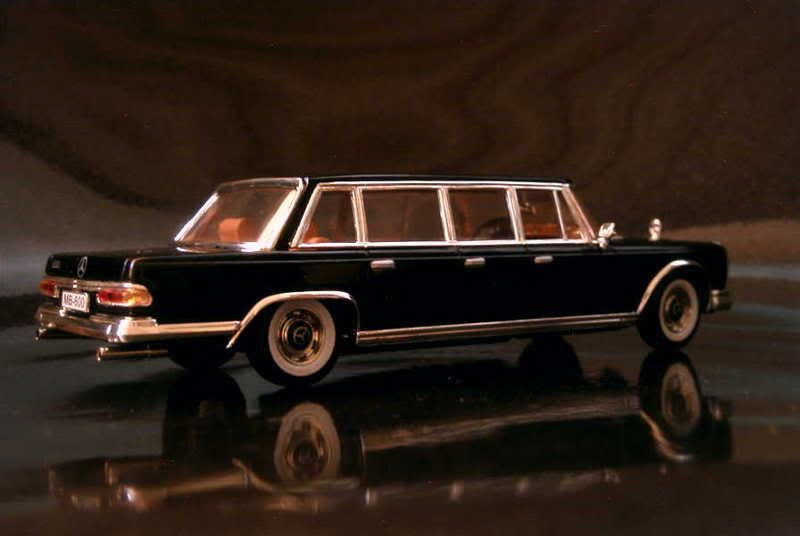 Model:
Mercedes-Benz 600 Landaulet

Year:
c.1968
Maker:
Vitesse
Scale:
1/43
Distributed by:
Vitesse
Acquired:
brand new, in December 2006, in Hong Kong, S.A.R.
Vitesse also made a 6-door landaulet (how many of the real thing have ever been built?) based on its limousine. The silver paint of the one I put my hands onto becomes it perfectly. I'm now looking for a 1/43 banana republic dictator to place at the rear. Again, 15/20.