A little history
After a long period of uncertainty, Lotus found in
Romano Artioli
a new owner who understood what the company's philosophy was all about: building lightweight GTs offering impressive performances, not overpriced supercars. Though the old Esprit would remain in production, a new model, small and affordable, would be added to the range: the Elise.
The Elise's development was a protracted one, ending in the car being launched only in September 1996, just as Artioli had to relinquish the small British company to Malaysian giant Proton after the collapse of his over-ambitious project. The small roadster was constructed on an aluminium chassis fitted with Lotus' traditional fibreglass body – as a result, at a time when extra electrical and electronic equipments had driven the weights of all other cars to towering heights, the Elise didn't even reach 750 kilograms. With a 1.8-litre four borrowed from Rover, and rated at no more than 120 hp, the Elise was capable of impressive performances. Though its top speed was obviously no match for bigger GTs, its capacities in terms of acceleration and cornering enabled the car to challenge most of its larger and more expensive competitors.
Still, some customers were asking for more performance, that Lotus was keen to deliver. A 145 hp version debuted in 1999 as the Elise 111S, followed during the next year by the 179 hp Exige. The very same engine was also fitted to a lightweight roadster, the minimalist 340R, which with less than 570 kilos could be considered a modern interpretation of the original Lotus Seven.
During the same period Lotus decided to measure itself against the likes of Porsche or Mercedes-Benz in the FIA GT championship. Cunning interpretation of the FIA rules gave birth to the Elise GT1, which used the road car's chassis but shared few other elements with its namesake. Its career wouldn't essentially extend on more than a single season, as the car was only marginally short of being catastrophic. Its chassis lacked potential, aerodynamics weren't its strong point, its gearbox was often failing and none of its engines (the GT1 could be fitted either with the 3.5-litre from the Esprit, brilliant but fragile, or the 6.0-litre lent by the Chevrolet Corvette, a GT block that proved insufficiently powerful) was satisfactory. Following the pitiful demonstration of the GT1, Proton, appalled by the staggering cost of the program, signified to Lotus that its unfortunate foray into international motorsports was over.
A Series 2 Elise was unveiled for model year 2001, which introduced many minor improvements and a body redesigned in a similar yet much more aggressive style – I personally prefer the more rounded, somehow more feminine look of the Series 1, but this is purely a matter of taste. The Elise is still produced today, the main event of its later years being the switch to a 1.8-litre Toyota engine following Rover's collapse.
About the models
Model:

Lotus Elise
Year:
c.1996

Maker:
Hongwell

Scale:
1/43
Distributed by:
Cararama
Acquired:
brand new, in December 2006, in Manila, Philippines
A simple model that nonetheless does the trick perfectly well. At just above two euros it left my budget virtually unscathed in order to purchase rarer models proposed by more expensive brands. My rating is 12/20.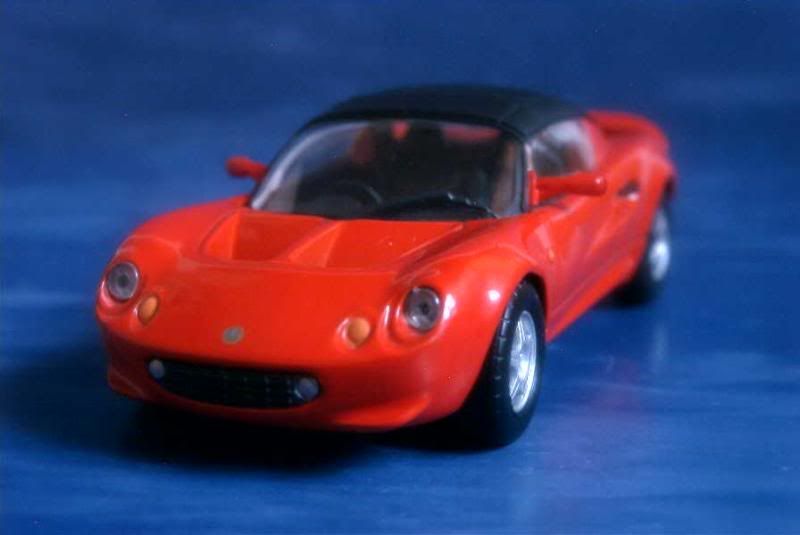 Model:
Lotus Elise GT1 - Chevrolet

Year:
1997
Event:
1997 Le Mans 24 Hours, driven by Jan Lammers, Mike Hezemans and Alexander "Sandy" Grau (retired)
Maker:
Ixo
Scale:
1/43
Distributed by:
Altaya as no.14 of its
Les Monstres Sacrés de l'Endurance
press series
Acquired:
new with neither box nor stand (probably a production overrun or quality control reject), in February 2007, in Hong Kong, S.A.R.
A correct die-cast but I have serious reservations about the clear covers on the headlights, which get loose with extraordinary ease – if you present your model out of its box, take care not to lose any, of otherwise unscrew the chassis, then add two little drops of glue on the inside of the body, where their lone stems are supposed to hold these faulty parts. My rating is 11/20.