A little history
When I was in the Air Force, one of my comrades was a sergeant who was, well, original. First of all, he was protestant and royalist, which was enough to place him into a very small minority of the French population. Second, he brought the very idea of unluckiness to new heights – though some of his misfortune befell him because of his extraordinary clumsiness, some was caused by sheer bad luck. Every Monday morning, we couldn't wait to hear what catastrophes affected him during the weekend – we were never disappointed, and guaranteed to start a week of work with a good laugh. Don't get me wrong: he was also one of the kindest person I've ever met, and was probably one of the most likeable man in our unit. Such a character had a car to match, as he was driving around in a Citroën GSA. We would continuously make fun of him, while he was always defending his poor car as a very pleasant one. That resumes rather accurately how the mid-size Citroën was perceived back then.
Of all the cars Citroën built, the GS/GSA probably was the one subject to the most acute controversies. It had inherited the hydropneumatic suspension of the DS, which was said to be sickening for its backseat passengers, and gave it a mellow ride that seemed to reserve it to senior motorists. It terribly lacked power, particularly in its initial "1015" version, so unpopular that in order to avoid having the factory flooded by overwhelming stocks of unused engines of this type, Citroën had to launch the improvised the Ami Super, an Ami 6 in which the traditional flat-twin had been replaced by this hopeless four. Furthermore, the car was difficult to maintain, and rusted within a few years. Actually my friend's car, seven or eight years old then, had such a large gapping hole in the top of its left front wing that you could easily pass your fist through it. Was it then such a terrible car as only the Soviet automobile industry seemed able to produce at that time? That's the paradox of the GS: made the butt of jokes by many, it also enjoyed an unwavering following from its loyal buyers, who found many reasons to praise it. Almost two and a half millions were built, so it definitely wasn't a failure.
Before the gapping holes in the GS' body, there was a gapping hole in Citroën's range for many years. The Traction Avant, then its replacement the DS were rather upscale models, while the 2CV was an extremely basic mean of transportation. Between these two extremes, Citroën had nothing to offer for many years. Launched in 1961, the Ami was based around 2CV mechanical parts, still making it unfit to assume a position in the middle range. The twin chevron company worked hard and long to design its gap-filler, which didn't appear before the 1970 Paris motor show: the GS.
No less than ten years of development had been necessary, but when released, the GS looked extremely advanced. Robert Opron and his team had drawn a modern fastback body, which exceptional aerodynamics – supposedly the world's best at the time – promised good economy. So successful was this design that the DS' replacement, which was introduced in late 1974 as the
CX
, would look nothing else than an overgrown GS. As it has been said, the GS used Citroën's exclusive hydropneumatic suspension, which offered both comfort – though a peculiar form of it – and excellent road holding, two qualities hardly combined in a car using a conventional arrangement. Excellent braking, achieved through then-rare discs on all four wheels, soon became one of the noted qualities of the GS. Entering the passenger compartment, one could be surprised by how roomy the car was. Ingenious warning lights, a single-spoke steering wheel and an unconventional speedometer (a drum displaying different colours depending on the car's pace was seen through a magnifying lens) gave the dashboard a futuristic twist. A slight problem was the conventional boot: Opron wanted a hatchback, but Citroën's manager refused – this proved a mistake. Nonetheless the luggage wouldn't miss space, as the spare wheel had been moved under the bonnet. As noted above, a major source of reproaches came from the performances, which were unremarkable, to say the very least. The base engine was a brand new flat-four of only 1.0-litre displacement, which 47 hp had a hard time putting the GS in motion. Most buyers overlooked the tiny block, and selected its bigger relative, a 1.2-litre which wasn't much better but, at least, allowed a GS to follow the pace of the traffic. Despite its few flaws the GS seemed a great leap forward in its range, and received the coveted European Car of the Year award in 1971.
The lack of a hatchback was soon felt. In 1972, Citroën launched an estate version of its GS, which received both engines. Unsurprisingly, sales of the 1.0-litre version were abysmal. A two-door version was also created, allowing the introduction of a panel van, a windowed van and a rare two-door estate which was only sold on some foreign markets.
A more spectacular version, though it can be seen today as of no significance for Citroën's future, was the GS Birotor which was unveiled in 1973 after years of experimentations in cooperation with Wankel. Its birotor engine was rated at 107 hp for a displacement equivalent to 2.0 litres. Powerful, comfortable, exclusive, the GS Birotor unfortunately shared with all Wankel-powered cars an unquenchable thirst for gasoline… and was introduced at the very same moment cheap oil stopped flowing from the Middle East. The Birotor was blown away within a year.
The lack of a rear hatch was finally addressed for model year 1979, when the GSA was introduced. Apart from eliminating the awkwardness of a conventional boot, the updated car was slightly facelifted to follow the trends of the time: in short less chrome, more plastic on the outside.
In October 1982, Citroën announced the
BX
as the GSA's successor. The latter kept a strong following, while the BX wasn't available as an estate during its first years in existence. This ensured continued production for a simplified range of GSAs. The last of them wasn't produced before 1986.
About the models
Model:

Citroën GS
Year:
1971
Maker:
Ixo
Scale:
1/43
Distributed by:
Altaya as no.24 of its
Nos Chères Voitures d'Antan
press series
Acquired:
brand new, in February 2005, in Souillac, France
Ixo chose a nice colour combination for its GS, though it didn't dare using the then-common brown paint with orange seats (when else than during the Seventies orange upholstery was ever popular?). Apart from this, this model seriously lacks details and overall looks a little ungainly. I'd give 10/20.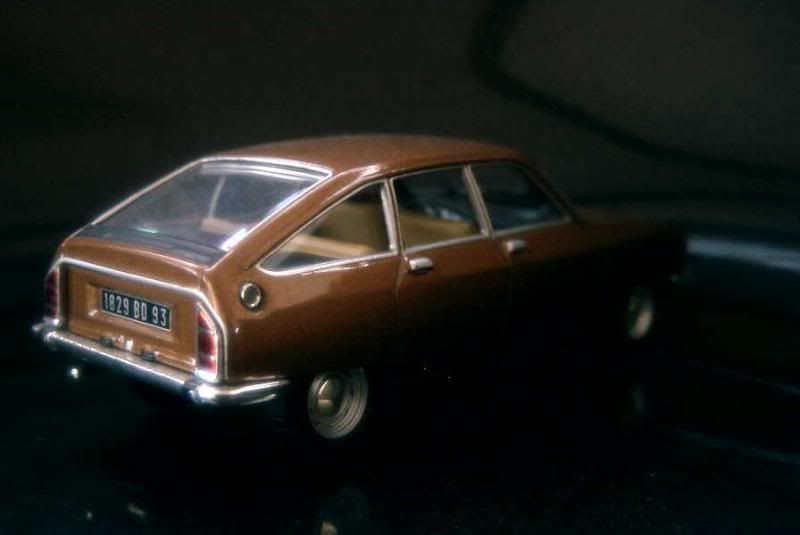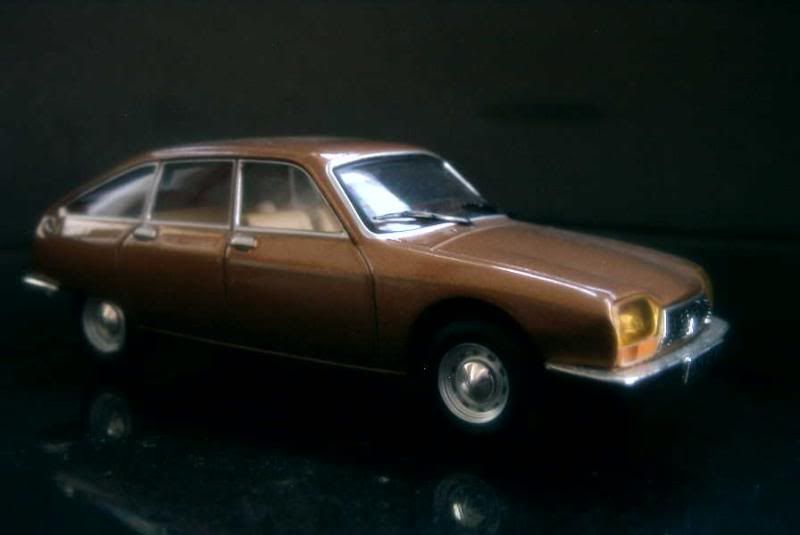 Model: Citroën GS 1015

Year:
1971
Maker:
Universal Hobbies
Scale:
1/43
Distributed by:
Atlas as no.15 of its
Passion Citroën
press series
Acquired:
brand new, in February 2005, in Brive, France
A good early GS – this
Passion Citroën
series really provided fine models at an affordable price. Combined headlights/turn signals are very realistic, much more than the ugly yellow "things" fitted by Ixo to its model. The antenna is perhaps strangely shaped, but it would be my only remark. Note that unlike Ixo, Universal Hobbies didn't hesitate to fit orange seats to its model... My rating is 13/20.
Model:

Citroën GSA
Year:
1980
Maker:
Ixo
Scale:
1/43
Distributed by:
Altaya, most probably among its
Nuestros Queridos Coches
press series
Acquired:
new with neither box nor stand (probably a production overrun or quality control reject), in January 2007, in Hong Kong, S.A.R.
Spanish collectors also enjoyed a GSA, courtesy of Altaya. The model would be nice without these huge bumpers – it seems the Ixo people mixed the pictures they based their design on with those of the lone U.S.-specs GS, still extant today, which was rejected because its mandatory 5 mph-bumpers disfigured it. Lights aren't too bad, but the stems holding them in place are much too big, hence visible. Too bad… 11/20.