JDMike suggested more rally cars: here is one!
A little history
South Korean giant Hyundai replaced its popular Accent with the Verna in 1999. Nonetheless the Accent nameplate still generated enough goodwill in many foreign countries for being carried over on these markets. A plain-looking saloon or hatchback powered by modest 1.5- or 1.6-litre fours, the Verna/Accent had nothing exciting about it either on the outside or on the inside. Still, that was the car Hyundai chose to bear its colours on the rally racing world stage.
Indeed, by the late Nineties the Accent was a huge success for Hyundai. Furthermore the company had just taken over another of the Korean "big three", Kia. It didn't lack ambition, but still suffered from a disreputable image outside of its native country. Various ways were used to remedy this problem, entering the WRC being only one of them.
The Accent WRC was first introduced to the press in September 1999. Based on the hatchback coupe version of the car, it was fitted with an aluminium-built 1998 cc inline four, mounted transversally, and able to deliver 300 hp thanks to a Garrett turbocharger. Transmission was, of course, to all four wheels through a six-speed gearbox. With 1230 kg, the car was as light as the rules would allow. Initial pilots of the Hyundai World Rally Team were announced as Alister McRae and veteran Kenneth Eriksson.
Hyundai skipped the early part of the 2000 season and made its debut in Sweden. From the very beginning the Accent WRC proved to be one step behind its direct competitors in terms of pure performance, while reliability also gave trouble to the team. Therefore the whole history of the car, spanning four seasons, would revolve around improving these two aspects. As progress in one of these two fields is generally acquired at the expense of the other, inevitably the Accent still hadn't been able to cope on its rivals by the end of 2003. Furthermore if two evolutions of the original car (WRC2 and WRC3) had been introduced for the 2001 and 2002 seasons respectively, severe budget cuts translated into a lack of development for 2003, during which Hyundai's cars seemed terribly out of pace. At the end of its fourth year in WRC, the South Korean company announced a two-year break in its rally racing program – could someone tell these guys they have forgotten to return?
About the models
Just two Accents on my shelves, but from both ends of the car's unremarkable career.
Model:

Hyundai Accent WRC
Year:
2000
Event:
2000 Swedish Rally, driven by Kenneth Eriksson, navigator Staffan Parmander (finished 13th overall)
Maker:
Vitesse
Scale:
1/43
Distributed by:
Skid, ref. SKM121
Acquired:
brand new, in December 2006, in Hong Kong, S.A.R.
One of two Accents on their very first outing is reproduced by Skid as this average model. The busy decoration has been well placed – except for the left door's race number on my model – and the wheels are nicely reproduced. The front lights look great, so why their rear counterparts should be so ugly, being plain red with a grey area (badly) painted onto them? My rating is 11/20.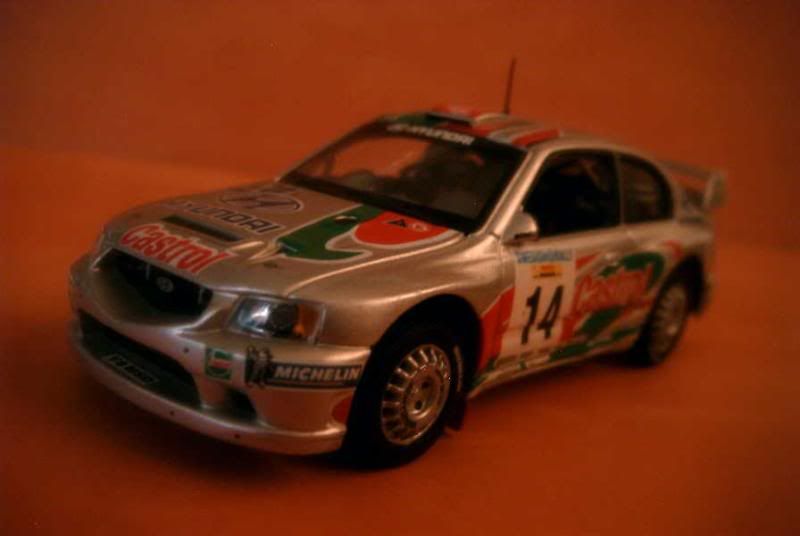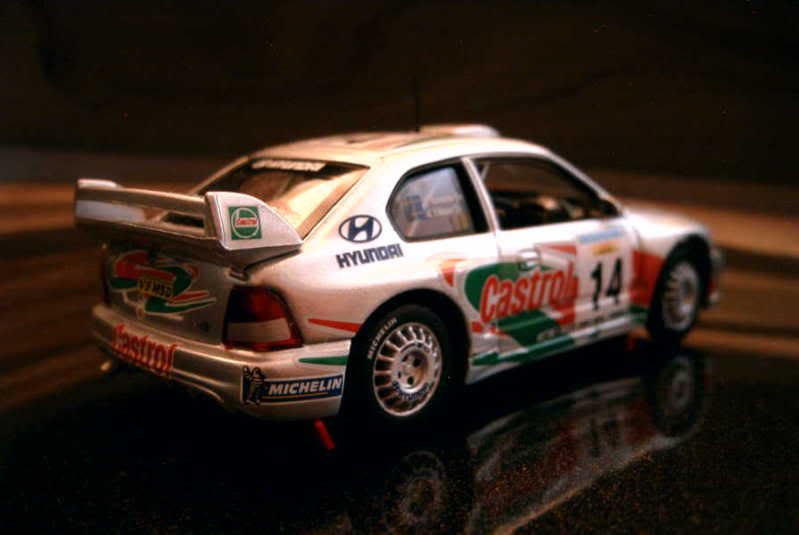 Model:

Hyundai Accent WRC3
Year:
2003
Event:
2003 Rallye Monte-Carlo, driven by Freddy Loix, navigator Sven Smeets (retired)
Maker:
Ixo
Scale:
1/43
Distributed by:
Altaya as no.10 of its
Voitures de Rallye de Collection
press series
Acquired:
brand new, in December 2004, in Souillac, France
Not much better here, but a die-cast correct enough. Ixo did just the opposite from Skid, botching the front grille but making a rare effort, considering it is a press series release, in fitting its model with twin-colour rear lights (the Chinese company probably realized that plain red lights on a plain red rear panel simply couldn't work). I'll give it a 12/20.