A little history
Charles Deutsch and René Bonnet joined forces in 1938 in order to build sportscars. Deutsch concentrated on design, while Bonnet was active competing with the resulting cars. At first, DB (from the initials of its founders) used the 1.9-litre four of the Traction Avant as an engine. Citroën's continuous opposition to any sort of involvement in motor racing made things difficult for the two young fellows, who turned to the small but highly tuneable Panhard flat-twin during the late Forties.
A specificity of all DB cars was their use of front-wheel-drive technology, a rather unusual trait for racing cars. Even their small open-wheel single-seater, built shortly before 1950 for Racer 500 events, was driven through its front wheels. Another common trait was advanced aerodynamics, which made the DBs highly competitive despite their small engines.
The HBR4 appeared in October 1954 during the Paris motor show as a small GT coupe, retaining a Panhard engine but made even lighter than its predecessors thanks to the use of fibreglass for its body. Sold as a road car for the very first time in DB history, it also enjoyed a strong following in competition. The HBR4 was produced in 660 copies until 1961, when Deutsch and Bonnet decided to split.
Charles Deutsch wanted to persevere with highly-aerodynamic, front-engined, front-wheel-drive machines. He founded CD which, with the support of Panhard, put up some impressive performances at the Le Mans 24 hours. Unfortunately, Panhard was in dire straights, and soon taken over by Citroën. CD threw the towel.
René Bonnet set up Automobiles René Bonnet, which produced a nimble GT powered by a centrally-mounted Renault engine, the
Djet
. The car was successful enough to encourage weapon manufacturer Matra to take over the whole operation. The rest is history.
About the model
Model:

DB HBR4
Year:
1958
Maker:
Ixo
Scale:
1/43
Distributed by:
Altaya as no.67 of its
Nos Chères Voitures d'Antan
press series
Acquired:
brand new, in December 2006, in Souillac, France
Altaya brought the most classic of all DBs to the low-price die-cast market through press series. The HBR4 by Ixo was featured, up to now, in two collections. This road version is nicely reproduced: 13/20.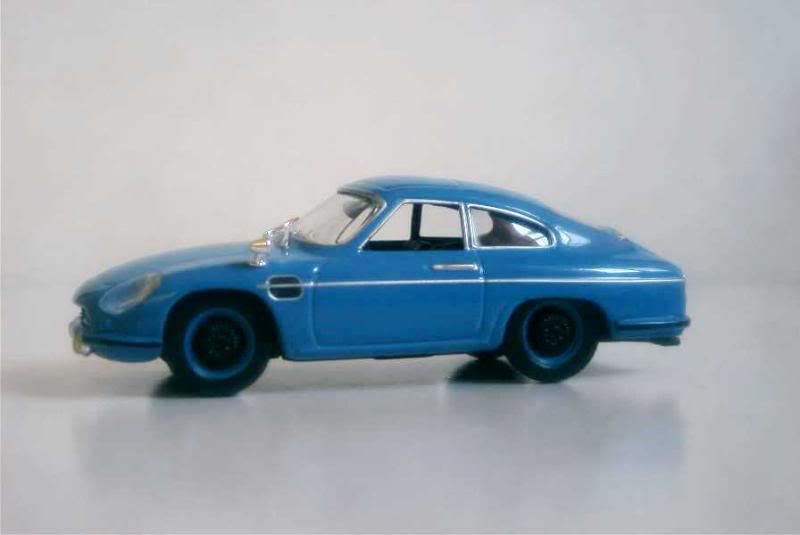 Model:
DB HBR4 - Panhard

Year:
1959
Event:
1959 Le Mans 24 Hours, driven by Jacques Faucher and Gérard Laffargue (retired)
Maker:
Ixo
Scale:
1/43
Distributed by:
Altaya as no.69 of its
Les Plus Belles Voitures des 24 Heures du Mans
press series
Acquired:
brand new, in August 2006, in Souillac, France
The same Ixo mould permitted Altaya to sell a Le Mans version of this car, which allowed amateurs to add to their collections an unusual model they would have previously paid a fortune to artisans. Original and well done: 13/20.