As per tradition, I
'll start with a warm welcome to our newest follower,
Burnmay
. Enjoy your stay here! :)

A little history
Fifteen years after the Beetle's introduction, Volkswagen's little car has never been so popular. After its native Germany, it had penetrated most European markets, then become the first widely successful import on American soil. Its replacement wasn't seriously considered yet, but Volkswagen was already willing to diversify its range.
Using a large amount of parts taken from the Beetle and retaining its general layout, Volkswagen had actually created two models other than its original Typ 1. First of all was the Typ 2, also known as the "Kombi", a cabover van available both as a utility or passenger vehicle, which had invented a whole new concept with a bright future awaiting it. Last to join Volkswagen's range had been the Typ 14, better known as the elegant Karmann Ghia coupes and convertibles. As you would have noticed though, none of these additional vehicles were of the mainstream "family car" type.
Therefore, the Typ 3 was introduced as a "super-Beetle" of sorts in August 1961 during the Frankfurt motor show. The larger car (though its wheelbase was actually unchanged) gave up the antiquated round style of its smaller sibling and came as a pontoon-bodied, three-box car that nonetheless retained the rear air-cooled flat-four engine, though slightly enlarged to a 1.5-litre capacity. This engine also powered a brand-new Karmann Ghia Typ 34, a larger and more expensive coupe than the older Typ 14 which it didn't replace, but simply backed up.
Though initially available as the sole "1500" two-door saloon, the Typ 3 was soon supplemented by new models. A "Variant" two-door estate was put on sale as early as 1962, while a fastback "TL" coupe followed in 1965. The initial engine being rated at a modest 45 bhp, a 1500 S variant with two carbs and 54 bhp was added in 1963 before a 1.6-litre engine, which induced a name change to "1600", was introduced in 1965. A 1968 technical refinement was an electronic fuel injection system developed by Bosch, a novelty at the time for a popular car.
If you read carefully you noticed that I mentioned an estate version. Quite unusual for a rear-engined car, isn't it? Volkswagen engineers made a wonderful job with the Typ 3, the boxer architecture of the engine and a revised air-cooling system allowing the very slim block to fit under the rear cargo compartment of all models, saloons and coupes included. This guaranteed an unusually large volume available for luggage and cargo, even if Volkswagen felt necessary to increase it further thanks to a 1970 facelift that saw the car's nose greatly extended.
The Typ 3 proved successful, though without any possible comparison with the Beetle. The car was everywhere on German roads and was quite appreciated in America but, to be frank, I almost never saw any of them in France. Nevertheless, this was enough to justify a similar approach for Volkswagen's next model, the slightly larger
Typ 4
, known as the "411". Also available as a four-door, unlike the 1500/1600, the 411 was introduced in 1968, but the older Typ 3 remained in production. Both cars were finally withdrawn between 1973 and 1974, when they were replaced by the brand new Passat and, to some extent, the upper models of the
Golf
. These two new cars were water-cooled front-engine, front-wheel-drive saloons, the traditional Volkswagen architecture seeming more and more dated at the time. Despite this, models technically related to the Typ 3 and the Typ 4 continued to be produced by Volkswagen Brazilian's subsidiary until 1980.
About the models
Model:
Volkswagen 1600 TL

Year:
1966
Maker:
Minichamps
Scale:
1/43
Distributed by:
Minichamps
Acquired:
brand new, in February 2008, in Manila, Philippines
A nice and accurate model. As usual, and as often mentioned here, the plastic wipers look too thick but the wheels fitted with hubcaps seem great to me. My rating is 13/20.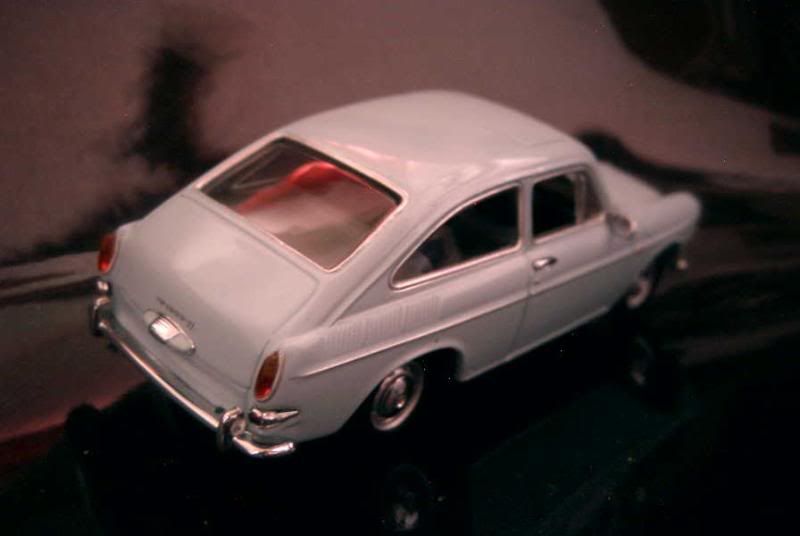 Model:
Volkswagen 1600 Variant

Year:
1966
Maker:
Minichamps
Scale:
1/43
Distributed by:
Minichamps
Acquired:
brand new, in February 2008, in Manila, Philippines
Equally good as the previous die-cast, though my copy seems very sensitive to corrosion (actually my fastback model has the same problem, which is unfortunately common with Minichamps models). I'll give a 12/20 rating to this model.