A little history
A Renault agent from Dieppe, Jean Rédélé was also an amateur pilot. At that time, the company he represented had a wonderful base for cheap racing: the
4CV
. And as Rédélé had a special gift for tuning his cars, he soon became successful, so much actually that he decided to create his own little company, Alpine, to manufacture a small sports car using 4CV mechanical parts. He wasn't the only one, not even the first to devise such a plan, but once again, was the most successful in this endeavour.
Alpine's first production car, the A106, appeared in 1955 as a small, rounded coupe. Though still far from what the famous A110 would look like, most of the elements of the future Alpines were already in place with the A106, most notably its fiberglass body, its tubular backbone chassis which gave perfect road holding, and its Renault engine and gearbox.
Helped by further wins in competition, the A106's sales flourished. A good-looking convertible, penned by Italian designer Michelotti, was soon added to the line. Nevertheless the turtle-like look was rapidly ageing, so Michelotti was called in again to update the car, which became the
A108
in 1958. Limited quantities of A106s were built for some time after the gradual introduction of the newer car, before it finally retired. Though possibly the least remembered of all Alpines, the A106 had done its job well and paved the way for the few brilliant decades that would follow.
About the models
Model:

Alpine A106
Year:
1956
Maker:
Ixo
Scale:
1/43
Distributed by:
Altaya as no.23 of its
Nos Chères Voitures d'Antan
press series
Acquired:
brand new, in December 2004, in Souillac, France
A rather good model of the A106 was offered by Altaya a few years back, and should still be found easily. I'd give 14/20 to it.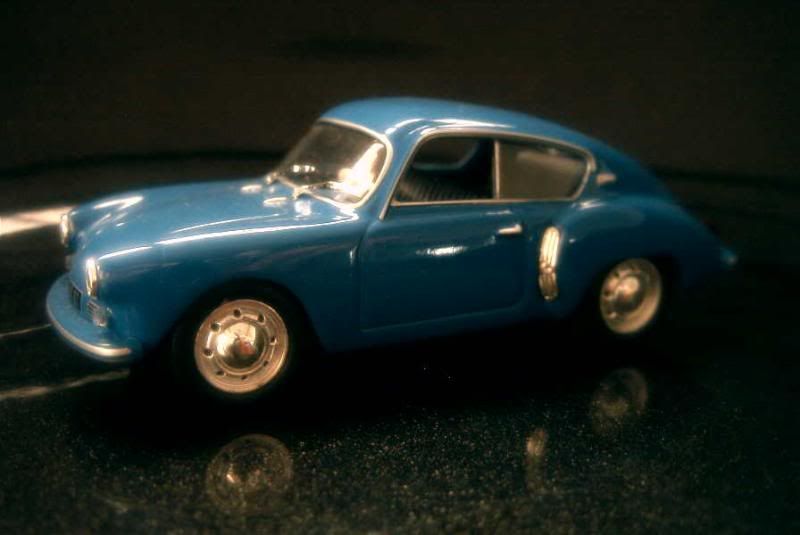 Model:
Alpine A106
Year:
1958
Maker:
Eligor
Scale:
1/43
Distributed by:
Hachette as no.25 of its
Alpine & Renault Sportives
press series
Acquired:
brand new, in December 2008, in Souillac, France
Eligor proposed this convertible A106 through a Hachette series, but it's possibly slightly inferior to the Ixo-made version. Furthermore, on my copy of this model, the paint of the left front wing is totally botched and the left headlight is badly put in place (though hardly visible on the following pictures), and should have probably been rejected by quality control. Eligor found it good enough to be sold – I find myself good enough to give it 8/20 due to poor workmanship…
An update: similar problems with the paint job of the
A108 coupe
seem to indicate that Eligor has a serious issue here. It is just shameful that the French manufacturer dares selling models as those ones.