A little history
Many artisans sprung up in France during the Fifties, with a large part of them producing nimble sports cars. Such a trend was favoured by the availability in the country of two small production engines that were excellent bases for racing preparation, the flat-twin Panhard and the
Renault 4CV
's inline four. None of these companies, some of them only enjoying a brief existence, was more successful than Alpine.
We have already seen how Jean Rédélé, Alpine's founder, created the
A106
. By the late decade some more modern cars had been introduced, while the 4CV's, from which the A106 drew most of its parts, had been joined in Renault's range by the
Dauphine
. Rédélé's logical step was to commission a new car based on Renault's newest popular car, calling it the A108.
Alpine's very limited production at the time allowed great flexibility, but is an automotive historian's nightmare today. Hardly two cars were alike, and even the switch from the A106 to the A108 was gradual. Therefore, the very first A108s, introduced during the 1959 Paris motor show, were hardly different from the A106s they replaced. They enjoyed some technical refinements but overall looked similar. Still, the final A108's design was already in embryo, in the form of specially-bodied A106 prototypes presented over the years. The first "true" A108 appeared in 1960, surprisingly not during a motor show, but on the starting grid of a racing event. For the Tour de France, Alpine had developed a special A108 coupe, the fastback "berlinette", which proved a success and was immediately nicknamed "Tour de France".
The 1960 A108 Tour de France now had all the characteristics of what is today perceived as a classic Alpine. A central tubular backbone supported a small Renault inline four, set at the extreme rear of the car, and a fiberglass body that was sealed into place. This arrangement made the A108 incredibly light: the car would only weigh in the vicinity of 580 kilos.
The A108 was good enough, but its concept was soon further refined into the mythical A110. For a time both models were produced, but the
berlinette
version of the older car retired in 1963. The A108 nonetheless survived in two forms. First was a 2+2 coupe, introduced in 1961, which enjoyed a lengthened platform and a different body. Designed by Chappe & Gessalin, a coachbuilder associated with Alpine since its very beginnings, but which would soon develop its own sports car, the Alpine-inspired but Simca-powered
C.G.
, the A108 2+2 had odd proportions and seemed out of balance. Performances were comparatively disappointing, and the 2+2 was often seen as a lady's car. It was produced in limited quantities until 1965, though a much more elegant GT4 had been added long before. The second A108 survivor was built in faraway Brazil as the Willys Interlagos, available in a full range of
berlinette
, coupe and convertible models. Though the American company had concentrated on Jeeps and trucks in its homeland, its local subsidiary was still building road cars, among them an updated version of the Aero sedan and, starting in 1960, a Renault Dauphine built under license. In 1961, Willys clinched another contract for the soon-to-be-discontinued A108, to be constructed in the Americas as the Interlagos after the famous local circuit. If I'm not mistaking – our Brazilian friends may correct me if I'm wrong – this license owed much to "Bino" Heins, a young local pilot who was killed a few years later at Le Mans while driving an Alpine, and his father, the brand's local importer.
About the models
Three models today… but none of the most obvious A108
berlinette
type!
Model:

Alpine A108
Year:
1959
Maker:
Eligor
Scale:
1/43
Distributed by:
Hachette as no.29 of its
Alpine & Renault Sportives
press series
Acquired:
brand new, in December 2011, in Souillac, France
The model itself is nicely done and correctly assembled, but the paint job is a complete disgrace. For this reason I'll limit my rating to 9/20, though with a nicer paint it could have been much higher. Interestingly, this doesn't to be an isolated problem for Eligor, as I already complained about the poor quality of the
A106 convertible
.
Model:

Alpine A108 Coupé 2+2
Year:
1961
Maker:
Universal Hobbies
Scale:
1/43
Distributed by:
M6 as no.52 of its
Renault Collection
press series
Acquired:
new with neither box nor stand (probably a production overrun or quality control reject), in January 2007, in Hong Kong, S.A.R.
Overall proportions and respect of scale are correct, but could have been better. Many separate parts have been fitted by Universal Hobbies. At any rate the model is more good-looking than the original, arguably the ugliest Alpine ever produced. My rating is 12/20.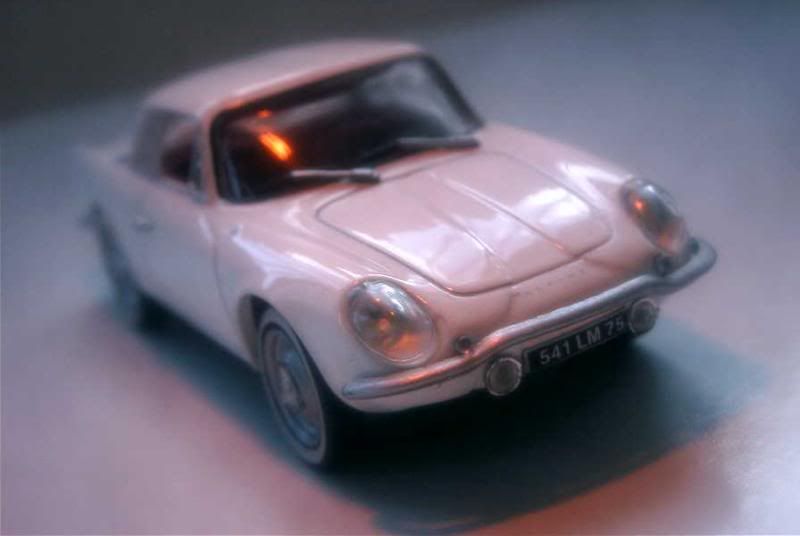 Model:

Willys Interlagos
Year:
1964
Event:
1964 Brasília 12 Hours, driven by Emerson Fittipaldi (finished 2nd overall)
Maker:
Eligor
Scale:
1/43
Distributed by:
Hachette as no.8 of its
Alpine & Renault Sportives
press series
Acquired:
brand new, in December 2007, in Souillac, France
Basically Eligor's A108 fitted with a different paint; as Axel'R's version of the very same car is noticeably dissimilar (see this limited edition – 50 pieces only – collectible on our friend Tohmé's
excellent blog
), and though I never saw a picture of the original vehicle, I suspect that Eligor's budget version doesn't mind much for accuracy. I'll give a 11/20 to this otherwise nicely made model.