A little history
Its initial
Type A
model quickly made Citroën the largest of all French automobile constructors. Coming out of nowhere, the Javel company beat rivals such as Renault, Peugeot or Mathis thanks to methods learnt across the Atlantic, at Budd's for the body construction, and at Ford's for the cars as a whole.
The Type A was succeeded by the Type B in May 1921. The original B2 mutated in steps into the B14, which enjoyed brakes on all four wheels and – a rare luxury at the time, all the more on a popular car – they even were power-assisted on the very last B14s. By October 1928, when the B14's successor was unveiled during the Paris motor show, Citroën was still much ahead of the competition.
In fact, two models were introduced by Citroën, the C4 and the C6.
The C4 was the direct replacement for the B14. It took over its 1.6-litre four engine, albeit in upgraded form. Many other mechanical parts were improved. On the outside, the C4 was six centimetres lower than its predecessor, while its bonnet was higher – though this forced to adopt smaller windows, the visual effect was that the C4 looked much lower than it actually was. The steel disk wheels of the B14, obsolete by that time, were replaced by new all-metal ones of a modern design. Overall, the C4 looked pretty much as its style had been penned in Detroit but, actually, an increasing number of European cars then took their inspiration from American products.
The C6 was an upmarket version of the C4, with which emboldened Citroën expected to fight yet more closely the slightly more middle-class Renaults. In pure Javel style the C6's design had been highly rationalized: it was basically a C4 with a longer bonnet in order to accommodate a larger 2.4-litre inline six, that was in fact nothing more than the C4's block with two cylinders added. Most of the difference was made in small cosmetic details: a fancy two-tone paint, a chromed grille, chromed hubcaps, and most optional equipments of the C4 made standard. Starting in 1931, "Floating Power" engines, using rubber mounts to minimize vibrations and built under a Chrysler licence, greatly improved the comfort of the C6.
Another Citroën trait was the constant improvements from which its production benefited. In four years of production, the C4 and C6 went through four different production models, no less. This was certainly efficient to maintain the technical edge the company enjoyed over its rivals, but probably hazardous from an economic point of view. Anyway, this strategy's most immediate effect was that both cars enjoyed strong sales, being produced in more than 180,000 copies until 1932. Nevertheless, the C6's sales were below expectations, though it was involved in various publicity stunts that were highly advertised. Again more inspired by the American example than a genuine visionary, André Citroën missed no opportunity to make his company the talk of the moment. That was the time his name illuminated Paris every night, after he had rented the Eiffel Tower and used tens of thousands of electric bulbs to write a huge "CITROËN" sign over the soaring monument. Regarding the C6, he had one offered to the pope, fitted with a coupe de ville body and a rather baroque seat in the rear compartment; another one, nicknamed "Rosalie", engaged in successful record-breaking runs at Montlhéry; and finally a new scientific mission, following the 1924-25 "Croisière Noire", was organized with half-tracked C4s and C6s between Lebanon and China as the "Croisière Jaune".
The C4 and C6 were replaced by the
8CV to 15CV
models, designated as a whole as the "Rosalie", a name paying homage to the successful record car.
About the models
Model: Citroën C4

Year:
1929
Maker:
Universal Hobbies
Scale:
1/43
Distributed by:
Atlas as no.19 of its
Passion Citroën
press series
Acquired:
brand new, in May 2006, in Souillac, France
UH's Citroën C4 is nicely done and benefits from many separate parts, but unfortunately has been fitted with wheels that are much too small in diameter, compromising the overall silhouette of the car. Also note the mistake made regarding the date on the plate number (the model's stand correctly mentions 1929). My rating is 10/20.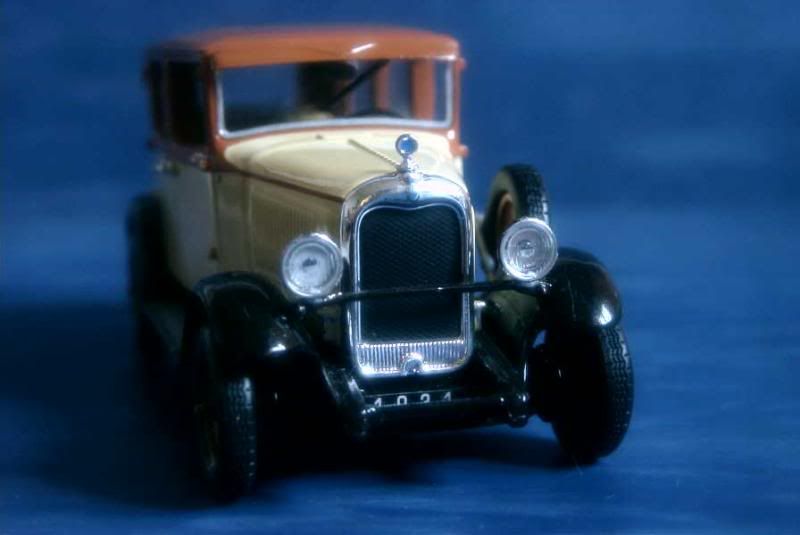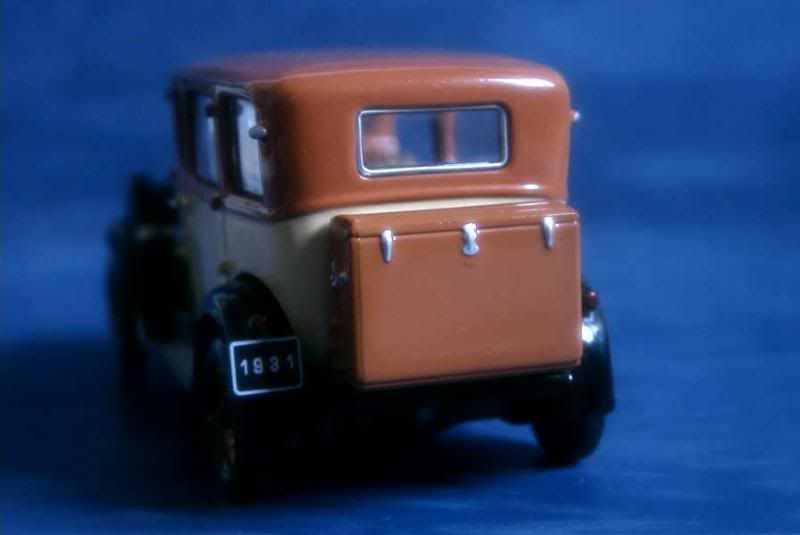 Model: Citroën C4 F

Year:
1930
Maker:
Solido
Scale:
1/43
Distributed by:
Solido, "Âge d'Or" series
Acquired:
brand new, in August 2003, in Brive, France
Solido's C4 is much better proportioned, and though a little more detailing would have helped, this "Fauchon" van is quite pleasant. The rear door can be opened, though it's unfortunately made of black plastic. On my model, the golden decals have poorly resisted to the damages of passing time. My verdict: that's a well deserved 12/20. By the way, Fauchon is a famous gourmet grocery and fine caterer from Paris.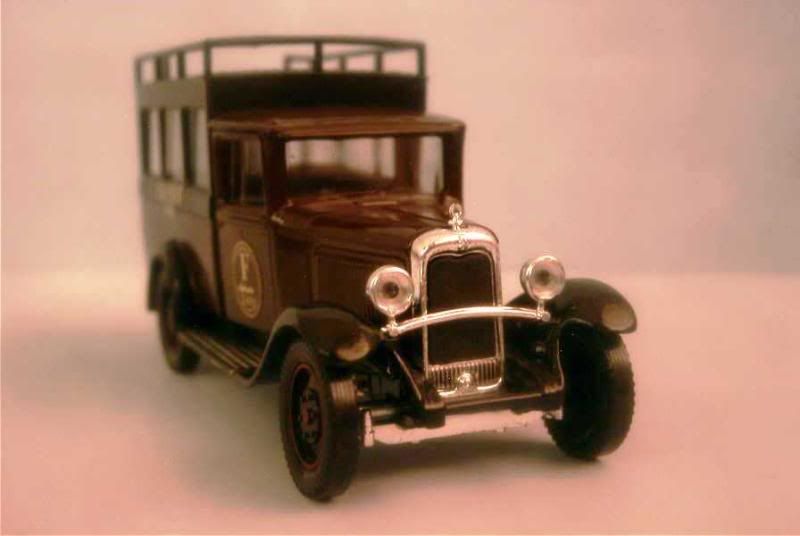 Model: Citroën C4 F

Year:
1930
Maker:
Solido
Scale:
1/43
Distributed by:
Hachette
as no.6 of its
Sapeurs Pompiers de France
press series
Acquired:
brand new, in December 2008, in Brive, France
Here is now for JDMike's son Ken. Using the same base as the previous model, Solido also proposes this C4-based fire truck. Many parts look too much as plastic to my taste, while the windshield is made of a single piece of clear material, without any paint to represent its frame. I'll limit my rating to 10/20 this time.