A little history
Bugatti entered the Thirties with an intricate range that didn't make much logic for a low-volume manufacturer as the Alsacian company was. Starting in 1934 a single product replaced all previous models: the Type 57.
Based around the reliable 3.3-litre straight eight engine, the Type 57, or T57 in short, still featured rigid axles front and rear, a concession to Bugatti's tradition that caused some disappointments among motorists. Apart from this detail the T57 was a brilliant car, which 135 bhp promised good performance, with notably a top speed in excess of 150 kph. To make things even better, due to the interesting rate of the French Franc at that time, it was a bargain on some export markets, notably in Great Britain.
Many variants of the T57 were built, the best known being the T57S with a lowered chassis, the T57C fitted with a Roots compressor, and a rare T57SC which combining the characteristics of the previous two models. Furthermore, with Bugatti then shying away from Grand Prix racing due to the domination of German teams Mercedes-Benz and Auto Union, most of its racing cars from that time were sportscars based on the T57.
Though it was possible to buy a bare chassis in order to have a one-off body built by a specialized coachbuilder, the T57 proposed a range of extremely attractive factory-designed bodies, notably the elegant Atalante and the rakish Atlantic, which are today much sought after by wealthy collectors.
Unfortunately, the T57 is also linked to a tragedy that sealed the company's future. While testing the T57 that had just won the Le Mans 24-hour race on a road supposedly closed to traffic, Jean Bugatti, the company's main engineer and designer, and heir of founder Ettore Bugatti, swerved to avoid an irresponsible bicycle rider, crashed into a tree and was instantly killed.
Several hundreds of T57 were built until 1940, while a handful of T101, based on this pre-war model but fitted with an updated body, were additionally constructed as late as the early Fifties.
About the models
Model:
Bugatti T57G Spyder

Year:
1937
Event:
1937 Le Mans 24 Hours, driven by Jean-Pierre Wimille and Robert Benoist (finished 1st)
Maker:
Ixo
Scale:
1/43
Distributed by:
Altaya as no.19 of its
Les Plus Belles Voitures des 24 Heures du Mans
press series
Acquired:
brand new, in June 2004, in Souillac, France
Altaya released this model among its "24 Heures du Mans" collection some years ago now. Though Ixo's model is quite correct, the original wire wheels have been replaced by cheaper… things… well, I don't really know how to call them, but I do know that they spoil most of the car's beauty. I certainly won't give more than 11/20 for this – and I'm perhaps generous here.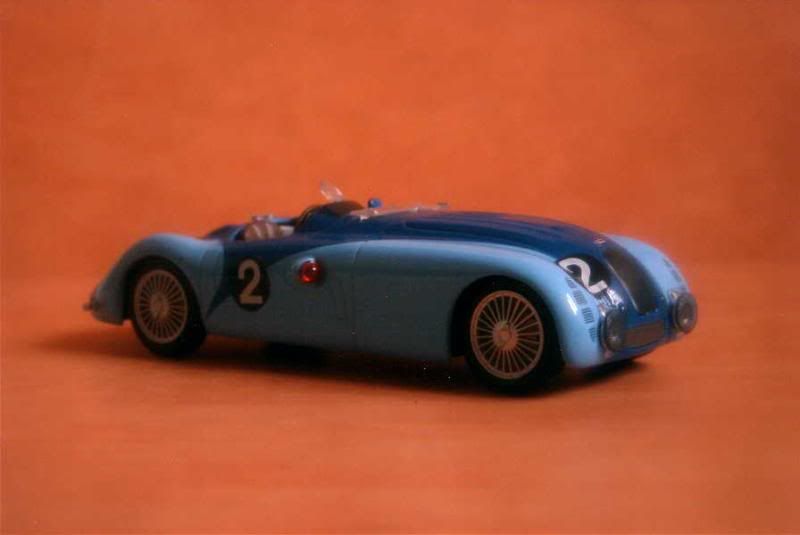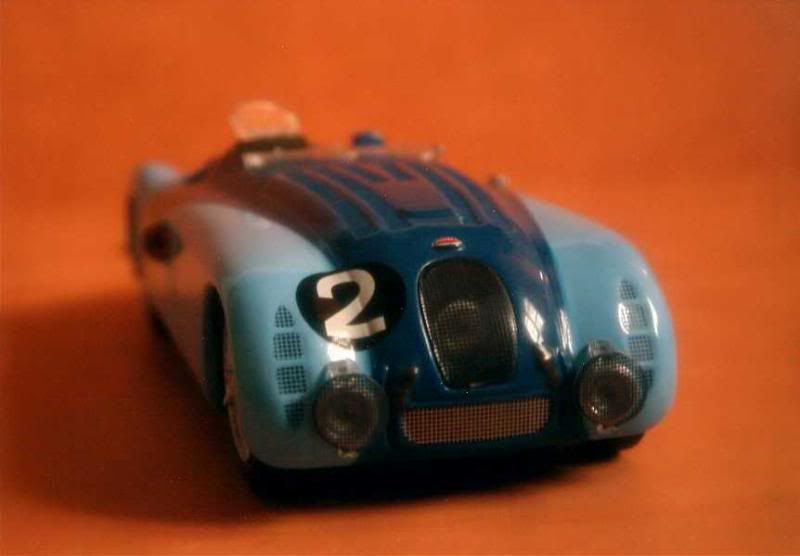 Model:
Bugatti T57SC Atlantic
Year:
1938
Maker:
Ixo
Scale:
1/43
Distributed by:
Altaya as no.18 of its
Voitures Classiques
press series
Acquired:
brand new, in August 2006, in Souillac, France
Another Altaya release, and this time a much better one. Not surprisingly this model compares favourably to Solido's rendition of the same car, which is now a collector's classic but definitely shows that it has been designed decades ago. Altaya's version is finished in a beautiful blue – any other colour for this particular model would have been tantamount to criminal. Wire wheels are rather "thick" though, an inescapable fact due to Altaya's cost-cutting choices. My rating is 13/20.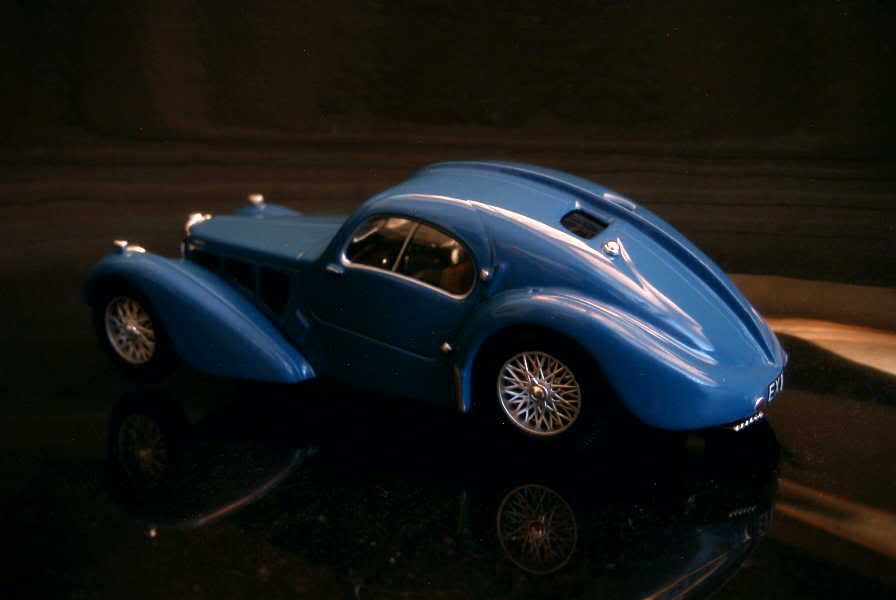 Model:
Bugatti T57S Atalante
Year:
1939
Maker:
Solido
Scale:
1/43
Distributed by:
Solido
Acquired:
second hand with stand but without box, in December 2008, in Brive, France
A recent addition to my collection, this is the well-known Solido version of the Atalante. Though simple by today's standards, the model still looks rather nice. I'm lucky enough that mine is painted in a beautiful black and blue combination – as indicated, it's a second hand model, so I didn't have much choice – as not all Solido's Atalante look this nice, or authentic. Though some details would be better reproduced should the model be designed today, it still deserves a place on any collector's shelves. I'd give it a 12/20.
Model:
Bugatti T57C Spyder

Year:
1939
Event:
1939 Le Mans 24 Hours, driven by Jean-Pierre Wimille and Pierre Veyron (finished 1st)
Maker:
Ixo
Scale:
1/43
Distributed by:
Ixo "24 Heures du Mans" series
Acquired:
brand new, in December 2007, in Manila, Philippines
This model shows all the difference there can be between a genuine Ixo and a cheaper Altaya-distributed one. This 1939 racer is fitted with very nice wire wheels – in my humble opinion an Ixo specialty – that do much to make it a true gem. Other details, notably inside the cockpit, are beautifully done too. A very nice model which undoubtedly deserves a 14/20.
(I'll replace the following picture as soon as I find in which carton this model can be.)