Some posts require time and efforts to write. This should be relatively easy this time, as we'll discuss about a car and an era I'm fond of…
A little history
After a short hiatus in 1968, Ferrari returned to endurance racing in 1969, only to find that its rival Porsche had taken the highest spot in this category, and would be difficult to dethrone. Ferrari bet on the 312 P (for "3-litre V12 prototype"), versus the huge 4.5-litre powering Porsche's 917. Without much surprise, the Scuderia was utterly beaten. Notwithstanding defeat, Enzo Ferrari decided to fight back in 1970 with a 5-litre car, the maximum displacement allowed. There was a slight difficulty: the rules stipulated that sportscars above 3 litres should be produced in a minimum of 25 copies. The cost of building such a series of high-performance machines was staggering. To finance the project, the Commendatore decided to sell half of the stock of his beloved company to Fiat. One of the most important choices he ever made in his entire life, it probably was – but certainly not one of the happiest. The 512 S, designed for the 1970 season, was indeed powerful, but also heavy and fragile. Further development was needed while Porsche, which had introduced its 917 in the midst of the previous season, was now fully prepared. To make things worse many experienced pilots had deserted Ferrari to drive for one of the many teams fielding a 917.
The expected clash never really happened. Though Ferrari maintained the illusion of competitiveness for a while, even scoring a lucky victory at Sebring thanks to a last-minute charge by Mario Andretti after all favourites had retired, Porsche soon proved unbeatable. Near the end of the season, the Scuderia introduced an evolution of its car, the 512 M, which corrected some of the flaws of the 512 S. Jacky Ickx demonstrated how fast the new machine was. Would the ruthless battle finally occur in 1971? Alas, no. With new rules allowing only 3-litre cars no more than one year away, Ferrari decided to abandon its 512 and use the whole season to fine tune a new spyder, the
312 PB
, so it can be ready by 1972 – no teething problems to fear this time…
That the Scuderia lost its interest in it didn't mean the 512 would retire. Many private teams were still running cars updated, for the majority of them, to "M" standards. Best of them was Roger Penske's Sunoco, with the fast Mark Donohue as its forefront pilot. Penske's 512 M often seemed able to outpace the 917s, only to retire or be slowed down by mechanical problems. Neither the American team nor any other outfit racing 512s was receiving from Maranello the technical support it could have legitimately expected, while many Porsche customers could be considered semi-works for the help given to them by the German company was important. Of these two conceptions, Ferrari's was neither the most modern nor the most efficient. As a result, the company's tally remained desperately blank that year.
To conclude, the 512 was probably one of the worst disappointments Ferrari ever encountered, winning only one championship race in two years, with that only by sheer luck on its second outing. The company's control had been handed over to Fiat, to no avail. But what a wonderful failure the 512 was! Today it typifies the sportscar of the era as much as the 917 does, and, with serious development and more professionalism from the Scuderia, could have certainly been a convincing contender as its potential was distinct.
About the models
Model:
Ferrari 512 S "Coda Lunga"

Year:
1970
Event:
1970 Le Mans 24 Hours, driven by Hughes de Fierlant and Alistair Walker (finished 5th)
Maker:
Ixo
Scale:
1/43
Distributed by:
Fabbri as no.23 of its
Ferrari Collection
press series
Acquired:
brand new, in May 2006, in Souillac, France
Not the best 512 S around – well, how much for the same car by BBR? Proportions are not necessarily ideal but this model could have ended up worse. I'd give a 12/20 rating.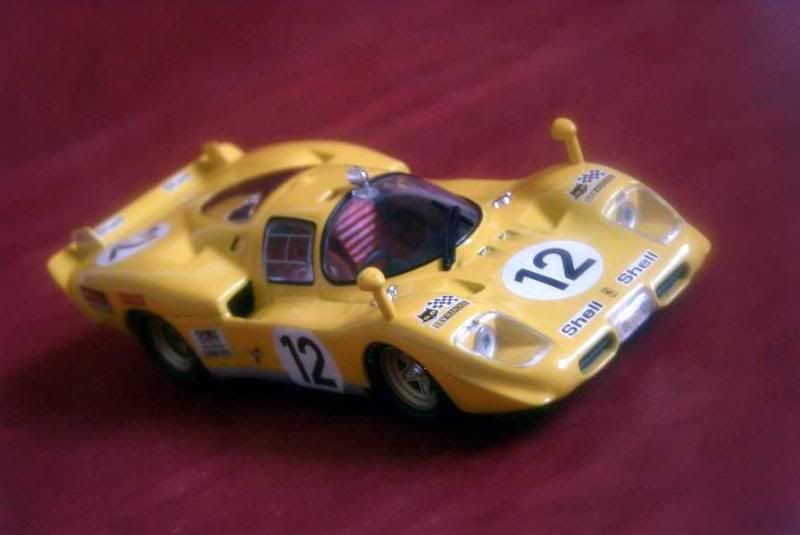 Model:
Ferrari 512 M
Year:
1971
Event:
1971 Le Mans 24 Hours, driven by Sam Posey and Tony Adamowicz (finished 3rd)
Maker:
Ixo
Scale:
1/43
Distributed by:
Altaya as no.35 of its
Les Monstres Sacrés de l'Endurance
press series
Acquired:
brand new, in December 2008, in Souillac, France
Much better here. This North American Racing Team's 512 M is a joy to look at from most angles, though the highly visible engine is poorly detailed. Conspicuous too is the absence of a small opening above the cockpit – what's the purpose of a roof-mounted mirror without one? My rating is 14/20.