A little history
Well, most enthusiasts know this one already, at least through the movie that has been made out of its story about twenty years ago. Actually, if you just know the latter, in which Coppola is extremely partial – Americans love seeing real-life David and Goliath stories everywhere –, let me oppose my own version of it.
Just as World War Two ends, a guy whose experience in automobile is limited to entering race cars at Indianapolis and designing an armoured car the U.S. Army didn't want has an indisputably brilliant idea for a very modern automobile. Unfortunately he has grandiose plans to build it, but less money to make them reality than any of the "Big Three" would spend to renovate the restrooms of their factories. The guy proceeds anyway, borrows a few millions of dollars from the public – which still proves highly inadequate – and wastes them in securing the largest plant in the world and changing the engine of his car almost half a dozen times. With almost three years past and only a batch of fifty-one pre-production cars built, his creditors lose patience and sue him. Then the guy goes around whining about how Detroit killed his pet project, conspiring to kick him out of the automotive industry before he even entered it. Ah, conspiration... another American obsession... For that's sheer nonsense: the factory Tucker was eying finally went to another newcomer, Henry Kaiser, who had a more solid experience, another project for a car ahead of the competition and a pile of cash five of six times thicker than his – in theory, an even more dangerous competitor for the Detroit establishment than Tucker was. Some people can't stand losing, as it seems. Just too bad some are willing to listen to their stories.
About the model
Model:
Tucker Torpedo
Year:
1948
Maker:
Yat Ming
Scale:
1/43
Distributed by:
Fabbri as no.8 of its
Les belles Américaines
press series
Acquired:
brand new, in June 2004, in Souillac, France
As a child, and many years ahead of starting a die-cast collection, I admired a Tucker model in a hobby shop – most probably it was the Solido version. I still don't have this particular model, but I got Yat Ming's Road Signature version as soon as I found it. Unfortunately, this came in the form of an issue from Fabbri's series
Les belles Américaines
, a dubious affair which saw the Italian distributor selling very cheap China-made models on the European market for many times their real cost. Worst, some unfortunate collectors, particularly those who had subscribed to this collection, ended up buying no longer Road Signatures, but inaccurate New Rays for 13 euros apiece. This is much more outrageous than Tucker's story ever was! So if you happen to find a second-hand one, make sure that you aren't paying more than a few euros or dollars – that's what they're really worth! For the model itself is very simple, even lacking in details, though about accurate in proportions. All side windows are absent which though possible seem a little odd. The rear plate number is simply ugly. Rating: 10/20.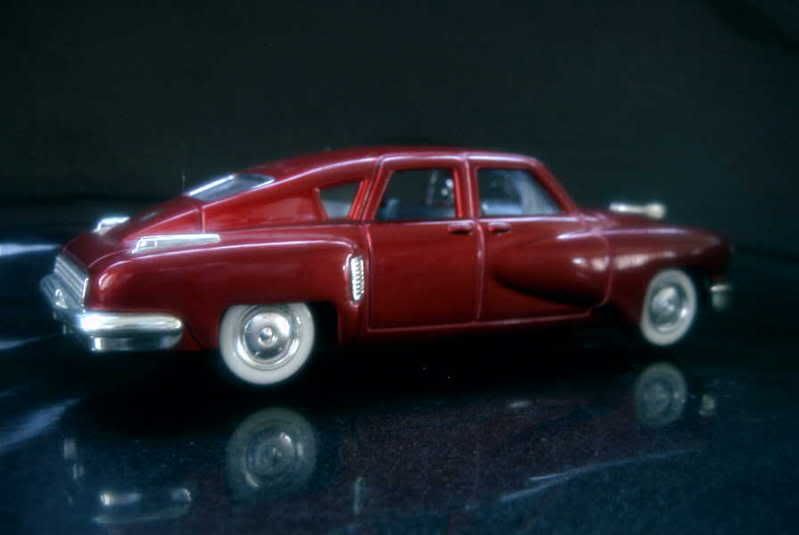 Model:
Tucker Torpedo
Year:
1948
Maker:
Yat Ming
Scale:
1/18
Distributed by:
Road Signature
Acquired:
never bought!
I added this afterwards, in order to bring your attention, if ever you're tempted by Road Signature's Tucker in 1/18, on a little detail. A few years back, I browsed through half a dozen, perhaps eight pieces of it in the department store where I was planning to buy one, and left without any. The reason: none of them had all of their four door handles in place - there was always at least one missing. Though Yat Ming doesn't produce the best 1/18s on the market, the Tuckers I saw showed particularly poor workmanship, so, take care when purchasing one!