A little history
Renault introduced its R25 in order to replace both the R20 and R30 for the 1984 model year. In order to do so, the R25 received a variety of gasoline and diesel engines, from a 2.0-litre four to the 2.8-litre PRV V6. As its predecessor, the new upmarket saloon differentiated itself with its front-wheel-drive layout and notchback body, choices that gave it both good handling and impressive aerodynamics (with a Cx as low as 0.29). To the latter is to be credited the best fuel economy in its class, and impressive performance – both the turbo-diesel and the later turbocharged gasoline versions were among the fastest four-door production cars in the world in their times. Modernity didn't stop on the outside, though. To the striking body (to which designer Robert Opron, the famed Citroën veteran, had thoroughly collaborated), a well-appointed interior, this time the work of Marcello Gandini, was added. This futuristic compartment relied heavily on electronics, its most talked-about feature, though not much more than a gadget in retrospect, being the voice alerts dispensed by the inboard computer.
A daring car in a segment where classicism is the golden rule, the R25 sold extremely well within France, actually battling with popular cars for a spot among the bestsellers in the country, but very poorly outside of it, where a combination of competition from much more prestigious cars – most of them German-built –, unreliable automatic transmission (though its manual counterpart soon gained an enviable reputation), and poor building quality turned customers away from the French car. Indeed, quality issues where a huge drawback for the first few years in the life of the car. After they've been solved, the top-of-the-line Renault more than ever dominated the upper layer of the French market. Receiving a facelift in 1988, the R25 finally retired in 1992, after nine successful years. Unfortunately, its replacement, the Safrane, was unable to renew its achievements, while the next generation Avantime and Vel Satis saw Renault being virtually wiped out as a luxury car maker.
About the models
Model:

Renault 25
Year:
1984
Maker:
Solido
Scale:
1/43
Distributed by:
Solido
Acquired:
second hand with neither stand nor box, in April 2006, in Manila, Philippines
First model is an old vintage Solido, bought second hand in a swap meet. This die-cast was showing signs of wear after passing through the hands of its previous owner(s), and in any case twenty years after its launch looks more like a toy than a true collectible. Though front doors can be opened, only the headlights are represented by plastic lenses, rear lights and all turn signals being only carved into the metal. Despite this lack of details, overall proportions are good, but to today's standards, it couldn't still receive more than 7/20. Funny to see how model cars have evolved in such a short time, when put side by side with the next one...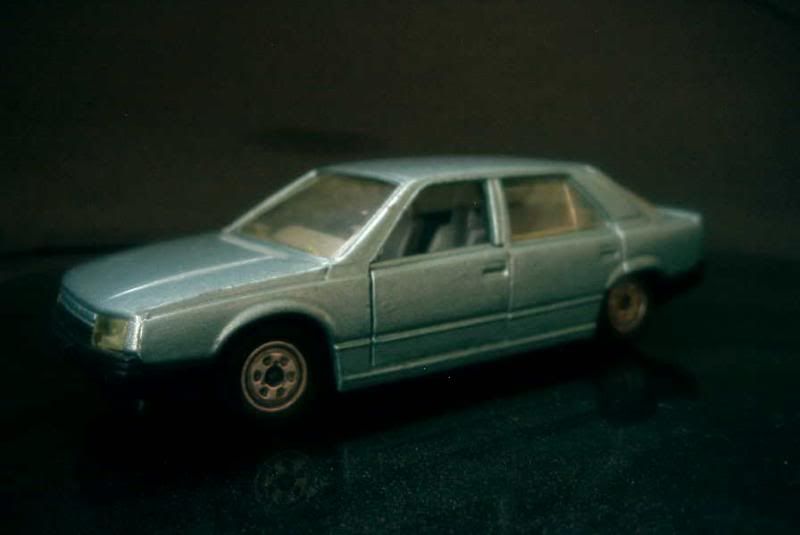 Model:

Renault 25 GTS
Year:
1984
Maker:
Ixo
Scale:
1/43
Distributed by:
Altaya as no.96 of its
Nos Chères Voitures d'Antan
press series
Acquired:
brand new, in December 2007, in Souillac, France
Ixo produced and Altaya distributed this very nice Renault 25. It looks extremely realistic from any point of view and, to make things even better, the chosen colour was, if I remember well, a popular one with the original car. My rating is 14/20.