A little history
The Peugeot takeover of bankrupt Citroën in 1974 had brought many disillusions to the fans of the twin chevrons. From 1975, their favourite brand only introduced what they saw as Peugeot models in disguise: the LN, then the
Visa
. To replace its mid-range
GSA
, which was well due for retirement by the early Eighties, the PSA group decided to launch a "true" Citroën: the BX.
Actually, the BX wasn't the boldest of all Citroëns, despite the brand's reputation for constant innovation. Its hydro-pneumatic suspension was well known then, and its engines, albeit of a new design, were quite conventional. Nevertheless, the BX definitely had got some of this flair specific to its famous manufacturer.
Anyway, it would be incorrect to state that the BX was a bland car devoid of novelty. The extensive use of plastic body panels was rather unseen yet on a mass-produced vehicle. Much later during the Nineties, long after the BX had retired, this would turn the spotlights onto the car once again, though not in the happie of all ways. In order to illustrate the dangers of using counterfeit auto parts, an illegal yet burgeoning business then in Europe, was often cited the dreadful example of black-market steel bonnets decapitating BX's front passengers during an accident, after they had been fitted as replacements for the original plastic ones. If I can allow myself a last note about this topic, I think remembering from the press articles of the day – but a quarter of a century can sometimes play bad tricks to an occasionally faltering memory – that Spanish-produced BXs indeed had steel bonnets, unlike their cousins constructed in France. I can imagine that these parts were nonetheless well designed and built, unlike the illegal "guillotine" type…
Back to the BX's birth now. The overall silhouette of the GSA was carried over, but its heir was more angular than most other cars on the road – "bio design" was not yet fashionable… Browsing through a British website recently, I read the BX being called one of the ugliest cars of all times. Brushing aside the English congenital dislike for anything French, it still has to be mentioned that at the time, the BX looked modern, original and rather elegant to most. Actually, styling is to put to the credit to Marcello Gandini, of Lamborghini fame, working for Italian design studio Bertone. Would you dare calling his equally angular Countach ugly?
At the time of its introduction in October 1982, the BX was powered by a brand-new 1.6-litre engine, from which a larger 1.9-litre was soon derived, although base models received an older 1.4-litre lent by Peugeot. Still quite unusual for a car of its class at the time, the BX had disk brakes on all four wheels, giving the car a soon-to-be-praised stopping power.
The BX proved an immediate success for Citroën. Its drivers found the car reliable, roomy, comfortable and well appointed, even plush in the case of upper models fitted with some of the many options. It performed well, but remained fuel-efficient. Alas, building quality wasn't its strong point, as was the case for many other French cars of the era, but this problem was gradually solved. Additionally, the BX could rust if not properly maintained – which happened quite often.
More models were soon added to the BX range: the "Evasion", an estate replacing the equivalent GSA version; a 1.9-litre diesel, soon followed by a very well-received 1.8-litre turbocharged diesel; a powerful GTi and an even more radical Sport, with a 126 hp engine and unique cut rear wheel arches. But an even more exciting BX was still to be released.
Since the recent introduction of Group B rules, rally racing was enjoying a success it never had had until then – and most probably never had since then. This prompted many manufacturers into developing their own Group B cars, with Citroën answering present during the roll call. How its management succeeded in getting the go-ahead for its project when the 205 Turbo 16 from its sister company Peugeot was dominating the world championship remains a mystery to me. In any case, this effort turned into an utter failure. The development of the car, dubbed the BX 4TC, was grossly under-financed – not the best way to succeed when you have ambitions in highly competitive, world-class races. Power came from a block based on the Peugeot 505 engine. Installed in front of the car where it was placed longitudinally, it required the nose of the 4TC to be extended. As a result weight was both high and badly distributed. Last but not least, Citroën's entry into high-level motorsports was ill-timed as Group B cars were banned at the end of the 1986 season. By this time, the 4TC had only entered three events with – not surprisingly – abysmal results.
Despite this unfortunate attempt, Citroën could comfort itself with the unvarying commercial success of its car. A relatively light facelift was introduced in July 1986 for model year 1987 (model years start earlier in France than in most countries). Notable new versions launched during the late part of the decade include a 4-valve per cylinder version of the GTi, first of its kind among French production cars, and a four-wheel-drive variant.
With the change of decade, the end of the road approached fast for the BX. Early in 1991, the ZX was inserted into Citroën's range between the AX and the BX, stealing market shares from both. The BX's true replacement appeared in March 1993, in the form of the Xantia. Still loved by a large part of French motorists, the BX was maintained in production as a saloon until next December, while estates were built until the following year, bringing the mark to more than 2.3 millions copies sold.
About the models
Model:

Citroën BX 16 TRS
Year:
1983
Maker:
Ixo
Scale:
1/43
Distributed by:
Altaya as no.84 of its
Nos Chères Voitures d'Antan
press series
Acquired:
brand new, in June 2007, in Souillac, France
Nice model of the earliest top-of-the-line BX, the 16 TRS. Registration plates and various badges are realistic enough, as are the lights both front and rear. My rating: 14/20.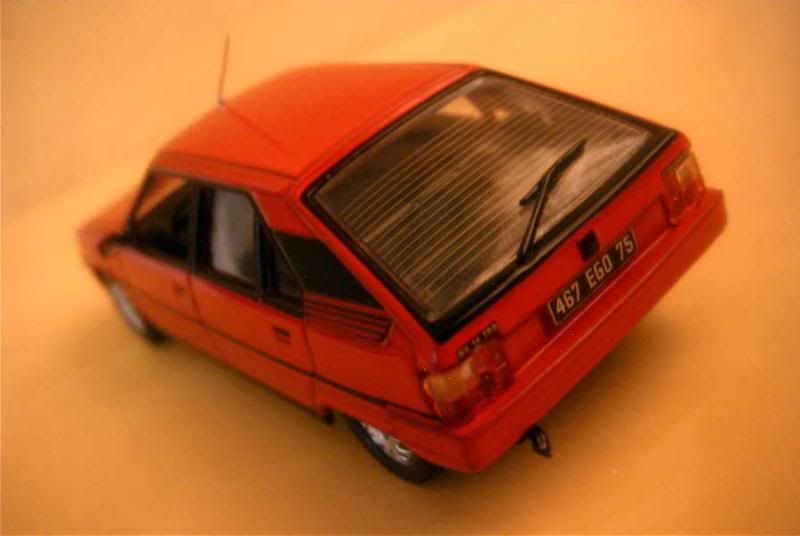 Model:

Citroën BX 4TC
Year:
1986
Event:
1986 Monte Carlo rally, driven by Jean-Claude Andruet, navigator Annick Peuvergne (retired)
Maker:
Ixo
Scale:
1/43
Distributed by:
Altaya as no.36 of its
Voitures de Rallye de Collection
press series
Acquired:
brand new, in September 2005, in Souillac, France
Ixo also built Citroën's rallying whale. This die-cast could have been much improved by better headlights (too small) and rear lights (made in this all-red plastic that is the sad mark of early Altaya series). More annoying is the battery of extra lights fitted to the front. As the pictures I have doesn't show any, I first thought that Ixo based its model on pictures taken during the traditional Col du Turini night event, and that these lights were removed with daylight. The fact is that this model, when sold directly by Ixo, doesn't sport these lights: the confession of a blunder? I'll limit my rating to 9/20 - too bad as this model has the merit of reproducing a forgotten rally car from an extraodinary era.