As I mentioned the Volkswagen Golf in my post about the
Simca 1100
, why not discussing about this car now?
A little history
Replacing a car like the ubiquitous Beetle undeniably wasn't an easy task for Volkswagen. The company was in the same situation as, for example, Citroën was with its 2 CV: the car still had a large base of fans though it was already outdated, but transposing the original concept to a modern vehicle was seemingly impossible. Citroën, to stick to the same example, had found that the updated
Dyane
didn't sell as well as the older 2 CV to which it was supposed to succeed. A bad approach to the problem? Volkswagen's answer was totally different.
The Beetle's heir, dubbed the Golf, was a compact hatchback, a body style that made sense for a popular car and was then rapidly gaining popularity. The engine would be water-cooled, placed in front, and would drive the front wheels. It couldn't have been a most complete departure from its predecessor! The rounded look that gave the old car its nickname would give way to a cube with sharp corners, drawn by Giorgetto Giugiaro in a then-favoured style. Furthermore the Golf would not be limited to its two-door guise, as a four-door version was also introduced. Separate body construction was replaced by a modern unibody. Emphasis was put on an efficiently designed passenger compartment concealing the car's small exterior measurements, and on building quality, a trait that German vehicles had become known for. Actually, there was nothing revolutionary about the Golf – again, we have seen how the Simca 1100 purportedly served as an inspiration for the German engineers –, but it concentrated all the best that could be packaged in a little car by the Seventies.
After five years of studies, Volkswagen finally unveiled its Golf in May 1974. The oil crisis was barely half a year old; the introduction of the new car couldn't have been better timed. First impressions from journalists and customers alike were excellent: the Golf was practical, economical, had a faultless handling and though a little anaemic when powered by its standard 1.1-litre engine, offered first-rate performance with the optional 1.5-litre block. The Golf's near perfection translated into an immediate and overwhelming success, both in Europe and in America where it was introduced a few months later as the Rabbit. The Beetle's heir was a worthy one.
By 1975 Volkswagen added to the range a new model that would popularize the hot hatchback concept: the GTI, fitted with a 1.6-litre engine delivering 110 hp, quite a lot in those times for such a little car. For the 1977 model year, a diesel-powered version was also introduced. Quite the opposite than the GTI in essence, its 1.5-litre engine promised astounding economy at the cost of lumping performances.
The Golf's range increased dramatically for 1980, with the appearance of many new models. First of all, the car entirely succeeded the Beetle when a replacement for the venerable car's most admired version, the convertible, was finally launched for 1980. As its predecessor had been, it was developed and built in cooperation with coachbuilder Karmann, hence continuing an already long partnership. For the customers with tastes conservative enough to dislike the hatchback's silhouette, was introduced a new Jetta fitted with a conventional boot. Finally, a pickup, the Caddy, was also created.
Almost seven million Golfs were built, making the car almost as difficult to replace for Volkswagen as the Beetle had been. The company chose to create a new Golf by doing nothing more than updating the first generation's concept. Therefore the Golf "II" was to some a disappointment when introduced in August 1983 (the new Jetta appeared a few months later, in January 1984). Slightly bigger and fitted with larger engines, the new Golf was externally very close to its predecessor. Despite the few critics the car's qualities were overwhelming, and it consequently sold as well as its first incarnation. The latter wasn't totally replaced, though. The Golf II's top was never chopped off, so the first generation convertible carried on for many more years. On the other hand, Volkswagen introduced a four-wheel drive version of the Golf, the Syncro, in February 1986. A not-so-indispensable Golf Country, again with four-wheel drive and additional ultra-high ground clearance and various protective devices, was also offered.
The third generation Golf hit the market in August 1991. It grew again in size, to a point that it could barely be called a popular car anymore – this place had been taken by the Polo in Volkswagen's range. A 2.8-litre V6 version and an estate were even introduced, substantiating the fact that the Golf was now a middle-range vehicle. Some of the Golf II's models were produced until 1992, bringing the final tally above the six-million mark for this second generation. Curiously, the old Golf I convertible (don't forget this one!) was built even longer, until it was finally replaced by a Golf III ragtop in the 1994 line-up.
About the models
Model:
Volkswagen Golf GTI

Year:
1975
Maker:
Detail Cars
Scale:
1/43
Distributed by:
Detail Cars, "Platinum" series ref. 270
Acquired:
brand new, in April 2006, in Manila, Philippines
This is Detail Cars' idea of a first-generation Golf GTI. The Italian has never been particularly conscientious when it came about the historical details of the models it reproduced, so while this GTI is presented as a 1974 model, the real thing wasn't introduced before the following year. This die-cast was certainly great when it first sold during the Nineties, for it is still a rather decent model today, though the absence of registration plates makes it look a little odd, particularly from the rear. Badges would have sometimes needed to be more carefully applied, as they aren't exactly what you can call straight. The dashboard seems somewhat bared, though if you carefully examine behind the wheel you'll find that the gauges have been reproduced. Giving 12/20 to this model seems fair. A last note: Detail Cars used exactly the same moulds to create a plain Golf model. As the front grille sports a little flat rectangle on its left side where the "GTI" badge is glued, this detail also appears on this model, obviously without any marking but still disturbing.
Model:
Volkswagen Golf

Year:
1980
Event:
1980 Rallye d'Antibes, driven by Alain Cudini, result unknown from me
(please help!)
Maker:
Detail Cars
Scale:
1/43
Distributed by:
Detail Cars, "Platinum" series ref. 480
Acquired:
second hand from a friend and fellow collector, in April 2006, in Manila, Philippines
Detail Cars simply changed the decoration of its Golf to create this model. Its work stopped here, for nothing has been changed inside the model. The pilot and co-pilot therefore enjoy a level of comfort seldom seen in a rally car, but the combined absence of bucket seats and harnesses would probably make hairpins a dreadful experience… Externally a battery of lights has been added up front, while the mirrors have been removed, not to be replaced by any other, though I doubt the original car wasn't fitted with any. Again, no plate numbers for a car that necessarily had to be driven on the road. More annoying is the fact that the decals spell the name of the race as "Rallye de Antibes" ("Rally de Antibes" as for the model's stand), while "Rallye d'Antibes" would have been correct. Guys, before planning a new model, either get pictures good enough or buy a magnifier! I'll reduce my rating to 10/20, though this model has the advantage of originality for rally car enthusiasts.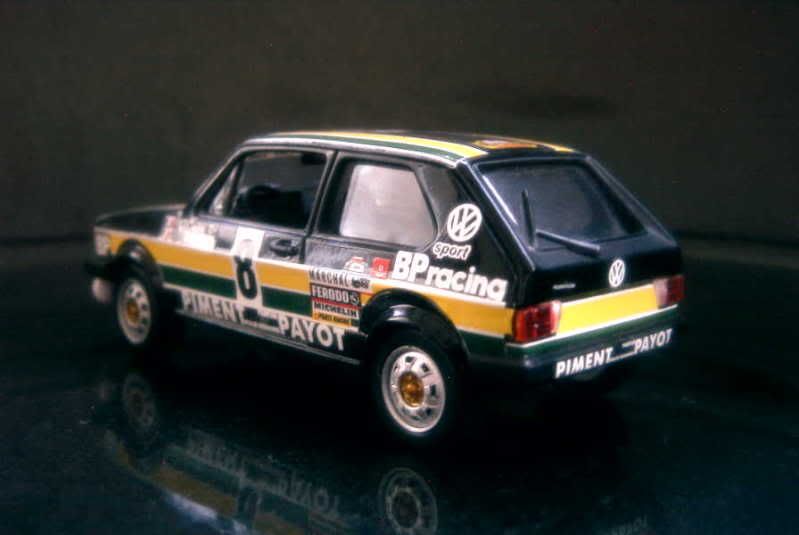 Model:
Volkswagen Golf GTI

Year:
1984
Maker:
Ixo
Scale:
1/43
Distributed by:
Altaya as no.93 of its
Nos Chères Voitures d'Antan
press series
Acquired:
brand new, in November 2007, in Souillac, France
This is another of these Voitures d'Antan "late-series", of which several have already appeared here. Once again it comes straight from Altaya's Spanish Nuestros queridos coches collection, betraying the French series original purpose, but at least Ixo made an excellent job reproducing this car. Though the inside is entirely made of black plastic without any decoration apart from the small decal reproducing the gauges, the outside has been skilfully done. The model is particularly faithful when looked at from the rear, where emerges one of the best exhausts I've ever seen for a model in this price range. My rating: a well-deserved 14/20.