A little history
In 1962, Simca decided to fill the gap between the small rear-engine 1000, then newly launched, and the mid-range
1300
that was still on the drawing boards. The new car was to be highly innovative, the French company deciding from the start on front wheel drive technology and a hatchback design. A transversal engine mount was soon opted for, too. The project rapidly moved forward, not even hampered by the takeover by American giant Chrysler.
Named after its displacement as its cousins were, the 1100 was launched with pump in Sardinia, in September 1967. Invited journalists endlessly praised the modern little car. On the following month, the French public had its first glance at the 1100, introduced during the Paris motor show.
The 1100 was a big success from the very start. Apart from the aforementioned technicalities that made it a very up-to-date automobile, the new Simca could be ordered with an optional semi-automatic gearbox by Ferodo, a rather uncommon feature on such a popular car at the time. Good handling inherent to front wheel drive was further enhanced by an independent suspension by torsion bars on all four wheels. Furthermore Simca offered a never-seen-before two-year warranty covering crucial elements like the engine and the transmission – keep in mind that at this time, and for many years to follow until imported Japanese cars proposed much longer warranties, most European cars couldn't be returned to the dealership for free repairs after only six months spent on the roads.
Simca's 1100 could be purchased initially as two- or four-door hatchbacks, but an estate was soon added to the range. A simplified version powered by a 950cc engine provided by the 1000 model was also introduced. By 1970, the 1100 already accounted for almost half of Simca's total production, a large share of it being exported. Two years later, it became the number one vehicle on the French market.
Two major developments took place in model year 1972 and 1974, respectively. First of all, a Simca 1100 Special was introduced. Its new 1.3-litre engine fitted with a twin-barrel Weber carburettor was rated at 75 hp, at the time giving excellent top speed and acceleration for a car of its price and size. Two years later, an even more performance-oriented version joined the range, the TI. It received an engine rather similar to the Special's one, but now fed by two carburettors. Actually the block was not derived from the Special, but was a slightly detuned version of the Matra Bagheera's one – nothing less. With 82 hp, front and rear spoilers, larger disk brakes, wider alloy wheels, and heavy-duty suspension and clutch, the TI really meant business. As a high-performance compact car, it stood unopposed: the Golf GTI, which claims to have created a new market all by itself, is actually the junior of Simca's rocket by two full years. Even better, it is whispered that Volkswagen had a long glance at the 1100 before it created its bestseller the
Golf
.
Still sold in big volumes a whole decade after it had been introduced, the 1100 didn't bow out after the similarly sized Horizon was introduced for 1978. Its range was somewhat simplified, now concentrating on the original 1.1-litre models and the TI, but overall its design was still considered very much alive by the late Seventies.
It has to be mentioned here that during this period, an interesting vehicle designed on the 1100 platform was introduced by Matra: the Rancho, a sport-utility vehicle that was probably too much ahead of its time – the market for such a car still didn't exist yet. There'll be more about the Rancho in a later post, so let's return to our story.
As said above, Simca's new owner Chrysler was a giant – but a Goliath-style one. Brought down by the combined effects of questionable management, global over-expansion due a relentless (and probably quite brainless) competition with General Motors and Ford on foreign markets, and the oil crisis, the Detroit firm tumbled down during the Seventies. Raising cash was a matter of survival – all of Chrysler's foreign assets were therefore sold. A single batch was made from all of the company's European possessions, which included Simca in France, the former Rootes combine in Great Britain, and Chrysler's Spanish plant which was building Simcas and Dodge Darts for the local market. Peugeot grabbed this unique opportunity for rapid expansion. Overnight the PSA group, which now controlled no less than three out of the four most important auto makers from France, became one of Europe's major players. On July 10, 1979 Simca's new owner announced that the glorious name Talbot would be revived for it. The change became effective on New Year's day, 1980.
The 1100 was undoubtedly an old car by then, but still had its faithful fans. Now named Talbot-Simca 1100, the passenger-car range was maintained in the company's catalogue until the end of the 1981 model year. Was it the 1100's last breath? Not quite so.
Using the 1100's platform, Simca had developed a nimble panel van during the Seventies, dubbed the 1100 VF1 in standard guise, or VF2 and VF3 with raised roofs. The newer Horizon never gave birth to any replacement for them, so these commercial derivatives had to carry on for a few more years. Their production was finally stopped early in 1985, shortly before Talbot's production was cancelled altogether. Almost 2.2 millions of all 1100 models had been built over the previous eighteen years – this suffices to demonstrate that, better than any other of its products, the car had represented Simca's finest hour.
An additional note
Do you remember this old American TV series named
Mannix
? It was innovative in at least two ways: first, private detective Joe Mannix's secretary, a rather important character in the story, was a black lady – black actors and actresses lucky enough to find work in Hollywood had been, up to the late Sixties, always cast as drivers and maids, respectively. Second, this secretary drove a Simca 1204, the American version of the 1100, even before the oil crisis made imported subcompact cars a common sight on American roads. Nevertheless the 1204 wasn't a big hit over the Atlantic. As a sign of things to come, Chrysler was much more successful in rebadging Japanese-built Mitsubishis as Colts.
About the models
Model:
Simca 1100

Year:
1968
Maker:
Ixo
Scale:
1/43
Distributed by:
Altaya as no.13 of its
Nos Chères Voitures d'Antan
press series
Acquired:
brand new, in July 2004, in France
Ixo's modelling of the Simca 1100 is the very expression of the Chinese maker's regular disregard for its customers. Not that its die-cast's appearance is botched – it could have even been a fine model. Unfortunately it seems that its design didn't take more than twenty minutes to a lone guy studying two or three pages of information about the real thing. As a result, such a car as Ixo's simply never existed in 1:1 scale.
Indeed, the car is supposed to represent the 1100 as it looked like when launched. If being the only mistake, the fact that the badges' style doesn't fit could be excused. Unfortunately Ixo's errors don't stop here. The rear lights are of the much recent, wide model. If you aren't familiar with the 1100, just compare with the pictures of the Norev model down to understand what if mean: originally the car's rear lights were narrow strips that only evolved into wide rectangles much later. As far as I know, the very first 1100 to benefit from standard reverse lights was the 1972 Special, and then, it was a lone separate light fixed under the bumper, not a part of the combined lights – Ixo has it all off beam. Up front, wrongly applied orange paint seems to indicate that the turn signals are placed under the front bumper. In real life, these were the fog lights that, again, only appeared on later cars. The turn signals were placed above the bumper, and under the grille – again, look at the Norev – but Ixo doesn't seem to have noticed. On the inside, the seats feature headrests – unknown on popular cars back in 1968. The same remark also applies to the right-side rear-view mirror. In addition, the wheels made from a very bright silver plastic simply look fake and devoid of any volume. This pitiful model deserves no more than 5/20 – better not to think it over and realize that I still have been too generous.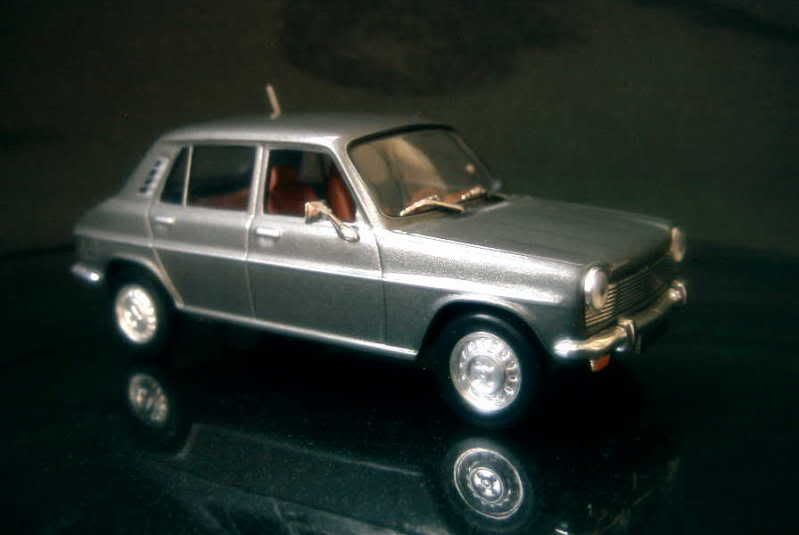 Model:
Simca 1100

Year:
1968
Maker:
Ixo
Scale:
1/43
Distributed by:
Altaya as no.69 of its
Taxis du Monde
press series
Acquired:
brand new, in December 2004, in Souillac, France
Same base as the previous model, same unacceptable problems for this supposed taxi from Tahiti in French Polynesia. Even worse: until a recent time French taxis generally had their front headrests removed for the driver's convenience, so having them reproduced on this die-cast is even less acceptable. "SIMCA" badges now appear on both front wings – I cannot find any picture of the real car featuring them. On the other hand the wheels, this time made in flat grey and pierced with more realistic holes, are somewhat superior, while the rear lights have been painted in a different pattern and, though still wrong, look somewhat better. All in all better and worse equal each other so I'll again give a 5/20 to this model.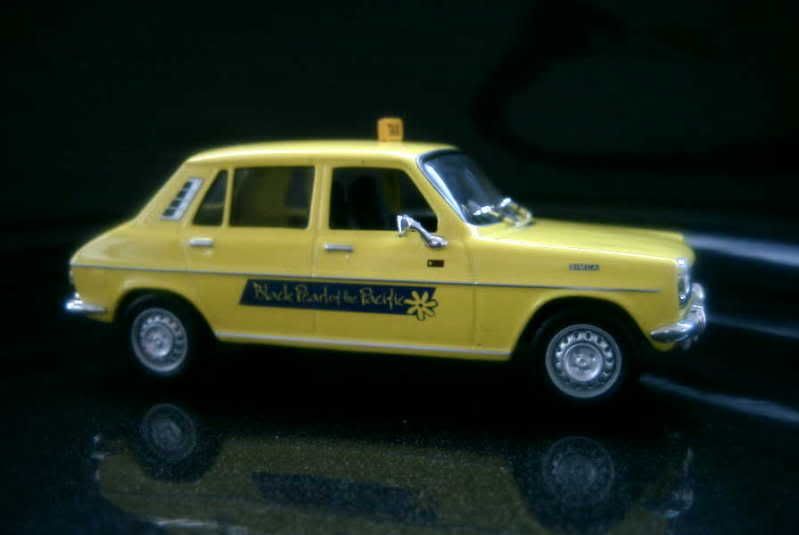 Model:
Simca 1100 GLS

Year:
1973
Maker:
Norev
Scale:
1/43
Distributed by:
Hachette as no.9 of its
Police et Gendarmerie
press series
Acquired:
second hand without stand or box, in April 2007, in Brive, France
Norev's rendition of a French police Simca 1100 is an old model – and it sees. Narrow tyres, windshield wipers moulded with the windshield, thick radio antenna, poorly-fitting opening rear hatch betray its age. The only badge that has been reproduced (rather correctly) is the rear one. I won't address the same remark as I did about Ixo's models about the twin mirrors, as it was possibly standard, if not on passenger cars, at least on police cars of the time – furthermore Norev doesn't venture into giving a date for this press release model, even if its regular range equivalent, ref. 570605, much more expensive and only marginally better, is presented as a 1973 model. Though well below today's standard of refinement, this model is sympathetic enough to be given an 8/20 rating despite its shortcomings.