A little history
Fiat introduced its Ritmo at the Turin motor show in 1978. During its development the Italian manufacturer's attention had mostly been on Bertone's styling, which left no one unmoved, rather than on the technical side, for the Ritmo was heavily based on the already known
128
model, retaining its front-wheel-drive technology and 1.0- to 1.5-litre engines. Though sold at an extremely fair price, the little car struggled more and more through its career to attract buyers, particularly outside its native Italy. Building quality was typically low, and performances were anything but exciting. Fiat tried to add glamour to its car by introducing a sporting version, the 105TC (1.6-litre, 105 hp), in 1981, followed shortly thereafter by an even more aggressive Abarth 125TC (2.0-litre, 125 hp), the latter having the dubious distinction of being the last car ever produced in Abarth's own facilities.
A 1982 facelift which introduced a milder look and the addition of a convertible (again due to Bertone) and a Regata saloon didn't change the Ritmo's fate. By 1988, 1.8 millions had been made – not too bad at first sight, but a rather poor result nonetheless when compared to some of its closest rivals. The Ritmo disappeared silently, and was replaced by the more successful Tipo.
(This car's history will be expanded in due time, please be patient.)
About the models
Model:
Fiat Ritmo 75CL

Year:
1979
Maker:
Ixo
Scale:
1/43
Distributed by:
Altaya as no.81 of its
Nos Chères Voitures d'Antan
press series
Acquired:
brand new, in May 2007, in Souillac, France
Not much to complain about Ixo's work here, except once again the Chinese maker's bad habit of fitting yellow headlights to most models intended for Altaya's French series. Rating: 13/20.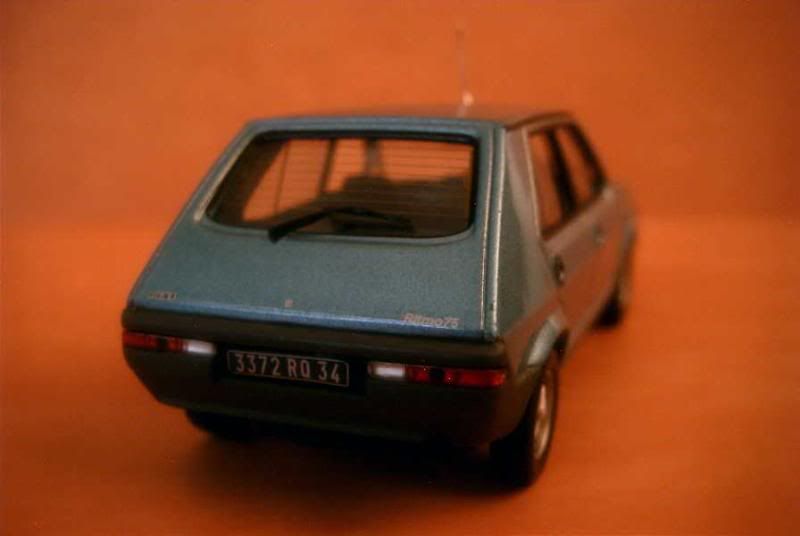 Model:
Fiat Ritmo 125TC

Year:
1981
Maker:
Norev
Scale:
1/43
Distributed by:
Hachette as no.9 of its
Fiat Story
press series
Acquired:
brand new, in December 2006, in Hong Kong, S.A.R.
Not a great Norev. The distinctive plastic bumpers, which encompass the grille up front, are much cruder than the ones from Ixo, and furthermore aren't as carefully adjusted to the body. Another typical touch, the round door handles, are painted a solid black, making them practically unnoticeable. Windshield wipers and radio antenna are made from a black plastic and look way too thick. I won't give more than 11/20 to this model.