A little history
Perhaps the better known of all the cars Delage built during its half-century in existence is the D8. An innovative vehicle in a price field where most of its competitors were extremely conservative, this model featured an independent front suspension, quite rare at that time, and a state-of-the-art straight eight engine. Though the company's liquidation was announced and the factory closed in April 1935, wealthy businessman Walter Watney saved it and merged it with Delahaye, allowing the name Delage to survive for almost two decades more.
(This car's history will be expanded in due time, please be patient.)
About the models
Model:

Delage D8 SS, body by Fernandez & Darrin
Year:
c.1933
Maker:
Ixo
Scale:
1/43
Distributed by:
Altaya as no.32 of its
Voitures Classiques
press series
Acquired:
brand new, in April 2007, in Souillac, France
Ixo reproduced the car exposed at the Mougins museum. Altaya presents it as a 1932 model, though I personally have 1933 written in my records. I'd like to think the latter is correct, as the skirts hanging from the rear wings, if not added later, were introduced by Graham-Paige in 1932 and were therefore probably too new to have been fitted to this Delage if built during the very same year. The original body, designed by Fernandez & Darrin, has nothing extravagant and even borders on the austere. In short, not the most glamorous model from Altaya's series, yet the model has been very well executed by Ixo. My rating: 14/20.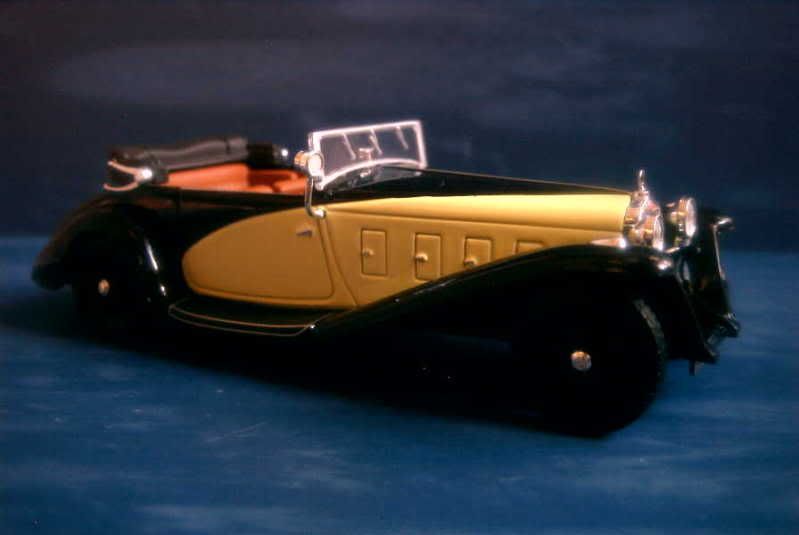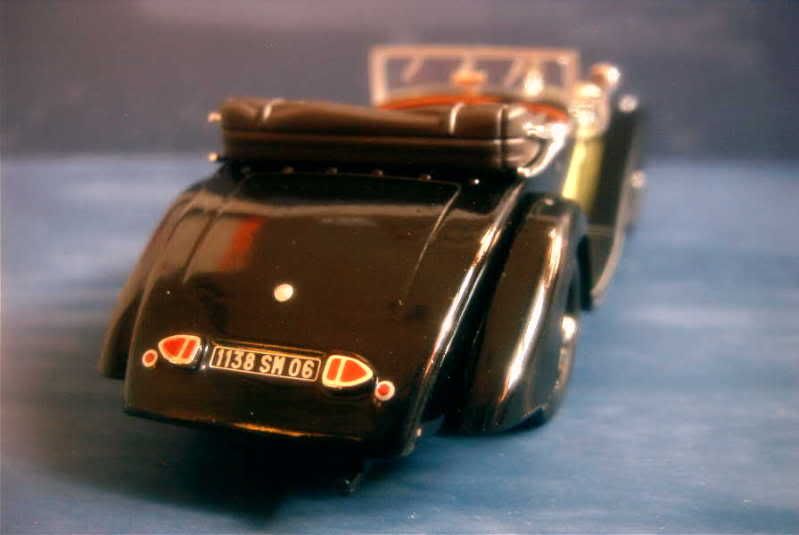 Model:

Delage D8-120 Aérosport, body by Letourneur & Marchand
Year:
1939
Maker:
Ixo
Scale:
1/43
Distributed by:
Altaya as no.10 of its
Voitures Classiques
press series
Acquired:
brand new, in August 2006, in Souillac, France
One of the most extraordinary cars of the late Thirties was this striking fastback, pillarless "Aérosport" coupe designed by coachbuilders Letourneur & Marchand. Such was its success at the time that the French government chose one of the estimated twenty Aérosports ever built to be featured at the New York's World Fair in 1939. Reproducing such a masterpiece in scale could not allow mediocrity: Ixo was up to the task, producing a model that is truly outstanding, all the more considering it is "only" an Altaya press release. The model would actually be perfect if not for a little detail: though the right door's window are shown in its down position, the left one is up, and there Ixo didn't separate the two overlapping panes of "glass", which appear as one single element – quite disturbing visually. It won't prevent me nonetheless to give a 15/20 to this exquisite model.