A little history
The first automobile built by BMW had been a licensed Austin Seven, but the Bavarian firm soon graduated to bigger and better automobiles with a sporting twist. Alas, World War Two came soon thereafter. The automotive activities of the company, still deeply involved in aeronautics, were concentrated on two plants: Munich in the West, and Eisenach in the East. While the Munich factory was flatten by Allied air raids, the Eastern one was left untouched, being out of reach for airplanes based in England while the Soviet lacked strategic bombing capacities.
By May 1945, East Germany had fallen into the hands of the Red Army, and soon the Eisenach factory independently resumed the production of a few pre-war models. Many were exported, to (Western) BMW's dismay: quality was much lower than that of pre-war products, and the Bavarian company was concerned about its spotless image being soiled. As a result the Eastern branch was renamed EMW and new emblems, similar in design to the old ones but with a green colour replacing the traditional blue, were fitted to the cars already produced. Divorce was complete, and BMW was left without any capacity to resume its own activities. The post-war period couldn't begin more inauspiciously.
BMW's automobile construction was painfully restarted in October 1952 with a brand new model, the 501 introduced at the previous year's Frankfurt auto show. The new car's peculiar styling is perfectly resumed by its nickname "baroque angel": it certainly wasn't some kind of monstrosity, but still looked somewhat odd to say the least. Ancient (the separate front and rear wings) and new (the large glass areas) styling cues cohabitated rather ungainly but, most important of all, BMW finally had something to sell.
Less surprises awaited a BMW customer beneath the strange skin, as the power still came from the well known 2.0-litre six. Though considered brilliant before the war, this engine had a hard time setting in motion such a heavy car as the 501. BMW addressed the complaints about its model's weak performances by introducing a new 502 variant in 1954. Under the bonnet, the inline six was replaced by a more potent 2.6-litre V8 good for 100 bhp. Few other details differentiated the 502 from the 501: slightly more luxurious appointments inside the passenger compartment, and a little more brightwork including an ostentatious "V8" badge on the boot lid.
If the 501 was offered as a saloon only, the prestigious 502 attracted the attention of coachbuilder Bauer, which was a major BMW partner since the Thirties and still remains as such today. The Stuttgart workshop put on sale an attractive two-door drophead version of the 502 almost as soon as the saloon was introduced, then an equally glamorous coupe during the following year. Two exclusive sportscars, the 503 and the
507
designed around the 502's V8, were also added to BMW's range in 1955.
The launch of the new 503/507 duet exemplifies better than words the questionable choices made by BMW management during the Fifties. The sales of the 501 and 502 saloons remained low, and no replacement was scheduled. Large amounts of valuable resources were spent studying two sportscars built in even smaller quantities, and for an even shorter period of time: between 1956 and 1959, only 413 '503' and 252 '507' were sold, each of them in exchange for a little fortune. They certainly did a lot for BMW's image, but not for its floundering finances. To save itself from bankruptcy, BMW made a radical choice by producing a small popular vehicle. Having no experience in this field, BMW opted not to design its own car but instead to produce someone else's creation under license. The chosen car, the tiny
Isetta
, saved the struggling company. This allowed BMW to maintain its 501/502 range in production until as late as 1964, by what time these cars definitely looked antiquated. Despite their long production run, less than 15,000 of those were ever built, and their maker saw no urgency in replacing them – actually, the company waited until 1968 to introduce its modern 2500 and 2800 saloons.
About the models
Model:
BMW 502
Year:
1954
Maker:
Minichamps
Scale:
1/43
Distributed by:
Minichamps
ref. 430-022405, limited edition - 1,008 pieces
Acquired:
brand new, in February 2006, in Manila, Philippines
Not surprisingly Minichamps tackled the reproduction of this bit of German automotive history. It has been done with the usual quality this company is known for. Minichamps' biggest mistake about this car is actually on the box, which describes the car as a 1953 model – considering the fact that the 502 was announced at Geneva in March 1954, and put on sale in July of the same year, Minichamps' assertion appears all the more improbable. My rating is 14/20.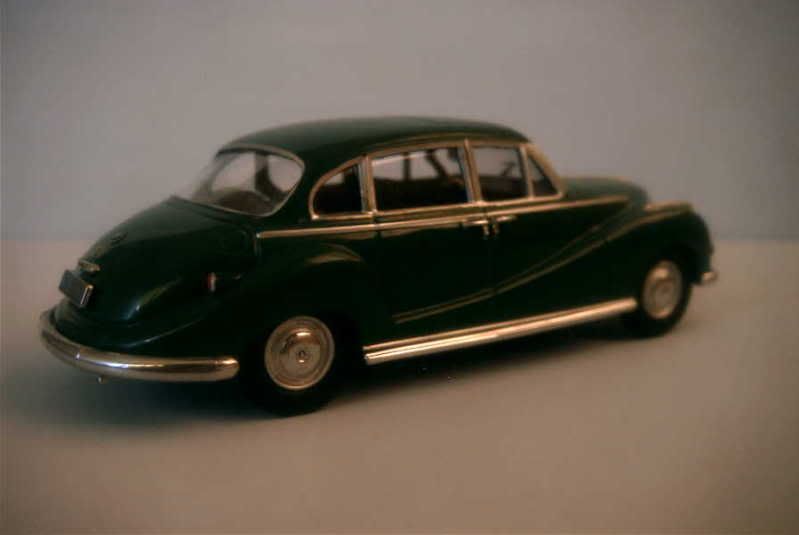 Model:
BMW 502
Year:
1959
Maker:
Detail Cars
Scale:
1/43
Distributed by:
Detail Cars
, "Platinum" series ref. 242
Acquired:
brand new, in June 2005, in Manila, Philippines
Bauer's convertible version of the 502 was made by Detail Cars. Minutiae are arguably a little less fine than those of Minichamps in some places, but better executed in some others. Overall the two die-casts are quite similar, eliminating the recurrent collector's problem of putting side-by-side on the shelf identical cars of which two different die-casts makers had divergent visions. As it was often the case with the regretted Italian company, design is good but quality of workmanship can be very different from one model to another, so if you're lucky enough to find brand new 502s that have remained unsold up to now (I was, but I seriously doubt that it's still possible today), examine yours with care before taking the decision to buy. A last remark: the wing-mounted rear view mirror is extremely fragile, so always manipulate this model with extreme precaution. Uneven finishing touches limits my rating to 13/20, but well assembled models are certainly as good as the Minichamps above, if not better.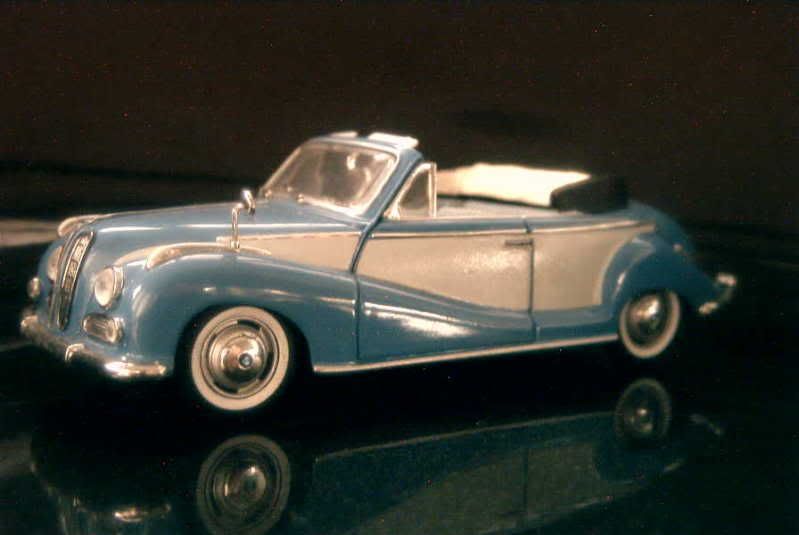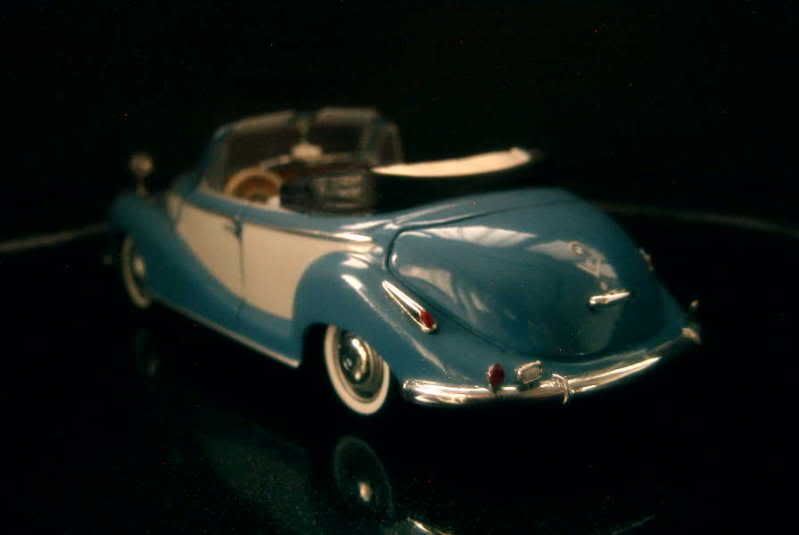 Model:
BMW 502
Year:
1959
Maker:
Detail Cars
Scale:
1/43
Distributed by:
Detail Cars
, "Platinum" series ref. 241
Acquired:
brand new, in June 2005, in Manila, Philippines
The coupe is again a Detail Cars model. I ignore why the Italian brand fitted its convertible with only one external mirror while the closed car has two, but with regard to what I wrote above it surely gives collectors double the trouble. The same remarks as those about the convertible version apply here, so I'll again give a 13/20.