A little history
Unlike what his name could imply the Peugeot 305, launched for the 1978 model year, wasn't designed as a replacement for the 304, but rather succeeded the mid-range 404 which production had ended three years before, leaving a gap between the popular 304 and the middle-class-aimed 504.
Peugeot being better known for the reliability of its products than their boldness, there was nothing revolutionary about the 305. Power came from 1.3- or 1.5-litre fours, driven to the front wheels through an excellent gearbox. Peugeot's reputation as a pioneer in the diesel engine field was uphold by a 1.6-litre block, soon replaced by the brilliant 1.9-litre "XUD" engine. Emphasis had been put on safety and, should a crash have occurred, the passengers of a 305 were slightly better protected than in most other vehicles of the time. Though the car was initially offered as a Pininfarina-designed four-door saloon only, an estate was added soon thereafter.
Passing through a slight mid-life facelift, the Peugeot 305 was built until 1988, until the brilliant 405 succeeded it.
(This car's history will be expanded in due time, please be patient.)
About the models
Model:
Peugeot 305 SR
Year:
1977
Maker:
Norev
Scale:
1/43
Distributed by:
Hachette as no.55 of its
Collection Peugeot
press series
Acquired:
brand new, in December 2008, in Souillac, France
Norev removed the dust from an old mould in order to fulfil Hachette's order. Despite a nice paint and good looking decals all around, its age can't be hidden. Wheels are simplistic and much too narrow, wipers are not only moulded with the windshield but can be listed among the ugliest ever seen on a recent collectible, assembly of the front grille and headlights is far from perfect, etc. Furthermore this 305 looks like it's already on the summer holidays' road, the boot having to be particularly heavy for the car to look so low at the back (the real 305 actually used to ride quite high). I'd give 9/20 to it, and nothing more.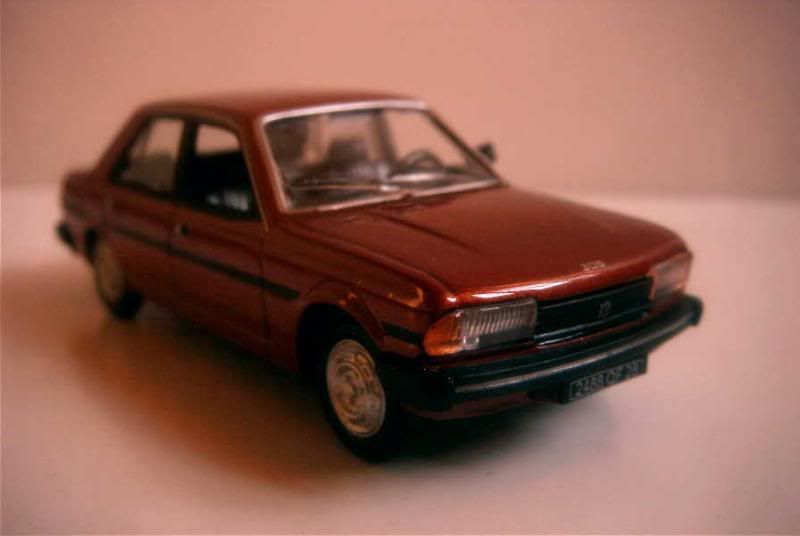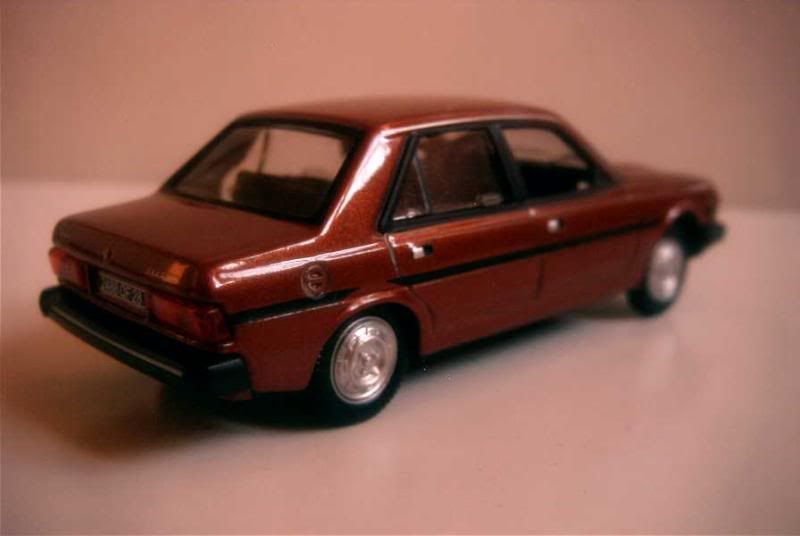 Model:

Peugeot 305 GL
Year:
1980
Maker:
Ixo
Scale:
1/43
Distributed by:
Altaya as no.97 of its
Nos Chères Voitures d'Antan
press series
Acquired:
brand new, in December 2007, in Souillac, France
Why weren't Ixo and Altaya able to offer models this detailed from the very start of the series? I suppose increasing competition drove the two partners to improving their models. In particular, gone were the ugly red-only rear lights of the early die-casts from the Voitures d'Antan collection. This 305 for example, proposes very realistic lights both rear and front. It's actually the whole car that looks great, an even more commendable fact when considered Ixo chose to reproduce an entry-level "GL" model, a plain car devoid of all the glitter of the upper-range 305s. On the other hand, the passenger compartment is made of a depressing solid black plastic, so better keep your eyes on the outside. I'd give 14/20 to this fine reproduction.