So I've been silent during the last eight weeks, except when answering the numerous – yet always clever – messages of our new follower Gaucho Man. Persistent problems with my computer(s) got the upper hand on my good habit of writing a new post every Saturday. Laziness soon settled in afterwards. In addition to this, my trusted old camera asked for a well-deserved retirement. As of now I still don't know if it can be repaired, but fortunately I have pictures left for a few more posts.
Now for the good news: unlike previously announced, ALL of your comments that had disappeared are now back. Where were they then? Well, er… they were here all the time, actually. When Blogspot added its new "spam" feature, about one-third of all the comments, though already approved, were randomly removed from this blog and placed without any warning into the spam folder… which I never had a look at.
So, to end a long period of silence, I chose an exceptional automobile today. But before we start, as per tradition, welcome
Gaucho Man
(I can only advise you all to visit
his own, very nice blog
!) and
Tunning66
(
interesting blog too
).
A little history
Auburn was just one among the dozens of minor automobile manufacturers that had spread across America and were lucky enough to somehow remain in business for some reasonable amount of time. From its founding in 1909 in the small Indiana town after which it was named, the existence of the little company was essentially a tale of survival. Fifteen years later, amid a dire recession that struck hard at the American car industry, Auburn seemed to have met the end of the road.
That was at this exact time that a saviour entered the scene, in the improbable guise of a twenty-nine-year-old man. His name was Errett Lobban Cord. The young folk boasted that he had already twice made a fortune worth a million dollars – and lost it in both occasions. Now he had the opportunity to succeed a third time, and have his name written in all automobile history books in the process.
When Cord was offered to manage the company by its Chicagoan owners, Auburn's coffers were as empty as its factory was full of unsold cars. The daring young man struck a deal which would actually give him control of the company if he could save it – it took only four years until, by 1928, Auburn became his. How did he succeed? By considering styling an important factor in the power of attraction a car can have towards its potential customers. Though it seems commonplace today, styling was virtually non-existent back then. Cord's genius resided in a very simple idea: to repaint all the unsold cars with a striking two-tone paint job – all soon found owners. Thanks to this fresh input of cash, Auburn was ready to introduce new models and, once again, styling would be seriously considered. Though a complete range was made available, it was the Boattail Speedster, also launched in 1928, that caught most of the attention – so much that this particular model seems to typify Auburn as a whole. Production increased dramatically, allowing E.L. Cord to form a new Cord Corporation in 1929 in order to manage the many companies he now controlled. For Auburn was just one among one hundred and fifty concerns he owned by then! Checker, the well-known taxi builder, was another one. And so was Duesenberg, which would acquire immense prestige as a luxury brand under the Cord Corporation's guidance. And obviously, technologically advanced automobiles would also be built under Cord's name. Most engines were provided by Lycoming, another member of the group. Indeed, its activities extended well beyond automobile to cover all forms of transportation, including a shipyard and several aviation-related concerns (among the latter was the future American Airlines). Alas, though many they were, most of these companies were of too limited a size to survive in a highly competitive environment. And a few months after the Cord Corporation had been formed, the Wall Street crash announced renewed hardship.
Auburn was the "volume" car manufacturer among the company – that is to say that all the automobiles Cord produced were rather exclusive. Sales were plummeting, though E.L. Cord and his team made them more attractive than ever. Tastefully penned, well appointed, fitted with powerful eight or even twelve-cylinder engines (the company advertised its models as the only V12s below $1000) the Auburns of this era are the best remembered nowadays – but still, they didn't sell well in these difficult times. The most extraordinary of all would appear shortly before the final collapse of the group: it was the 1935 Auburn 851 Speedster, soon followed by the identical 852, boosted by a supercharger and graced by Gordon Buehrig's elegant styling. The number of replicas mimicking this extraordinary car says it all about its place in automobile history.
Nineteen thirty-seven marked the last year for all of Cord's automobiles – except, ironically, for the less flamboyant, the
Checker
, which regained its independence and survived for almost half a century. Gone were the Auburns, the Cords and the Duesenbergs. The aviation companies were in much better shape, allowing E.L. Cord to sell his corporation for a hefty sum that he soon had fructified by investing, wisely enough, in Californian real estate and the nascent television network.
A personal note
Driving once through Indiana I decided to stop in Auburn to see the famous Auburn-Cord-Duesenberg museum, installed in what were Auburn's headquarters. Unfortunately by the time I arrived there it was evening, so I would have to wait until the morning for the opening. After checking two of them, I found that motels in Auburn were terribly expensive for my limited budget, so in the end I got back to the highway and continued towards Detroit. I ended up sleeping in my car - yep, obviously it was winter. Anyway, drooling at three of the company's models through the building's window was well worth stopping by. But I still hope that one day I'll finally have the opportunity to visit this museum!

About the models
Model:

Auburn 12-161 Speedster
Year:
1933
Maker:
Ixo
Scale:
1/43
Distributed by:
Altaya as no.20 of its
Voitures Classiques
press series
Acquired:
brand new, in June 2006, in Souillac, France
Though the 852 is probably the most famous Auburn, Ixo chose this slightly older Speedster for Altaya's series about classic prewar cars. I have to praise the Chinese company for its original choice, and for the good quality of its model. Despite this, I saw a little paint defect when I took these pictures, but to be frank it's hardly noticeable. My rating is 14/20.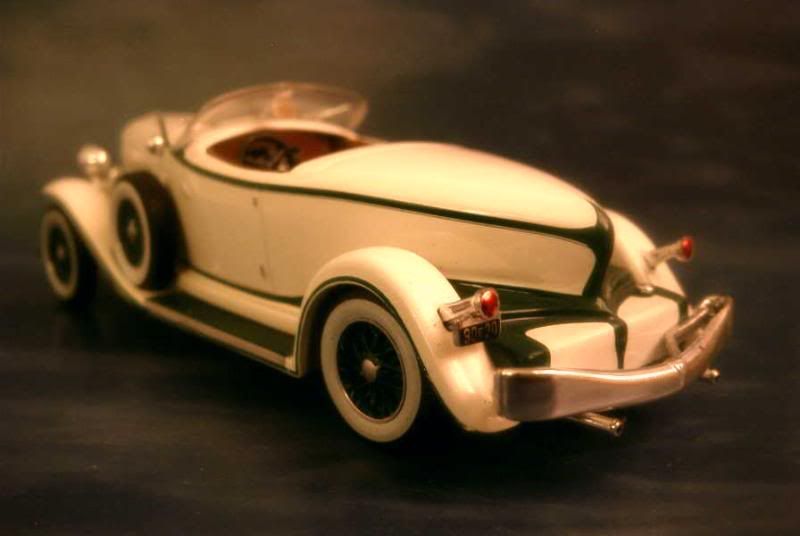 Model:

Auburn 851 Supercharged Speedster
Year:
1935
Maker:
Ertl
Scale:
1/18
Distributed by:
Ertl
Acquired:
second hand with neither stand nor box, from the estate of a late fellow collector, in December 2006, in Manila, Philippines
Who could guess that actually the beautiful 851 Speedster was nothing else than a stopgap, masterfully designed by Buehrig by combining the front end of the year's Auburns with the Boattail bodies that remained unsold from the previous year? Far from its usual muscle cars, Ertl has made a very elegant rendition of this car, well worthy of the original. My rating is 15/20.