A little history
As the Americans had had the Ford Model T, and the Germans had the Volkswagen Beetle, the Japanese, not so long after emerging from a disastrous conflict, decided to create the car that would put their country on wheels. In 1955, the Japanese government published the requirements for such a vehicle, which had to be light and economical, yet demonstrate decent performance and good reliability, and obviously remain affordable. Quite a challenge!
In spite of the difficulties, Toyota's engineers felt up to the task. Initially, they took their inspiration from another successful popular car of the era, the Citroën 2CV. They built a prototype fitted with a transmission to the front wheels but, without any experience in this field, the car proved a failure and it was decided to revert to a more reasonable rear-wheel-drive. Nevertheless, the car was to have an air-cooled, opposed twin engine, as its model. Displacement was 700 cc for an output of 28 hp, allowing the car to reach 110 kph. But unlike the 2CV, the little Toyota was to be a modern-looking notchback, with two doors and seating for four passengers. Production of this vehicle finally started in June 1961 after it had been christened "Publica", a name chosen to denote its supposed impact on the Japanese masses. Alas, things went somewhat awry, at least at first.
Toyota had supposed the average Japanese were eagerly awaiting their Publica, but rapidly had to admit that it simply didn't sell. The blame was put on the lack of equipment – by the early Sixties, in a more prosperous Japan than it used to be a few years before, most customers were looking for a car that was less spartan. They finally found it when Toyota unveiled a superior Deluxe version. The Publica had just met its public, at last.
In 1966, the Publica was thoroughly updated. Most obvious was its new front end, longer and more elegant, but other tiny modifications had been made all around the body. Its engine was enlarged to 800c and 36 hp, or even 45 hp in the new convertible version. Sales continued to be strong, but customers were slowly turning to newer, more sophisticated small cars. When production of the initial Publica was stopped in April 1969, the car that succeeded it bore the same name, but was a totally different automobile, based on the Corolla's shortened platform.
About the model
Model: Toyota Publica

Year:
1961
Maker:
Ebbro
Scale:
1/43
Distributed by:
Ebbro "Oldies"
Acquired:
brand new, in September 2006, Manila, Philippines
Perhaps not Ebbro's best model, but still very acceptable. I experienced some trouble with the door handles that were getting loose. My rating is 13/20.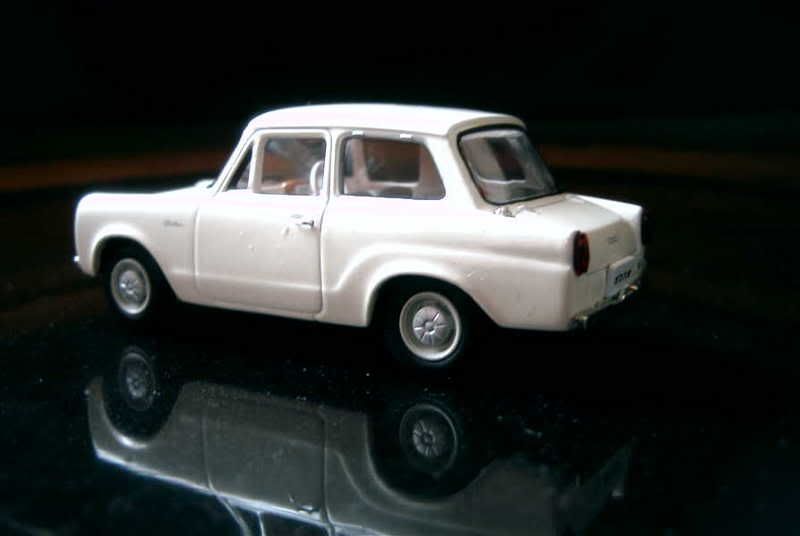 Model: Toyota Publica

Year:
1961
Maker:
Norev
Scale:
1/43
Distributed by:
Hachette Fujingaho as no.28 of its
Japanese Car Collection
press series
Acquired:
brand new, in January 2007, in Hong Kong, S.A.R.
In addition to the Ebbro mentioned above, I used to have a Norev version of the same car, that I sold since then (sorry, I never thought of taking pictures before!). A simpler model, it nonetheless respected the proportions and dimensions of the Publica. Paint was a surprising, yet original kind of orange.