A little history
Following the successes encountered by the first two generations of Escorts, Ford carefully prepared a new car that would be up to its predecessors. It was finally unveiled in September 1980 in the form of a modern and compact automobile, which broke away from its conservative forerunners by adopting front-wheel-drive, all-independent suspension and hatchback bodies. While the smaller 1.1-litre four was carried over, the larger 1.3- and 1.6-litre units were freshly designed. Though a Ford Escort was simultaneously launched as a subcompact in the United States, this was essentially a different vehicle sharing not much more than a name with the Escort intended for the European market.
Production started in both Ford's German and British plants and, despite some early critics regarding the car's handling, the new Escort soon proved worth its name by enjoying a sizeable success. Well built and elegant, the Escort also offered a wide range of models, which ran from a plain 1100cc two-door model up to the luxurious Ghia or the sporty XR3. New choices were progressively introduced, such as a diesel engine, or estate and convertible versions.
This initial third-generation Escort lasted until spring 1986, when the car received a slight facelift. Mostly noticeable from the front, it included a smaller grille set below a smoothened nose. This update allowed the car to linger until the end of model year 1990, when it was replaced by a brand new Escort.
About the models
Model: Ford Escort 1.3 GL

Year:
1982
Maker:
Ixo
Scale:
1/43
Distributed by:
Altaya as no.95 of its
Nos Chères Voitures d'Antan
press series
Acquired:
brand new, in December 2007, in Souillac, France
This is again one of these late additions to this Altaya series that were adapted from the distributors' Spanish equivalent collection, but have not much to do with the original concept of the French series. This said, what is this model worth? Rather well proportioned, but a little too heavy-looking perhaps, it enjoys nice three-colour lights at the back - earlier Altayas were not this well treated. My rating is 12/20.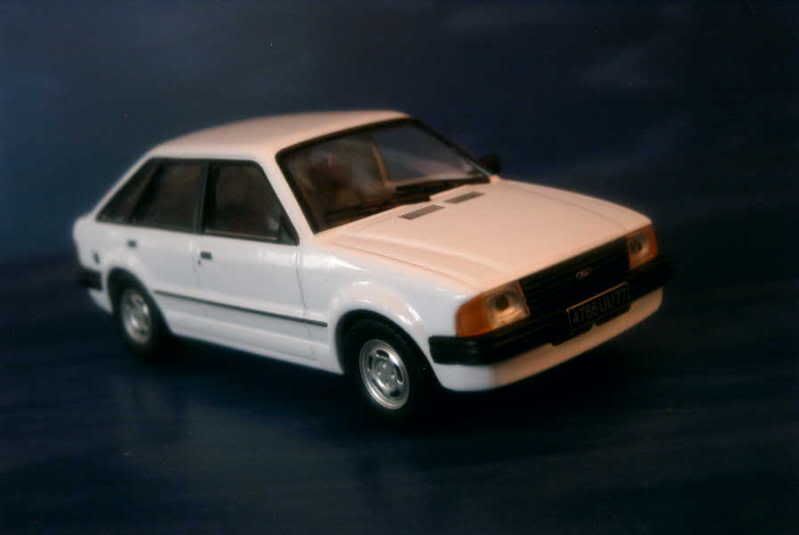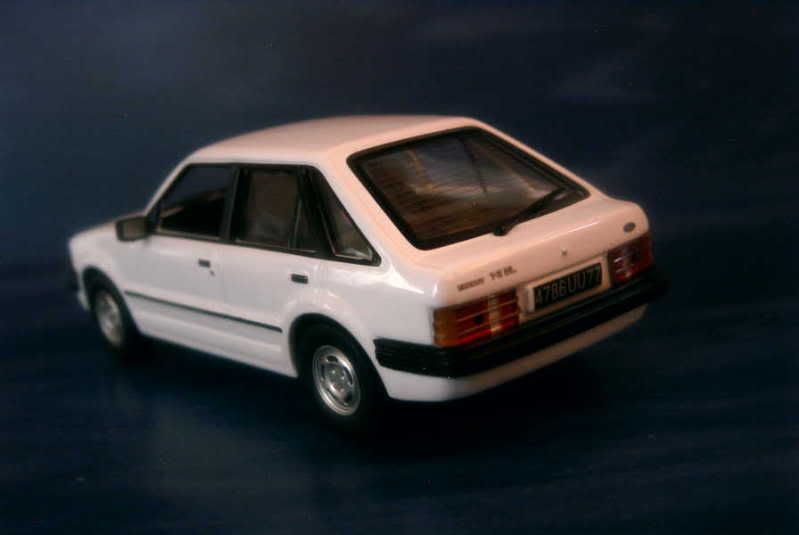 Model:
Ford Escort XR3
Year:
c.1983
Maker:
Bburago
Scale:
1/24
Distributed by:
Bburago
Acquired:
second hand with neither box nor stand, in December 2011, in Brive, France
This is an early and now long discontinued model from Bburago. That sums it all: while the accuracy of some more recent models from the Italian manufacturer is sometimes doubtful, this particular die-cast is definitely toy-like in appearance. Unrealistic wheels, simplified cockpit (or should I say "passenger compartment" for there is nothing specific to differentiate this version from a road car?), absence of separate rear lights and fantasy decoration are all on the menu: 7/20.