Welcome to JB, who after posting several comments has decided to join this blog as a follower.


A little history
Though Enzo Ferrari wasn't able to baptize the first car produced by his small workshop with his own name, this pre-war
Auto Avio
was followed after World War Two by the first real Ferrari, the 125.
Reportedly, the Commendatore dislike road cars, and only built such automobiles in order to finance the racing activities of his company. Unsurprisingly then, the 125 was a racing car.
The very first 125 was a spyder named 125 S. The light structure of this sportscar was made of steel tubes but, apart from this, it was a rather conventional machine. Again, no surprise here as Enzo Ferrari also favoured engine development over any other technical aspect. While the Auto Avio had used a Fiat engine, the Ferrari 125 was powered by a brilliant 1.5-litre DOHC V12 designed by Gioacchino Colombo. With three double-barrel carbs, the little block was rated at no less than 100 bhp, a decent output in the Forties. Colombo knew his business: his previous creation, the supercharged 1.5-litre engine powering the Alfa 158 single-seater, was already a remarkable creation.
The Ferrari 125 S first appeared at a modest sportscars race at Piacenza. At its wheel was Franco Cortese, a potent veteran driver who had made his debut in the Twenties with Itala. Despite his long career and strong records Cortese is forgotten by most today, so Ferrari's first step in motor racing as a full-time constructor can appear modest nowadays. The Ferrari didn't win, though it showed promises. Those materialized two weeks later at the Rome Grand Prix, which Cortese won. Several successes followed during the next few months, all in national events. Nonetheless Ferrari felt its spyder was underpowered against the competition offered by the Maseratis, and a few months after the 125 had been introduced, its replacement the 159 entered the scene. As the 125 before it, the 159 took its name from the individual displacement of a single cylinder, thus its displacement had been enlarged to 1.9-litre, good for 125 bhp. The 159 finished the season, before a new 166 took over for 1948.
The 125 S was gone, but the 125 F1 soon entered the limelight. Competing in sportscar racing was one thing, but Enzo Ferrari was eager to defy its former partner Alfa Romeo in the most prominent class, Formula One. Note here that unlike what is so commonly, but totally erroneously written, Formula One wasn't created in 1950 (the World Championship for Drivers was, hence the confusion) but in 1946.
Constructors willing to enter Formula One had the choice between two options: normally-aspired 4.5-litre or supercharged 1.5-litre engines. Alfa Romeo had opted for the latter and was dominant, and furthermore Ferrari already had a 1500 cc engine on hand, so it followed suit.
Colombo's engine was reduced to a single carburettor and SOHC, but a single-stage Roots supercharger was grafted onto it. Ferrari's V12 could peek at 230 bhp: it can seem impressive, but was still way below what the Alfas could rely on. Unsurprisingly, the 125 F1 was dominated by its rival from its first race, the Valentino Grand Prix held in September 1948. The Ferrari 125s could generally approach the
Alfettas
on smaller tracks, though a brilliant exception was the victory of Alberto Ascari at Monza in 1949, the first ever success of the prancing horse in an Italian Grand Prix. By then Ferrari had already took notice of its inferiority, and had tried to remedy this by reverting to DOHC and switching to a two-stage supercharger. The latter allowed outputs up to 280 bhp, but proved troublesome, so Ferrari decided to replace its 125 by a simpler 4.5-litre 375 model for 1950. Some privateers continued to race 125 F1s until the current Formula One rules were abrogated, at the end of the 1951 season.
About the models
Note that the first three models below represent the very same car: Ferrari 125 S chassis #01C, a spyder built by minor coachbuilder Peiretti, possibly working on blueprints provided by Touring. Only two 125 S were ever constructed.
Model:
Ferrari 125 S

Year:
1947
Maker:
Ixo
Scale:
1/43
Distributed by:
Fabbri as no.16 of its
Ferrari Collection
press series
Acquired:
brand new, in September 2005, in Souillac, France
Fabbri released this plain 125 S as part of its Ferrari series. It is correctly done but it is rather disturbing to see a car designed with racing in mind devoid of any race number – presentation models prepared for the introduction to the press didn't exist in those days. My second concern is the bright red colour Ixo chose. One day that I had a Brumm Ferrari 125
(see below)
to sell, a potential buyer refused it saying that it wasn't red, or so he said. I suppose that Brumm has good reasons to paint its 125s a brownish sort of red, while Ixo prefers to cater to "collectors" preferring legend and tales than historical accuracy – too bad. My rating is 10/20.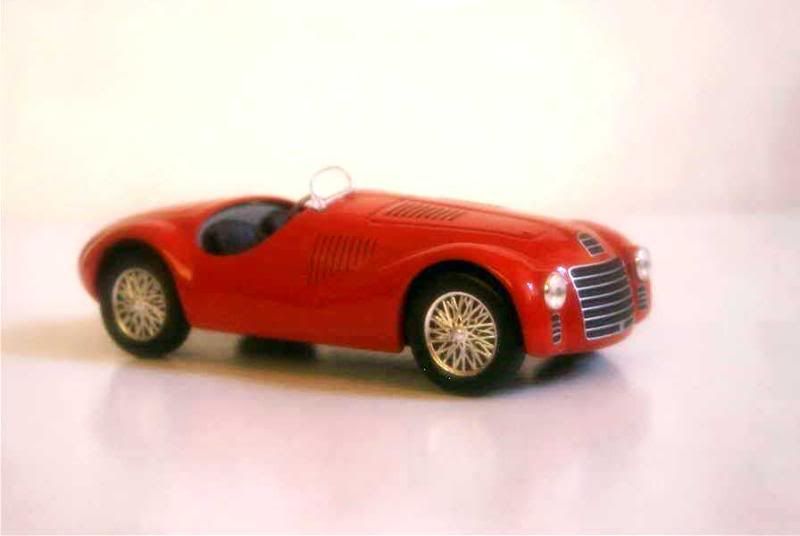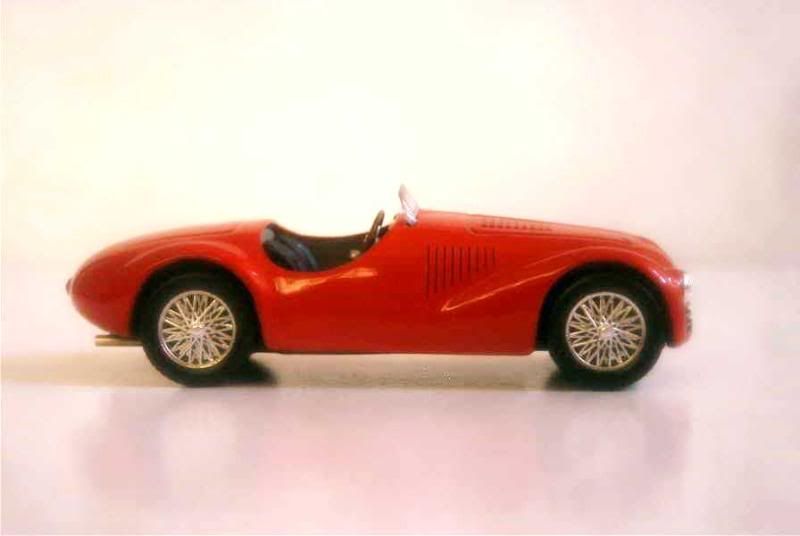 Model:
Ferrari 125 S
Year:
1947
Event:
1947 Mille Miglia
, driven by Franco Cortese, co-pilot Adelmo Marchetti
(see below)
Maker:
Brumm
Scale:
1/43
Distributed by:
Brumm, ref. R182
Acquired:
brand new, in March 2008, in Montpellier, France
Here Brumm gives me some problems to identify this car, along with the next one. It is presented as the Ferrari 125 S that Cortese drove at the 1947 Mille Miglia. Cortese and Marchetti indeed entered that race, but their car sported number 219. The following year, the same pair had number 10. Hooray!… except this time their car was a Ferrari 166 S. In both years they retired, so at least we get this right… Otherwise this is typical Brumm, rather simple, not very well assembled, but correct enough – nice wire wheels, among the best plastic ones. Until I can identify this car better, I'll have to limit my rating to 9/20.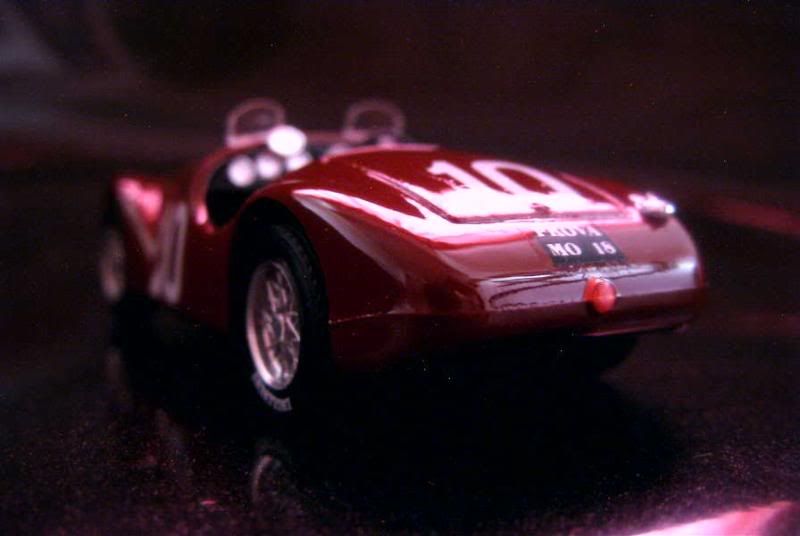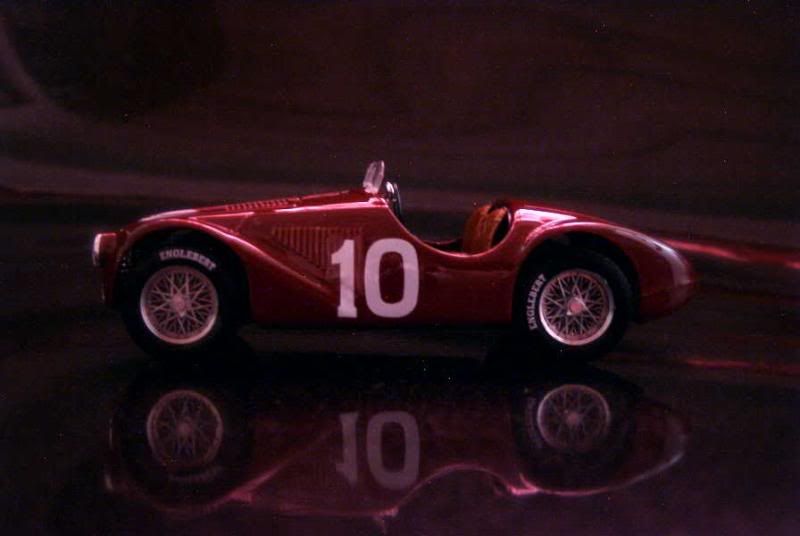 Model:
Ferrari 125 S
Year:
1947
Event:
1947 Circuito di Pescara, driven by Franco Cortese
(see below)
Maker:
Brumm
Scale:
1/43
Distributed by:
Brumm, ref. R183
Acquired:
brand new, in March 2008, in Montpellier, France
This time, based on quality alone, a rating of 12/20 is justified.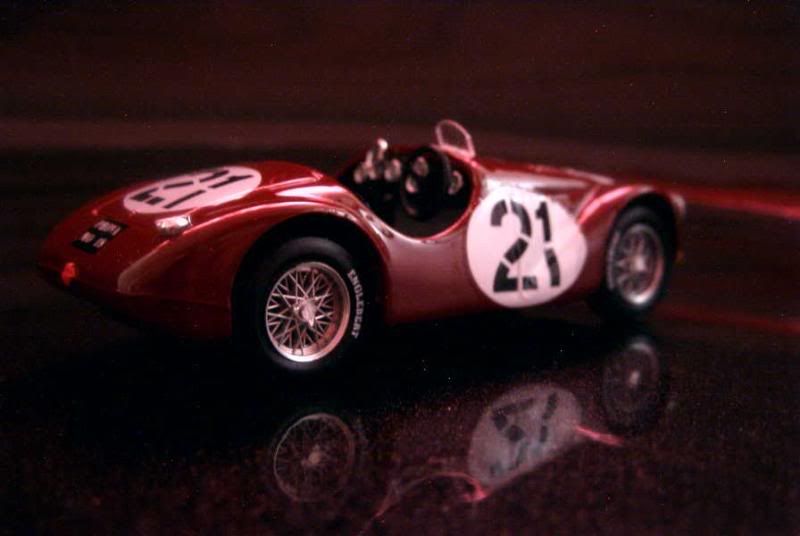 Model:
Ferrari 125 F1

Year:
1949
Event:
1949 Italian Grand Prix
,
driven by Alberto Ascari (finished 1st)
Maker:
Ixo
Scale:
1/43
Distributed by:
Ixo "La Storia" series, ref. SF05/49
Acquired:
brand new, in June 2008, in Manila, Philippines
Ixo included this model in its collection of Ferrari milestones "La Storia". Having the ambition of being more exclusive than plain Ixo die-casts, La Storia models have to offer utmost quality, and in this respect this 125 F1 fulfils its promises. Ixo makes good use of photo-etched parts for the superb wire wheels and the spectacular front grille. My rating is 15/20.