A little history
After swimming against the stream of technical evolution for years, Ferrari finally introduced its first 12-cylinder mid-engine GT in 1971. This car, the 365 GT4 BB ("Berlinetta Boxer") was first seen at the Turin motor show in 1971, though two more years would be necessary to unveil its final production version at the 1973 Paris motor show.
The BB's predecessor, the Daytona, had received critics regarding its front-mounted engine. The Lamborghini Miura had shown the way several years back, and with the appearance of the Maserati Bora, Ferrari had no longer any excuse for not proposing to its customers a better-balanced high-performance machine. Sitting in a framework of steel tubing, the engine was a 4.4-litre developed from the 365 GTC/4's block, but had its two banks of pistons set 180° apart – for the very first time a road-going Ferrari wouldn't be a V12. With no less than four three-barrel carburettors to feed it, this flat twelve was reportedly able to deliver 380 hp.
Pininfarina designed a modern body of wide and low proportions. Pop-up lights were used at the front, while the rear was highly distinguishable with its six taillights and six exhaust tips. Weight was saved by the extensive use of aluminium and fibreglass, though some panels, as the roof, remained in steel. Performances were astounding, with a top speed of no less than 302 kph. Nonetheless the production BB was detuned to 360 hp, but still advertised for 302 kph – apparently old Enzo held on to the claim that his newest car had broken the 300 kph barrier for publicity purposes, but this groundless boasting disappointed some of the BB's first customers. Anyway few of the car's drivers dared pushing their machines beyond 240 kph, at which speed the BB became notoriously unstable.
In 1976, the BB saw its displacement increased to 4.9-litre, which justified its new name: BB 512. The car's body was slightly modified, now featuring only four taillights and receiving a small spoiler that reduced the aerodynamic problems mentioned above. Found rather difficult to operate in earlier BBs, the clutch was also modified in order to improve its ease of use. But even in its second incarnation, Ferrari's flagship wasn't perfect. Another concern was the extreme difficulty to tune the large bank of carburettors, which demanded constant care in order to deliver the promised performances. This issue was solved in mid-1981, when a Bosch injection system replaced the four Weber carburettors on the 512i BB, which was officially introduced during the Frankfurt motor show a few months after entering production.
The last BB was produced in 1984, the last of a series of 2,323 cars. The eagerly-awaited Testarossa succeeded it.
About the models
Model:
Ferrari 512 BB

Year:
1976
Maker:
Ixo
Scale:
1/43
Distributed by:
Fabbri as no.28 of its
Ferrari Collection
press series
Acquired:
brand new, in May 2006, in Souillac, France
Nice paint - an Ixo specialty - and elegant wheels. Detailed enough to be worth 13/20.
Model:
Ferrari 512 BB/LM

Year:
1981
Event:
1981 Le Mans 24 Hours, driven by Jean-Claude Andruet and Claude Ballot-Léna (finished 5th overall, class winner)
Maker:
Ixo
Scale:
1/43
Distributed by:
Altaya as no.32 of its
Les Plus Belles Voitures des 24 Heures du Mans
press series
Acquired:
brand new, in December 2004, in Souillac, France
A good model, but alas lacking many details (cockpit, engine compartment...) due to its plebeian origin. My rating is 12/20.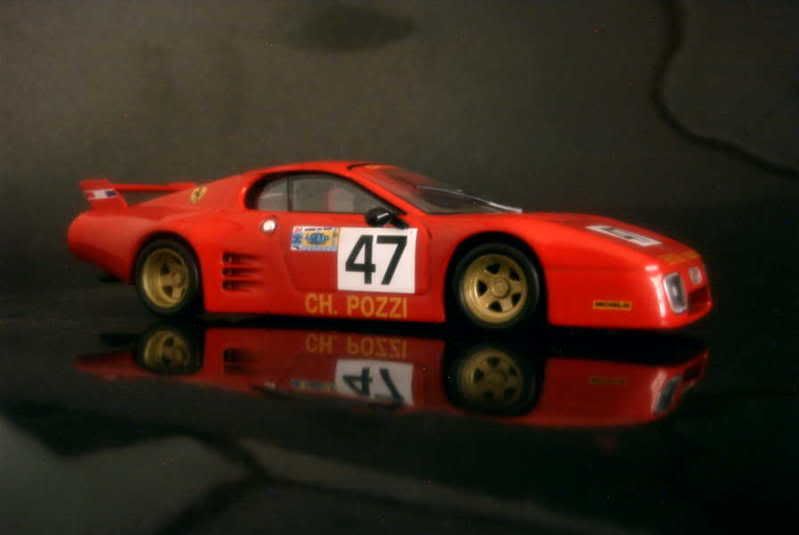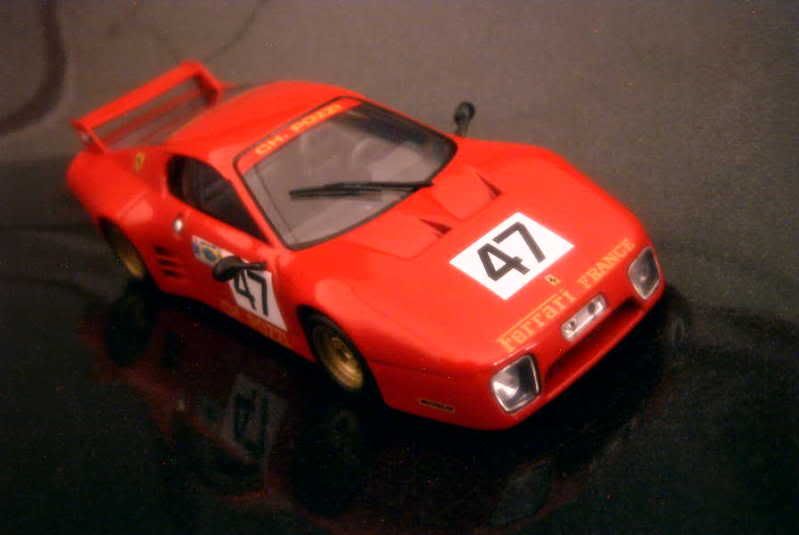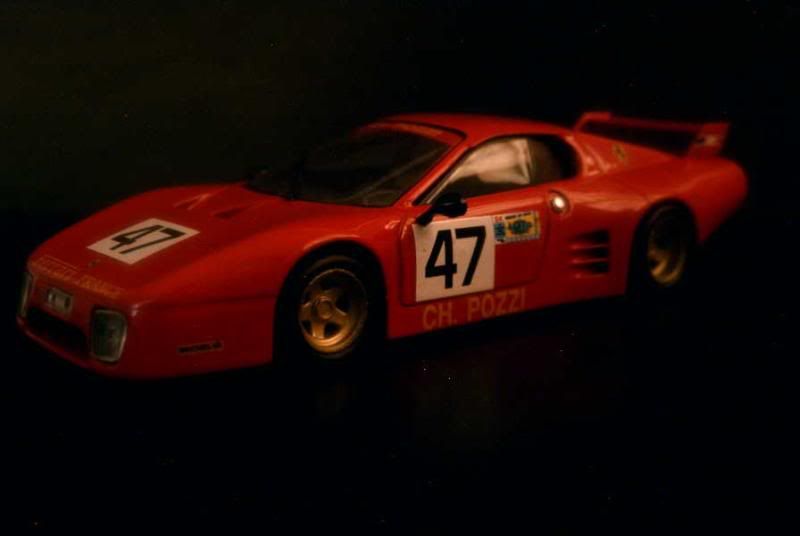 Model:
Ferrari 512 BB/LM

Year:
1982
Event:
1982 Le Mans 24 Hours, driven by Jean-Claude Andruet, Claude Ballot-Léna and Hervé Regout (retired)
Maker:
Ixo
Scale:
1/43
Distributed by:
Ixo "Ferrari" series, ref. FER006
Acquired:
brand new, in June 2008, in Manila, Philippines
Same model as the previous one, but with all the little additions that make it deserve a 14/20.