A little history
After the legendary Mercedes-Benz SSK and SSKL had retired in 1932, only the SS remained as the famous company's sports car offer. Two years later, the SS was finally withdrawn when a new 500K topped the range.
The 500K represented a sharp turn for Mercedes-Benz. It indeed inherited powerful engines fitted with superchargers, optional short wheelbase variants and immeasurable reputation from its predecessors, but the new cars were more urbane, with luxury set as their ultimate goal rather than strict performance.
Though most 500Ks produced in Mercedes-Benz' Sindelfingen's plant were heavy saloons built on the longer chassis, that were the shorter, sportier versions which focussed the bulk of the attention. With the Reich superhighway system filling out into a dense network, the very design of automobiles was evolving in a particular way in Germany. Most manufacturers were offering streamlined cars able to sustain high cruising speeds. For such a high-performance vehicle as its own, Mercedes-Benz couldn't discard such a version, which came in the form of an impressive "Autobahnkurier" special coupe that was a sign of things to come.
All 500Ks were powered by a 5.0-litre inline eight. This new engine was rated at a rather leisurely 100 bhp but, in line with the company's tradition, was equipped with a supercharger offering extra power at the driver's request, by a simple touch of a button on the car's dashboard or with the gas pedal through a kick-down system. When in use, the supercharger would push the output up to 160 bhp, which actually was still short of the SS series, of which many versions had been rated at more or less 200 bhp. Other technical details of the car deserve to be mentioned, as they were extremely advanced for the times: the 500K received an all-independent suspension, hydraulic power-assisted brakes on all four wheels, and a five-speed synchromesh gearbox was available.
It was in October 1936 that Mercedes-Benz broke with its habit and chose Paris instead of Berlin to introduce the W29's next version, the 540K. The new name reflected the engine's growth to 5.4-litre, with outputs now at 115 / 180 bhp, without or with supercharger in use. Using knowledge acquired through their all-conquering Grand Prix racing team, the 540K was totally reworked and its weight greatly reduced. As the 500K before it, the 540K too had its halo model, the outstanding
Spezial Roadster
, which has since then become one of the few classics among all classics. Actually this version, penned by Hermann Ahrens, had been introduced with the latest 500Ks, but became Mercedes-Benz' most effective image-builder following the 540K's introduction. Nonetheless, once again most of the production concentrated on less striking saloons and limousines.
In 1939, Mercedes-Benz started to work on the 540K's replacement, internally known as W129 but supposed to be introduced as the 580K. Engine was again enlarged to 5.8-litre, with outputs up to 130 / 200 bhp, without or with its supercharger on. Several prototypes were built and clothed in the exclusive Spezial Roadster body, or as equally extraordinary coupes. They were tested until 1940, when the necessities of the war brought the program to a halt. Interestingly, the very last units ever built in this series were armoured cars built on the 540K chassis on special request from the Third Reich authorities, the last vehicles being delivered in 1944.
About the models
Model:

Mercedes-Benz 540K Spezial Roadster
Year:
1936
Maker:
Ixo
Scale:
1/43
Distributed by:
Altaya as no.3 of its
Voitures Classiques
press series
Acquired:
brand new, in October 2005, in Souillac, France
A nice Ixo-built model of the famed Spezial Roadster has been proposed by Altaya. It is aptly painted in the traditional red paint these cars often sported, and is nicely fitted with many separate parts. The only drawback is the size of the headlights, which are much too large in diameter. My rating is 13/20.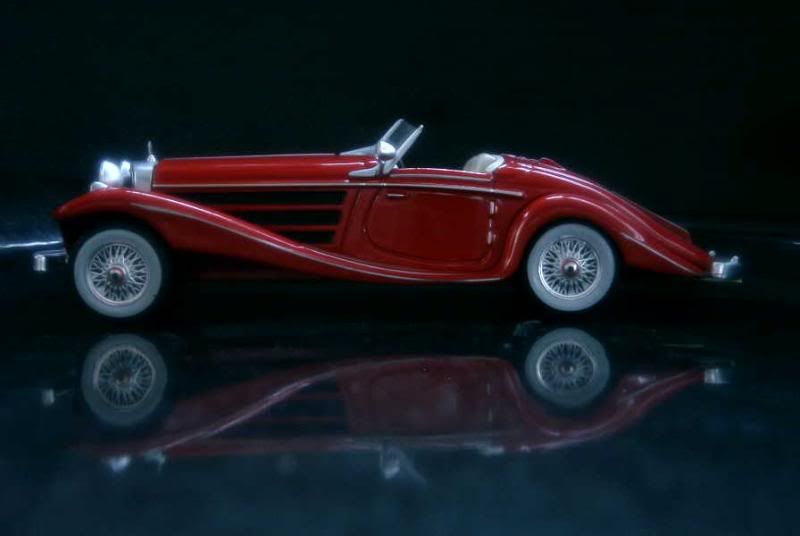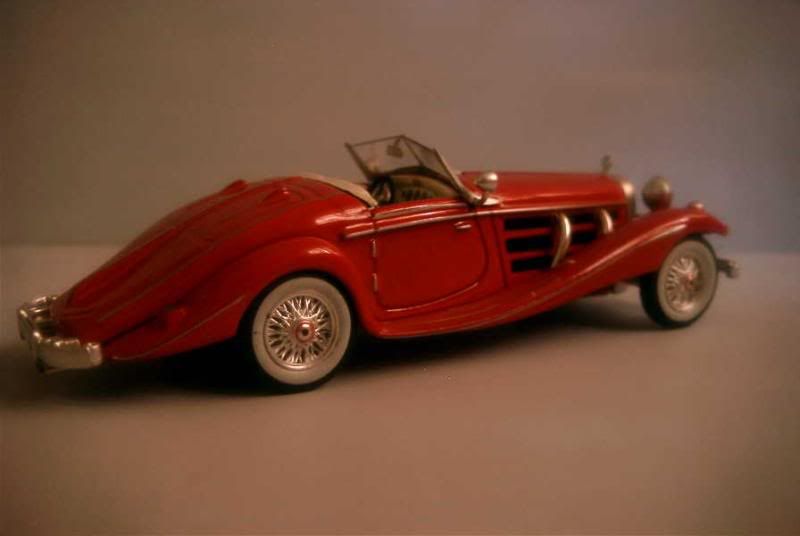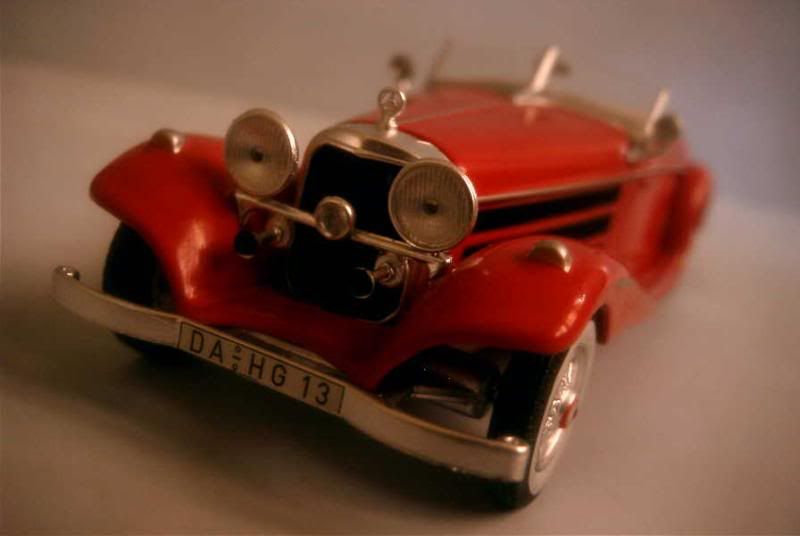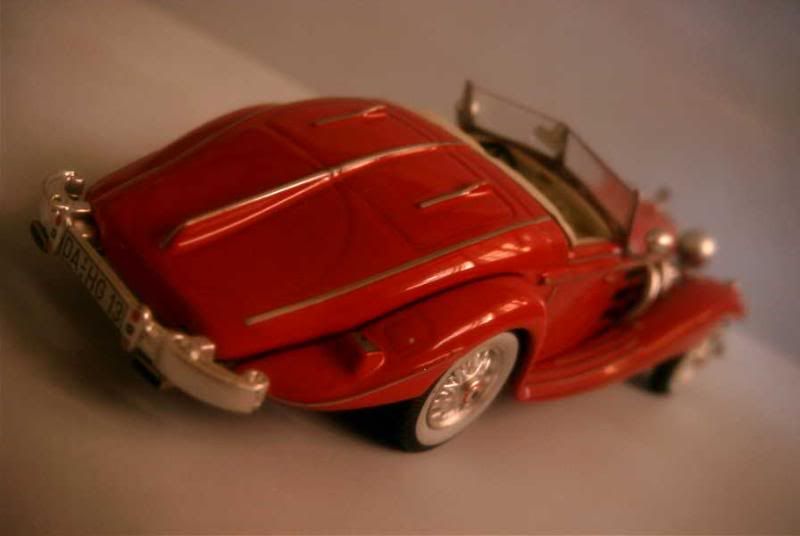 Model:

Mercedes-Benz 540K
Year:
1936
Maker:
Solido
Scale:
1/43
Distributed by:
Solido, "Sixties" series
Acquired:
brand new, in August 2003, in Brive, France
Solido offers this older model, curiously enough in its "Sixties" rather than "Âge d'Or" series. Despite its age this is still a pleasant die-cast in any collection, helped by the fact that rather than the omnipresent Spezial Roadster, Solido chose a plainer yet more original four-seat convertible. Just for the anecdote, a curious problem occurred with this model, as one day I found one of its headlights resting on the shelf next to the car, broken. The model never having been bumped beforehand this was rather odd, but fortunately was fixed without any problem. My rating is 12/20.