A little history
Though its nimble prototypes were able to outclass much more powerful machines on twisty tracks, most noticeably at the Nürburgring or the Targa Florio, by 1967 Porsche had still never been able to win any other major event of the sportscars calendar, and above all had failed to clinch a victory at Le Mans. During that year, though, seemed to arise the opportunity that would make a winner out of Porsche.
The F.I.A. (Fédération Internationale Automobile) announced that, starting in 1968, the engine's displacement of prototypes would be aligned on that of Formula One: 3 litres was the new absolute ceiling. Porsche immediately set to work on a new car, the 908, in order to replace its 2.2-litre 907.
The F.I.A. soon changed its mind, however, allowing for the time being sportscars of up to 5.0 litres. This excluded cars of the likes of the Ford Mk.II and Mk.IV or the Chaparral, with their huge 7.0-litre V8 engines, but permitted the smaller Ford GT40 and the Lola T70 to carry on for a few more years. Porsche's task suddenly became more complicated.
The German engineers used all of their knowledge of aerodynamics, for which they were renowned, to fashion their 908. With about 350 bhp and a "Long Tail" body, the coupe was not only fast – it was beautiful. Alas, elegance alone comes to nought in motor racing. The 908 proved a fragile machine, and all too often gave way to the time-tested Fords and Lolas, and even to its little sister the 907. Three-litre prototypes weren't appearing any more as the winning formula. Back to the draughtsman's table: the next Porsche would be a 5.0-litre sportscar, named 917.
Before the new 917 could be readied, the 908 had still to carry on, going from one bitter disappointment to the next. A record low was reached at Daytona, in early 1969, when Porsche showed that it had been unable to improve the 908 before the start of the new season and recorded an utter rout. Fortunately the 917, presented to the public during the Geneva car show a few weeks later, was just a few months away.
Again, nothing went according to Porsche's plans. When tested, the 917 proved challenging to master, even for the most skilled factory drivers. Further tests would be necessary just to make it driveable. On the other hand, the 908 unexpectedly started to win. A lighter spyder version, the 908/02, had been developed. At Brands Hatch, three of these cars dominated, inaugurating a string of successes. Hope was back in the hearts of the Porsche team at Le Mans, but the worn out brakes of the leading 908 gave an old Ford GT40 a last-minute win. Despite this failure, the team clinched the World Championship for Makes, a fine consolation.
With the 917 finally reaching the top in 1970, the 908's career could have ended. Instead, the Porsche people developed a new version of it, the 908/03, a spyder even smaller and nimbler than the 908/02. Again, the idea was to substitute it to the heavier 917 on the twistier tracks of the season. This strategy paid off, Porsche again being crowned in both 1970 and 1971.
The ban of 5.0-litre cars finally became a reality in 1972. Porsche lost interest in sportscars races and limited its involvement to mostly GTs, but the old 908s were cars of choice for privateers. In their hands these machines were continuously updated, which allowed them to fight back the effects of passing time and postponed their retirement until the early Eighties.
A personal note
I still regret to have missed a splendid opportunity while being in Hong Kong: all three of the 908 Long Tail coupes from Le Mans, Ebbro-made and brand new, for the equivalent of 12 euros each. Therefore my 908 range chronologically have to start with the later spyders.
About the models
Model:

Porsche 908
Year:
1969
Event:
1969 Japanese Grand Prix, driven by Hans Herrmann and Kenjiro Tanaka (finished 7th)
Maker:
Ebbro
Scale:
1/43
Distributed by:
Ebbro, "Racing" series ref. 728
Acquired:
brand new, in December 2006, in Hong Kong, S.A.R.
Ebbro doesn't limit itself to Japanese cars, but also produces a few Porsches. Among those are this 908, which the Taki Racing Team entered in the 1969 Japanese Grand Prix. A nice model in a rather original version. I'd give 14/20 to it.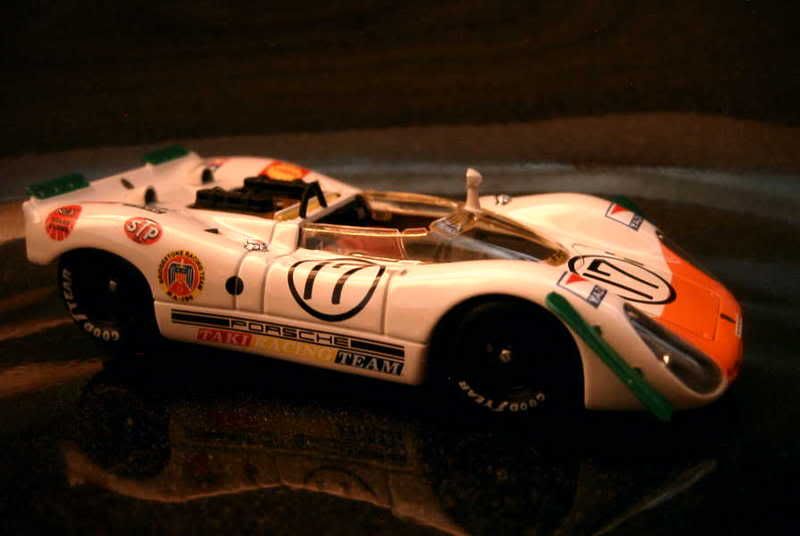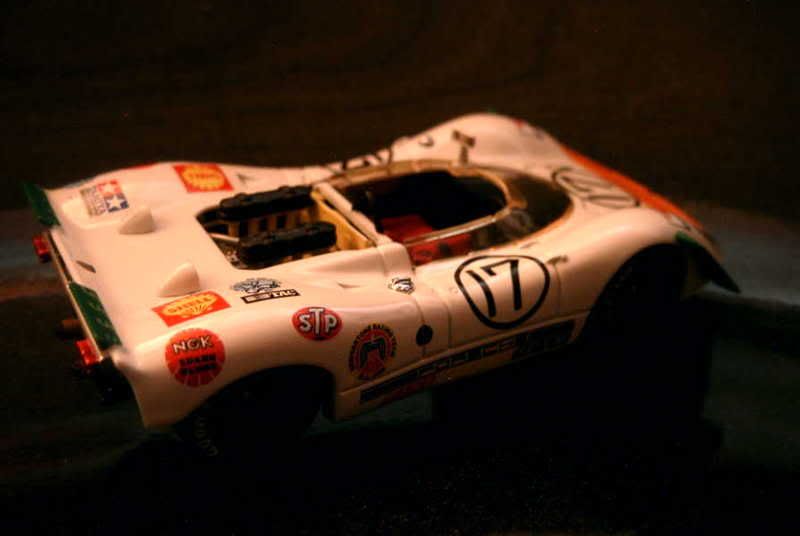 Model:

Porsche 908/02
Year:
1969
Event:
1969 Brands Hatch 500 km, driven by Gerhard Mitter and Udo Schütz (finished 3rd)
Maker:
Best
Scale:
1/43
Distributed by:
Best ref. 9041
Acquired:
second hand, in March 2007, from a friend from Manila, Philippines
Best is a misnomer when it comes about quality, as the Italian brand certainly doesn't deliver what its name promises. On the other hand, it offers a wide range of seldom-seen-elsewhere models at a correct price. This 908 is among those, correctly reproducing an early /02, but not much more. I'd give it a 12/20 rating.
Model:

Porsche 908/02 "Flunder"
Year:
1970
Event:
1970 Temporada 200 miles, driven by Alain de Cadenet and Carlos Pairetti (result unknown, probably retired)
Maker:
Best
Scale:
1/43
Distributed by:
Best ref. 9107
Acquired:
second hand, in March 2007, from a friend from Manila, Philippines
Even more original is this Ecurie Evergreen-entered Flunder that de Cadenet and Pairetti raced at the Temporada, one week after the pair drove it to 5th place during the Buenos Aires 1000 km. Perhaps my favourite among my trio of Best 908s, I'd rate it at 13/20.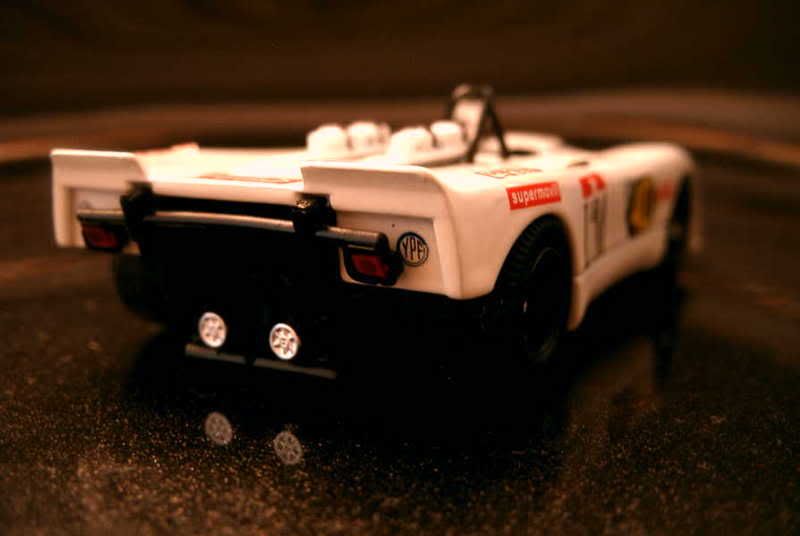 Model:

Porsche 908/03
Year:
1972
Event:
1972 Imola 500 km, driven by Reinhold Jöst (finished 4th)
Maker:
Best
Scale:
1/43
Distributed by:
Best ref. 9057
Acquired:
second hand, in March 2007, from a friend from Manila, Philippines
I have some doubts about this car. Best indicates that it ran at Imola, so it should be Jöst's car. On the other hand, as far as I know, no.6 was given to an Alfa Romeo during that race. Probably some mixing in my data, though. As for the model itself, it is again correctly done in a livery typical of the era's 908 Spyders. Decals' quality could have been better, though. My rating is 12/20.