Today we'll talk about Maybach – the original one, not its regrettable revival.
A little history
Long before a luxury car was called a Maybach, the name was already linked to automobile. Wilhelm Maybach, an engineer from Heilbronn, became Gottlieb Daimler's protégé at an early age. From then on his fortunes were linked to those of his liege. An automobile pioneer's glory ultimately befell Daimler, allowing the loyal Maybach to bask in his master's everlasting notoriety. This was well deserved, as Maybach had been highly instrumental in Daimler's creation of his first engine, of the very first carburettor, and of his first automobile.
Though Daimler concentrated on automobiles, Maybach's focus turned more and more to airships. With his son Karl, shortly after the turn of the twentieth century Wilhelm Maybach created a new company aimed at producing aeronautical engines. The firm's destiny became intertwined with that of Zeppelin, the world lighter-than-air's pioneer. The new dirigibles were among the favourite toys of the German Imperial army's high command – Maybach engines sold well. Germany's defeat in 1918 brought a complete reversal of fortune, however. For the time being, the country was forbidden to venture into the aeronautical field by the victors. Maybach had to turn to another activity.
Having produced very large motors for airships, building diesel engines for marine and rail uses was a logical step. Another activity would bring prestige to the company – manufacturing luxury automobiles. A prototype based on a Mercedes chassis had been built by 1919. Further experiments led to the first production Maybach in 1921: the six-cylinder W3.
By 1930, it was still too early for the world to feel the devastating effects of the Wall Street crash. The rich were richer than ever, and wanted vehicles that suited their extravagant tastes. Around the world, manufacturers answered the call by offering larger multi-cylinder engines. Maybach, by then at the apex of the German automotive realm alongside Mercedes-Benz and Horch, scheduled to release a V12 in 1930.
Interestingly the new car was called
Doppel Sechs
or DS in short, which translates as Double Six in English. At about the same time, the British company Daimler, which as its name implies had entered business by producing under licence the early vehicles designed by Gottlieb Daimler and Wilhelm Maybach, was also planning a V12 car, which too was called Double Six. In the case of the German car, the name "Zeppelin" would be joined in order to capitalize on Maybach's long involvement in airships – the Zeppelin "Hindenburg" had just succeeded to fly around the world, propelled once again by Maybach engines, so the company cleverly used some of the publicity thus generated.
Shortly after a 7-litre, 150 bhp V12 called the DS7 Zeppelin Maybach was launched, an even more gigantic automobile appeared late in 1930: the DS8 Zeppelin, this time fitted with a massive 8-litre good for 200 bhp. As most luxury cars of its time, the very exclusive Zeppelin was generally sold as a bare chassis to be fitted with a custom-built body. In that instance the majority of Zeppelin's chassis went to the neighbouring works of renowned coachbuilder Hermann Spohn.
Such an expensive car wouldn't have been enough by itself to provide work to the automobile division of Maybach, even in times of prosperity. Though the Zeppelin was retired in 1934, the six-cylinder cars, though "small" only by comparison, remained in production throughout the Thirties. Most famous in the line was the W6 DSG introduced in 1934. Itself a massive 7-litre car, it featured a peculiar 4-speed gearbox fitted with a double overdrive. As a result its drivers had twelve speeds at their disposal, a device more commonly found in trucks than in luxury cars.
Alas, Maybach's glorious venture in car building was to be a short one, bracketed between two wars. Its experience in large displacement engines was put to good use by the Third Reich, which medium tank Pz.V Panther and heavy tanks Pz.VI Tiger and Tiger II "Königstiger" were all fitted with the same Maybach HL230 V12 engine, developing around 700 bhp.
Maybach gave up building automobiles for good in 1945.
About the models
Model:
Maybach DS8 Zeppelin
Year:
1930
Maker:
Minichamps
Scale:
1/43
Distributed by:
Minichamps
Acquired:
brand new, in May 2006, in Manila, Philippines
Minichamps proposes a stunning Zeppelin, fitted as a convertible sedan. Photo-etched metal has been nicely used for the radiator mascot and the car's name in front of the grille. Sold in a large commemorative box, the model is simply beautiful, and I'd give 16/20 to it.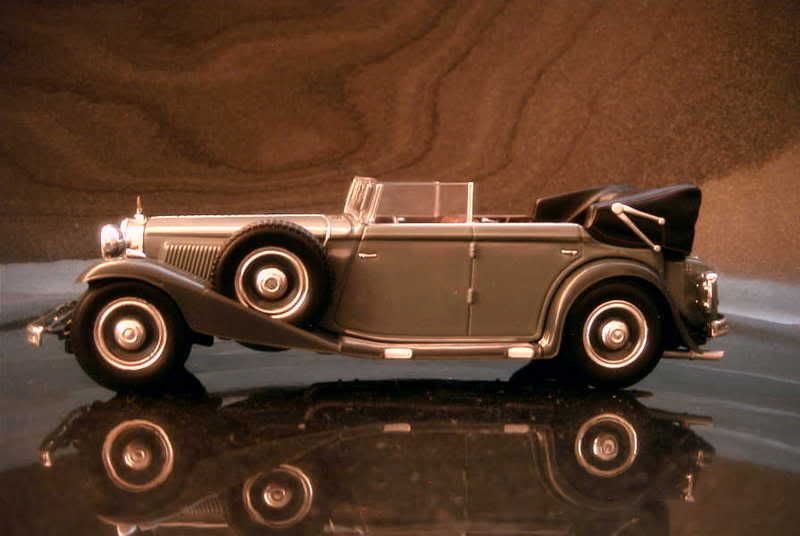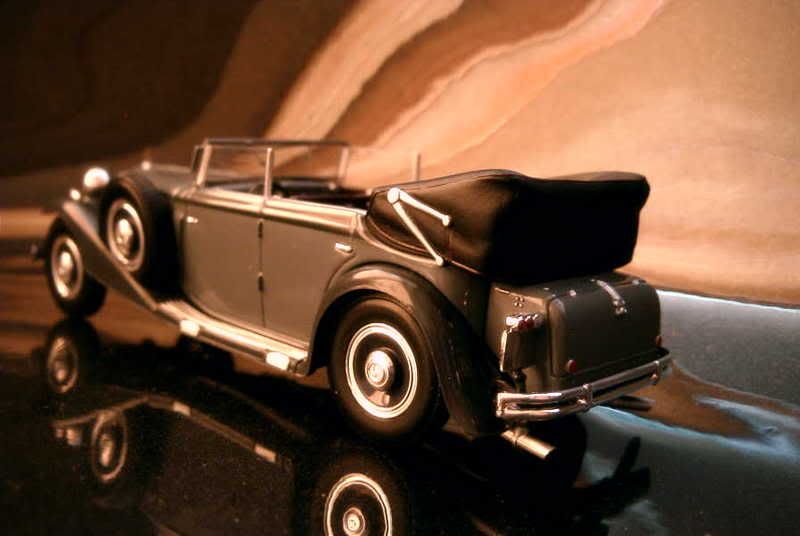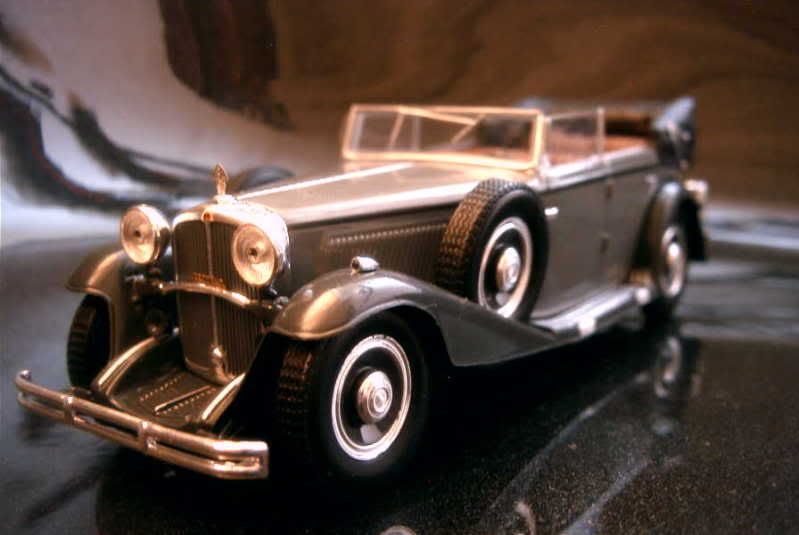 Model:
Maybach DS8 Zeppelin
Year:
1930
Maker:
Ixo
Scale:
1/43
Distributed by:
Altaya as no.9 of its
Voitures Classiques
press series
Acquired:
brand new, in August 2006, in Souillac, France
Once again Ixo is caught aping Minichamps. It's certainly nice to undersell your rival, but it's too bad that quality inevitably suffers because of the relentless pursuit of better prices. Out are the photo-etched parts, replaced by thick pieces of plastic – however this is an Altaya-distributed Ixo, and I don't know how genuine Ixo are fitted. Wheels, windows and the folded hood, in particular, betray the lack of refinement of the cheapest version. I'd stick to a modest 13/20 for this one.