First of all, welcome to our newest follower
anpleco
. If you enjoy buses, have a look at his own, very interesting
page
.
Secondly, my warmest thanks to all of you simply passing by and reading this blog. I grossly underestimated the number of such visitors until, inspired by some of our friends' own pages, I installed the counter you can see further down. It proved me to be quite wrong actually, as I just noticed that we passed the 100-different-countries mark, and though I suppose the largest majority of those are not model cars collectors, I can't help wondering what it is like to collect die-casts in such exotic locations as Cambodia, Panama, Ghana or else. So if you are in such a situation, don't hesitate to leave a few words, even as an anonymous user, to share your experience.
Two last remarks for those of you who would count the little flags in order to check if there are really one hundred of them:
1. There is actually one more as I didn't count "European Community" as a country.
2. You really have time to waste... ;)
This said, here is today's story.
A little history
Faithful Citroën customers were in fright after their favourite brand had been taken over by Peugeot in 1974: now overseen by the new PSA group, would the Javel company retain enough autonomy to keep the unique taste for innovation that had made its reputation? At first, these fears didn't seem to be the sole effect of an excess of pessimism. Despite Peugeot's assurances, the first new Citroën was, for the most part, a Peugeot but for its name.
This new car was called LN. A small two-door hatchback, it received the Peugeot 104 coupe's body but was powered by Citroën's traditional air-cooled, 602cc twin. Turn the ignition key, and it unmistakably sounded like a Citroën… yet, this wasn't enough to convince anyone of Peugeot's good intentions concerning its new satellite. For Citroën didn't even need such a car, having no less than four different models down its range: the 2CV, still a best-seller after a quarter of a century in production; the
Dyane
, a slightly modernized interpretation of the previous car which enjoyed a better equipment; the Ami 8, a family car; and the Méhari, a light off-road vehicle. All that the LN had to offer were similar performances and economy, less room inside the passenger compartment, a virtually absent boot and, to cap it all, an insipid image.
After having been seen at the Paris motor show in October 1975, the LN went on sale in August 1976. The press was wary, while Citroën's loyal followers were outraged. No wonder then why the LN didn't sell well. During the following years, the car's small range was constantly revised, updated, tweaked, but the car just didn't fit among Citroën's production. As early as November 1978 the LN gave way to a facelifted LNA, powered by a more potent 652cc, courtesy of the new
Visa
. Then in 1982, PSA tried to develop the LNA's range upward by fitting under its bonnet a water-cooled 1124cc, Peugeot's "Douvrin" engine, which deprived the car from the limited pedigree it had inherited. The last LNA was built in 1986, to be replaced by the
AX
– though developed in close cooperation with Peugeot, this new car didn't repeat the mistakes of its predecessor by clearly asserting its identity as a Citroën.
About the models
Model: Citroën LN

Year:
1977
Maker:
Universal Hobbies
Scale:
1/43
Distributed by:
Atlas as no.33 of its
Passion Citroën
press series
Acquired:
brand new, in November 2005, in Sarlat, France
Too often underrated by collectors in my opinion, Universal Hobbies showed how good some of its models can be with this LN. Overall shapes and proportions: nothing to complain about. Paint: nice and accurate. Details: worth grabbing a magnifier. My rating? Let's be generous for such a good model – 16/20.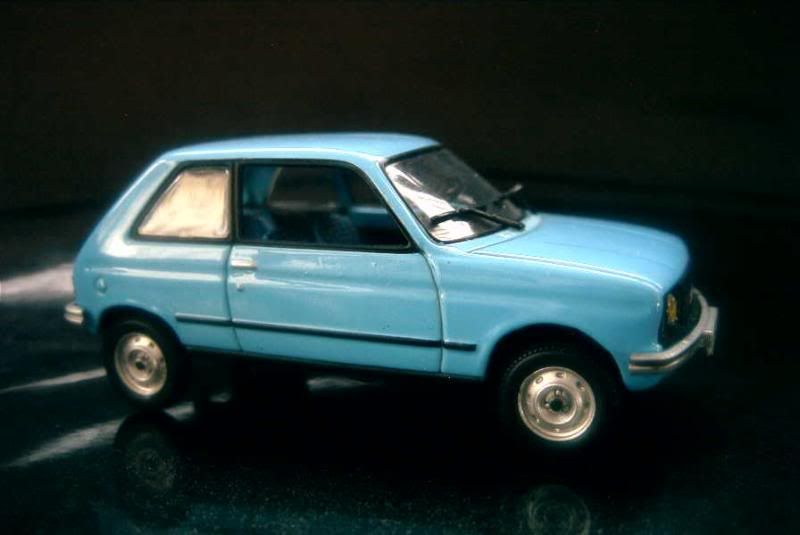 Model:

Citroën LNA
Year:
1981
Maker:
Ixo
Scale:
1/43
Distributed by:
Altaya as no.98 of its
Nos Chères Voitures d'Antan
press series
Acquired:
brand new, in January 2008, in Souillac, France
A rather correct model, but in no way as good as the previous one. Workmanship in particular is much poorer with Ixo than UH. My rating is 12/20.