A little history
During its whole history – thirty-three years – the Rekord always stood near the top of Opel's range. Interestingly, though passing through many different generations, the Rekord featured for most of its life bodies that were insistingly looking at the other side of the Atlantic Ocean for inspiration, not only owning up to the American ownership of Opel, but also expressing the tastes of many European motorists of the time.
Born as a two-door saloon in March 1953, but also available as a convertible or an estate, the Rekord, or rather the Olympia Rekord as it was then called, was initially powered by a 1.5-litre four. Though this first Rekord had a short career which ended in mid-1957, it passed through several facelifts and, although it looked at first as a scaled-down Pontiac, it was not so easily identifiable with other GM products at the time it retired.
The second-generation Rekord (P1) gave up the "Olympia" name, relinquishing any affiliation with its predecessor. It also appeared even more Americanized, as it now enjoyed two-tone paints, wraparound windshields and small fins at the rear. Such gimmicks would rapidly become obsolete, so this car's life was even shorter than the Olympia Rekord's, ending after only three years. Its successor was the P2, which was basically a re-bodied P1. The P2 was much squarish, and did away with wraparound windshields and curved side mouldings. Actually, the P2 had been designed to resemble the larger Kapitän, Opel's offer in the luxury field. Though wheelbase was unchanged, the P2 also saw the introduction of the first four-door Rekord saloon, a welcomed addition.
Generations of Rekord continued to succeed each other at a rapid pace. In March 1963, the new Rekord "A" introduced a new style which, this time, did away with the Kapitän connection. Still, the link was soon re-established, as in March 1964 the Rekord, as a sign of the increasing fortune of the German middle class, was offered with an optional 2.6-litre six lent by Opel's upper range. From July 1965 a facelifted Rekord "B" had a very short career (eleven months) but, significantly, introduced rectangular headlights – another styling cue borrowed from the latest Kapitän – which replaced the traditional round ones, and was at last powered by brand-new engines.
The Rekord "B" prefigured its successor's style, though the straight horizontal lines that characterized American design during the early Sixties now gave way to the new "Coke bottle" styling gracing the "C". Another American touch, a semi-fastback coupe was introduced, as well as a trendy vinyl roof. Separating the wheat from the chaff, Opel set up a new series, christened Commodore, for the six-cylinder cars. A symbol of the growing success of this German product, the "C" was also built in many countries abroad and, more specifically for our Brazilian friends, was the basis for one of their most ironic cars, the Chevrolet Opala, which would still be in production years after the very name Rekord would have disappeared.
Entering production in August 1971, the Rekord "D" marked a milestone as the car's simpler body finally started to escape the influence of American styling that, having become too excessive and extravagant, was no longer
en vogue
in Europe. It also saw the introduction of the range's first diesel engine, a 2.1-litre four.
The first Rekord fitted with a purely European body was the "E", introduced in August 1977. Today, it can appear a little boxy, but was perfectly up-to-date back then. Furthermore, in order to face the threat of two futuristic models about to be launched by its rivals, the Audi 100 and the Ford Sierra, Opel's designers cleverly facelifted the "E" in August 1982, successfully extending its lifespan up to July 1986. Once again the Rekord was available as a six-cylinder Commodore but also, as the slow-selling six- and V8-powered Opel behemoths had been sacrificed on the altar of economy shortly after the beginning of the oil crisis, as two new models: the luxurious Senator and its coupe variant, the Monza.
The Rekord nameplate was finally the victim of its own success. Feeling that "Rekord" (or, as a matter of fact, "Kadett") sounded too much German for cars now sold worldwide, Opel decided to call its new middle-range car, introduced for model year 1987, the Omega. Still, nearly a quarter of a century later, I can't help missing the old name.
An additional note
I wrote this post last week while scheduling to make it viewable today; coincidentally, two days ago our friend Tohmé published a post of his own featuring two very nice
Opel Commodore racing cars
on his blog - if you did not visit this page up to now, they are worth having a look.
About the models
There are plenty of them considering the long career of the Rekord, but unfortunately there would still be a long way if I'd decide to complete all generations of the car.
Model:
Opel Rekord
Year:
1958
Maker:
Minichamps
Scale:
1/43
Distributed by:
Minichamps
, limited edition - 1,008 pieces
Acquired:
brand new, in February 2006, in Manila, Philippines
Very nice P1 by Minichamps: 15/20.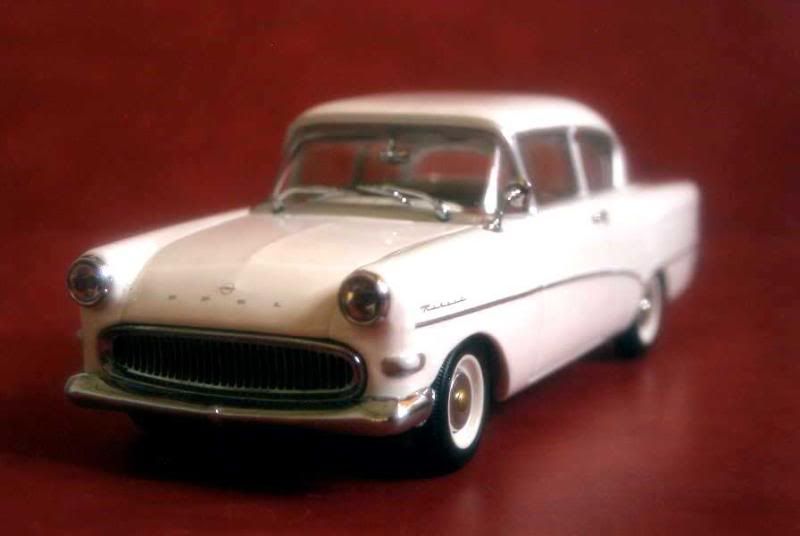 Model:
Opel Rekord
Year:
1960
Maker:
Minichamps
Scale:
1/43
Distributed by:
Minichamps
, limited edition - 3,024 pieces
Acquired:
brand new, in February 2006, in Manila, Philippines
The best source of vintage German cars in 1/43 scale, Minichamps unsurprisingly also proposes this P2 coupe. My rating is again 15/20.
Model:
Opel Rekord 1900

Year:
1966
Maker:
Minichamps
Scale:
1/43
Distributed by:
Minichamps
, limited edition - 2,400 pieces
Acquired:
brand new, in September 2007, in Manila, Philippines
A pleasant Rekord "C" worth 14/20, though it appears a little "naked" without any registration plate.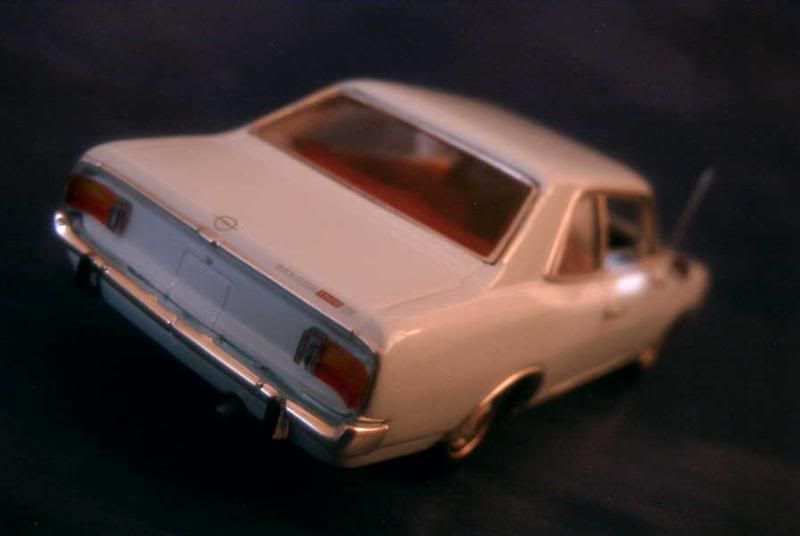 Model:
Opel Commodore

Year:
1966
Maker:
Minichamps
Scale:
1/43
Distributed by:
Minichamps
, limited edition - 4,320 pieces
Acquired:
brand new, in February 2006, in Manila, Philippines
A fancier version of its Rekord gave Minichamps a Commodore. The German model-maker upheld its reputation by taking care of the minor details differentiating the two cars, as a different type of steering wheel for example. I'd give a 15/20 rating here.