A new post is by now so rare on this blog that I can hardly believe it myself. By the way, regards to our newest follower,
Pabuelin
.
A little history
Peugeot decided to postpone the launch of its 504 model, scheduled for the spring of 1968, for France was by then in turmoil due to social unrest and students' demonstrations. A certain idea of freedom was carried by the wind which was then blowing upon the country – and Citroën timely unveiled its Méhari.
Students had been throwing cobblestones all night long at the police forces. Hundreds were injured. Five hundreds youngsters were arrested after dawn. And yet, this was the day – May 11, 1968 – the Méhari was introduced, a carefree, fun, practical little off-road vehicle designed by Citroën. Ironically, nobody can resist to relate the two events nowadays, but by then, the troubled times prevented the Méhari to have much of a media exposure.
The concept was not new: as early as in 1963, two businessmen from Ivory Coast had begun producing a simple off-road vehicle based on the 2CV, which they named the Baby-Brousse. With Citroën's support, the car ended up being produced on all continents, apart from Australia.
Citroën's Méhari would indeed use most 2CV's mechanical components, but instead of the squarish metal-sheets body of the Baby-Brousse, which simplicity was ideal for the limited industrial means of Third World countries, it would adopt a body moulded in ABS, a thermoplastic. Unlike most other "plastic" cars, the Méhari was not painted, the ABS being tinted. This eliminated the risk of scratching the paint in off-road use, but brought as a drawback a limited choice of colours and a tendency for them to fade over time.
The off-road capacities of the Méhari, with its little 600cc engine and only two-wheel-drive, were obviously limited, though the very light weight – just a little above 500 kilos – helped in many situations. Despite these limitations it was adopted by the French military as a light liaison vehicle, though for tougher work they still relied on Jeeps and, later, on Peugeot P4s and Auverlands. Many civilians users were enthralled by the Méhari, a durable and cheap mean of transportation that was ideally suited for the countryside.
In 1979, Citroën finally unveiled a 4WD variant of the Méhari. Despite a heavier transmission and a larger engine, the car remained relatively lightweight. With the help of a 7-speed gearbox, this allowed the Méhari 4x4, as it was simply called, to climb slopes of up to 60%. Unfortunately, the price of the 4x4 had ballooned to levels that insured its output to remain extremely limited. It was discreetly retired after only four years in production.
The plain two-wheel-drive Méhari survived its overambitious sister for another four years. After almost nineteen years in Citroën's range, it finally disappeared in 1987, with no successor. A faraway heir could nonetheless be perceived in the C3 Pluriel. More complex and pricier, the latter never equated its predecessor's success.
About the models
Model: Citroën Méhari

Year:
1970
Maker:
Ixo
Scale:
1/43
Distributed by:
Altaya as no.12 of its
Nos Chères Voitures d'Antan
press series
Acquired:
brand new, in July 2004, in Souillac, France
Ixo made a nice model of the Méhari – the folds of the canopy look particularly realistic. Unfortunately the Chinese manufacturer once again neglected data-gathering and ended up choosing a colour that wasn't even available before several years later. This isn't enough to spoil my pleasure of owning this model. My rating is 14/20.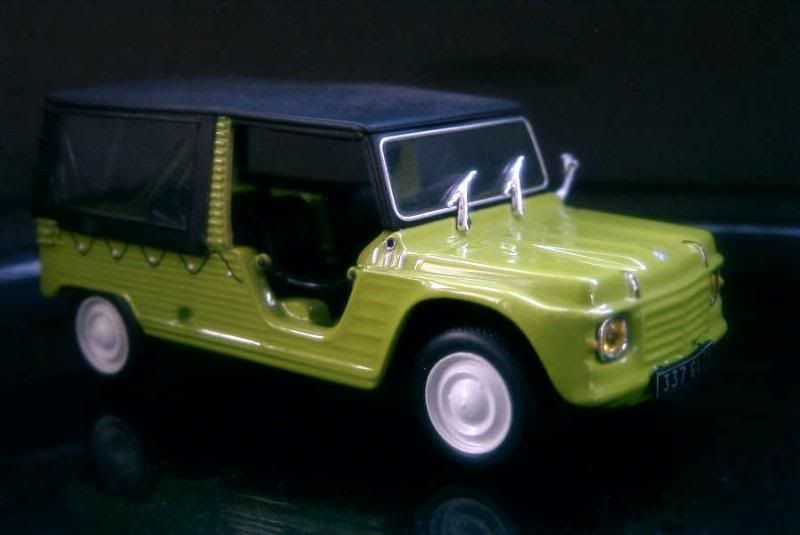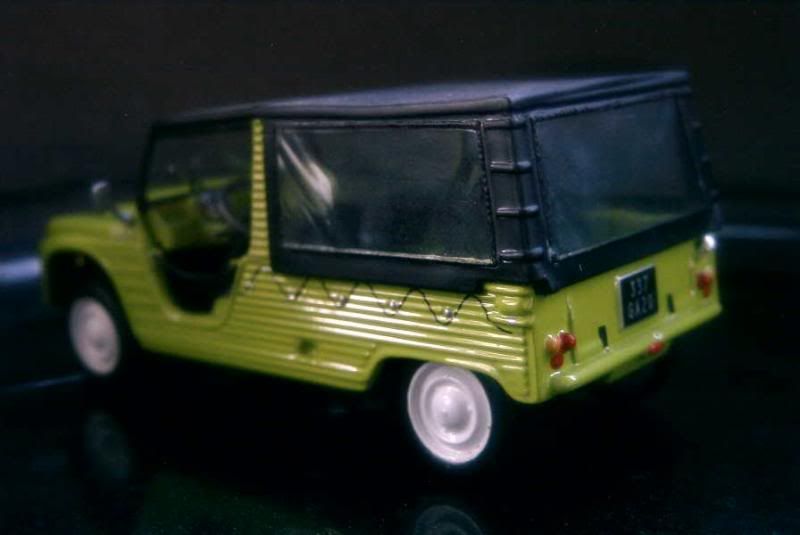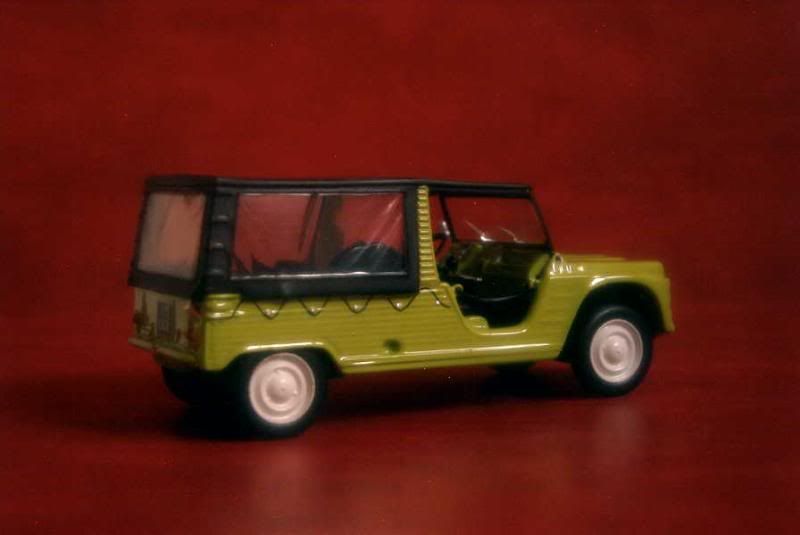 Model:
Citroën Méhari
Year:
1972
Maker:
Norev
Scale:
1/43
Distributed by:
Atlas as no.11 of its
La caravane du Tour de France
press series
Acquired:
brand new, in June 2004, in Souillac, France
An older die-cast with many fine details, but also a somewhat strange overall shape – not so noticeable though. It is here fitted with the decoration of a Tour de France advertisement vehicle, a Norev specialty. Here, I'll give 13/20.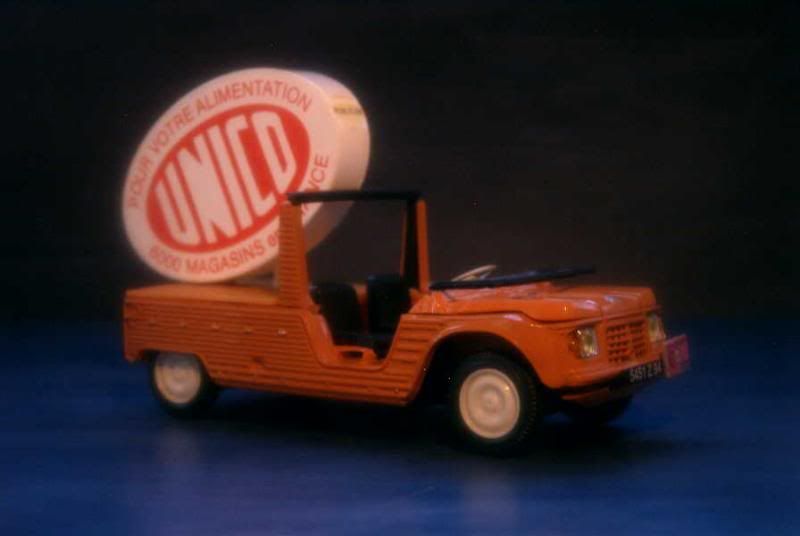 Model:
Citroën Méhari 4x4

Year:
c.1979
Maker:
Solido

Scale:
1/43
Distributed by:
Hachette
in its
Sapeurs Pompiers de France
press series
Acquired:
second hand in original blister pack, in November 2007, in Montpellier, France
Simple but accurate, as many older Solido models were. Furthermore it represents the rare 4x4 version. Verdict: 12/20.