Greetings to
Demo
, who just joined us.
A little history
We have already seen how, with its
Dyna X
, Panhard turned away from the luxury market after World War Two in order to concentrate on popular cars. By 1950, the original Dyna was already losing momentum against cheaper alternatives such as the Citroën 2CV or the
Renault 4CV
. Therefore, the company management decided to replace its car by a more ambitious automobile, which design proved to be a challenge, for the company wanted a car that would be large enough to accommodate six persons, offer good performance and economy, and yet run on nothing more than the tiny 850cc flat-two of the Dyna X. An impossible task for Panhard's engineers, would you say... And yet, they succeeded in designing a car that would exactly fulfil these requirements.
This new model was logically called the Dyna Z, and was first introduced before the press at the Parisian
Les Ambassadeurs
restaurant, in June 1953. The car was immediately acclaimed as one of the most innovative automobiles of the time. As requested, economy (6 litres of gasoline per 100 kilometres, or about 40 mpg) and performance (top speed of 130 kph) were both achieved, thanks to an extremely aerodynamic body penned by Louis Bionier (Cx of 0.26, still an excellent figure nowadays) and a very light construction in duralinox, a light alloy. While most of its rivals weighed about a ton, a Dyna Z was less than 700 kilos. It also enjoyed then-advanced characteristics as a four-speed gearbox with overdrive, or practical features as its rearward-opening bonnet that encompassed the front wings, in order to give complete access to the engine. This latter detail should have seduced amateur mechanics, but unfortunately the very peculiar drivetrain wasn't easy to service outside of Panhard's dealerships – this still hampers the popularity of these cars as collection pieces today.
Despite some early quality problems, the Dyna Z was well received. Too well perhaps: despite the fact that its whole design had been thought to fit the company's Porte d'Ivry factory, a cramped plant split between several levels in downtown Paris, and though Chausson had been contracted to produce the bodies, building the car in large volumes was virtually impossible. This, along with a major blunder from Panhard's accountants in their computation of the production cost of the car, made for a relatively expensive automobile. In order to reduce its expenditures, Panhard progressively dropped the duralinox, originally retaining it for the body panels only, then later building its Dyna Z entirely from steel. In the process, the Dyna fattened up by almost two hundred kilos during its career, losing most of its advantage on the performance field.
In June 1959, Panhard introduced the Dyna Z's replacement – actually nothing more than an updated car. This new PL17 saw both its front and rear panels slightly modified in order to fit the changing tastes of the public but, despite this, the car remained characteristically bulbous. The dubious "suicide doors" fitted at the front gave way the conventional doors. Furthermore an optional "Tigre" engine was available: the uprated 850cc engine could now propel the PL17 to a good 145 kph and give back to it the zing of the initial Dyna Z. Indeed, it proved a brilliant competitor in rally racing.
Though the PL17 was quite a nice car, it could no longer dissimulate that the old company was out of pace by the early Sixties. Cash-trapped, Panhard was doomed even more by the negative impact of the gradual takeover by Citroën. Initiated in 1955, it was completed ten years later. In January of the same year 1965, the PL17 retired without a successor – the new and striking model 24 coupe, to which it had been originally planned to add a four-door version, remained the lone Panhard offer until Citroën sadly pulled the plug in 1967. Nowadays, the name survived only on military vehicles.
About the models
Model: Panhard Dyna Z

Year:
1953
Maker:
Ixo
Scale:
1/43
Distributed by:
Altaya as no.43 of its
Nos Chères Voitures d'Antan
press series
Acquired:
brand new, in October 2005, in Souillac, France
This is a simple yet pretty reproduction of an early Dyna Z by Ixo for Altaya. My rating is 14/20.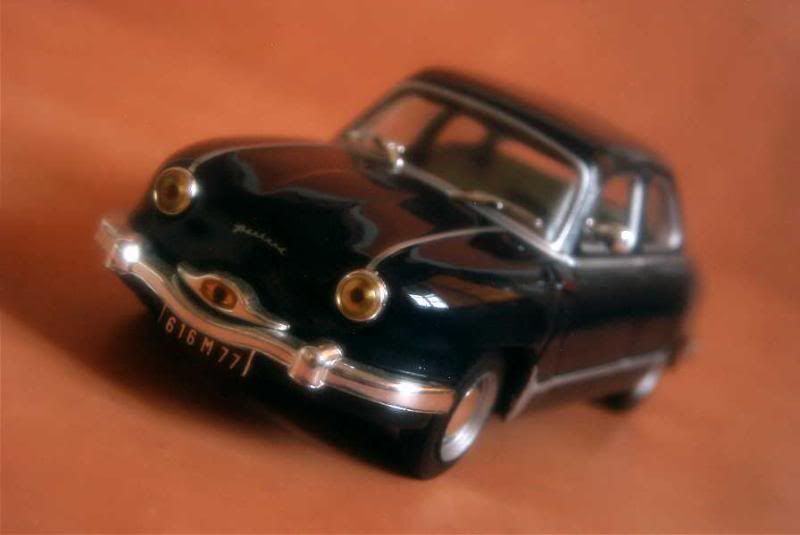 Model: Panhard PL17

Year:
1960
Maker:
Ixo
Scale:
1/43
Distributed by:
Altaya as no.25 of its
Nos Chères Voitures d'Antan
press series
Acquired:
brand new, in February 2005, in Souillac, France
Ixo demonstrated comparable quality when it came to reproduce a PL17 for the very same Altaya series. Same rating: 14/20.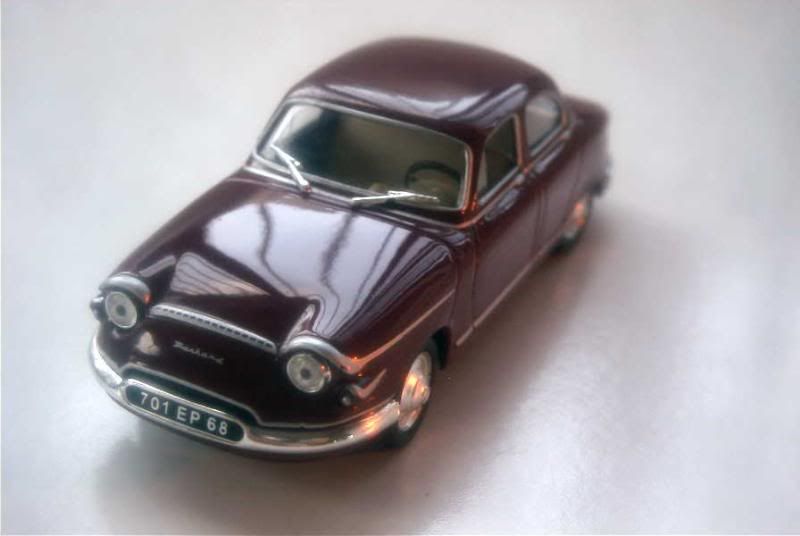 Model: Panhard PL17

Year:
1961
Maker:
Solido
Scale:
1/18
Distributed by:
possibly as no.27 of the
Voitures de prestige au 1/18
press series
Acquired:
second hand with neither stand nor box, in April 2007, in Brive, France
Not the most detailed 1/18 die-cast around, but still a pretty good one. Plus, a PL17 at this scale is a nice departure from the all-too-common GTs or muscle cars. My rating is 13/20 here.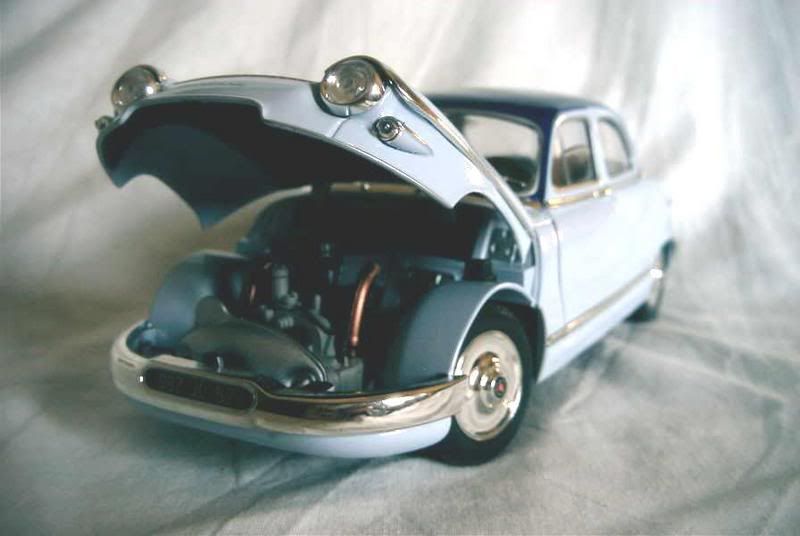 Model: Panhard PL17

Event:
1961 Monte Carlo Rally, driven by Maurice Martin, navigator Roger Bateau (overall winners)
Maker:
Ixo
Scale:
1/43
Distributed by:
Altaya as no.64 of its
Voitures de Rallye de Collection
press series
Acquired:
brand new, in August 2006, in Souillac, France
The very limited racing preparation of early rally cars made an easy job for Ixo to reproduce the winner of the 1961 Monte Carlo – on that year, the light and nimble PL17 shared the three steps on the podium with no one. My rating is 14/20.