A little history
Bentley's very first model had been the 3-litre, but in 1926 two new cars, even more ambitious, followed. They were the 4½-litre, which promised high performance, and the huge 6½-litre, which put Bentley in the same league as Rolls-Royce, no less. Both raced, and made Bentley the company to beat during the Twenties, should it be at Brooklands or at Le Mans. This brought a performance-oriented variant to each of them: for the 6½-litre, it was called the Speed Six and appeared in 1928, while the 4½-litre saw a Supercharged version (the famous Bentley "Blower") introduced during the following year.
Racing also created the legend of the Bentley Boys, a group of young and rich gentlemen-drivers who were so dedicated to the brand that when it felt in dire straits, they all dipped into their personal fortunes in order to save it. But ultimately even the most deeply involved of the Bentley Boys, Woolf Barnato, didn't succeed in avoiding Bentley's bankruptcy despite the huge amounts he poured into its coffers. In 1931, Bentley was sold to Rolls-Royce, and for almost seventy years thereafter lost most of its autonomy and retired from racing.
About the models
Model:

Bentley Speed Six Sportsman Coupé, body by Gurney Nutting
Year:
1930
Maker:
Ixo
Scale:
1/43
Distributed by:
Altaya as no.8 of its
Voitures Classiques
press series
Acquired:
brand new, in August 2006, in Souillac, France
Often erroneously called the "Blue Train Special", this spectacular one-off automobile has been wonderfully reproduced by Ixo. Praises should be given to Altaya to have proposed the great series of pre-war classics of which this model is a part. My rating is 15/20.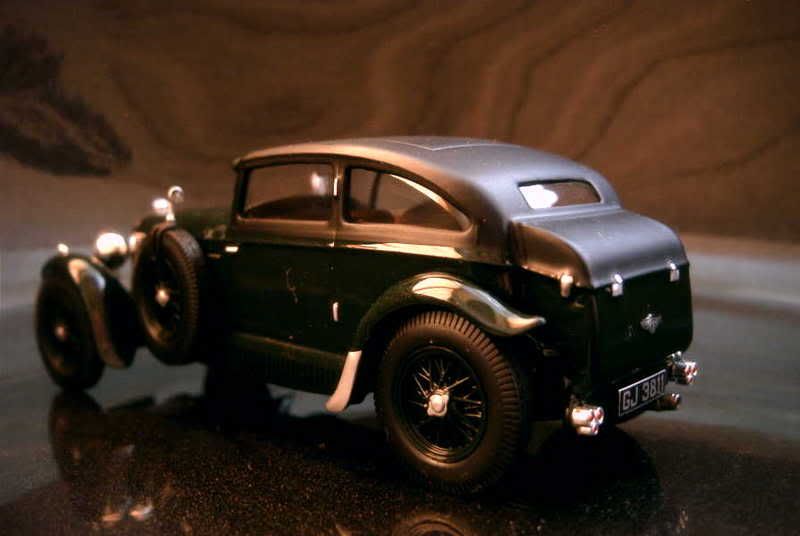 Model:
Bentley Speed Six
"
Old Number 1
"
Year:
1930
Event:
1930 Le Mans 24 Hours, driven by Woolf Barnato and Glen Kidston (overall winner)
Maker:
Ixo
Scale:
1/43
Distributed by:
Altaya as no.31 of its
Les Plus Belles Voitures des 24 Heures du Mans
press series
Acquired:
brand new, in December 2004, in Souillac, France
In 1930, Bentley closed a series of four straight wins at Le Mans with this car, while another Speed Six finished second ahead of two Talbots – a British triumph! Ixo's model is good enough, though it's unclear what the Chinese brand wanted to do regarding the car's headlights. Correct enough though to be awarded a 12/20.