A little history
The Peugeot 405 was introduced in July 1987 for the 1988 model year. An upper-middle range saloon, it used the platform and the engines of the
Citroën BX
, but adopted the much tamer appearance the more traditional patrons of Peugeot enjoy. Classic elegance is indeed a Peugeot trademark, and the 405, as most cars proposed by the Sochaux manufacturer before and after it, was designed by Pininfarina. Though an estate version was proposed for model year 1989, the envisioned coupe never materialized in other form than the Paris-Dakar racing version. A Pininfarina coupe based on the mid-size Peugeot had therefore to wait until the 406 was released.
Though the 405 was an instant hit both with the public and the press, the latter awarding it the European Car of the Year prize for 1988, the Paris-Dakar race did a lot to boost the sales even further. Taking over from the 205, a 405 Turbo 16 won the difficult race in both 1989 and 1990, before PSA's standard in rally-raid racing was grasped by Citroën.
The sign of success, the 405 seldom evolved over the years. Most important than any other, a new turbocharged, four-wheel-drive T16 version topped the range starting with model year 1993. With 200 hp, the T16 could reach 235 kph and accelerate from 0-60 in 6.5 seconds – not bad for what was basically a family car.
In October 1995, the Peugeot 406 was unveiled, and the production of the 405 saloons was immediately suspended. In pure Peugeot fashion, a 406 estate appeared only later, so the 405 estates carried on until 1997. Two and a half millions 405 had been built, but was that really all? Many factories around the world, but outside of Europe, were still building 405s. Most have stopped since then, but the car, now more than twenty years old, is still presently built in Iran, a country which has selected it as its new national car, succeeding the ubiquitous but outdated Paykan.
About the models
Model:

Peugeot 405 Turbo 16
Year:
1989
Event:
1989 Paris-Dakar Rally, driven by Ari Vatanen, navigator Bruno Berglund (overall winners)
Maker:
Norev
Scale:
1/43
Distributed by:
M6 as no.5 of its
La Légende du Paris-Dakar
press series
Acquired:
second hand with stand and box, in November 2007, through mail from a fellow collector from Saint Doulchard, France
Simply looking at this fine model guarantees me many souvenirs from the great hours of the Paris-Dakar - enough to grant it a 14/20 rating!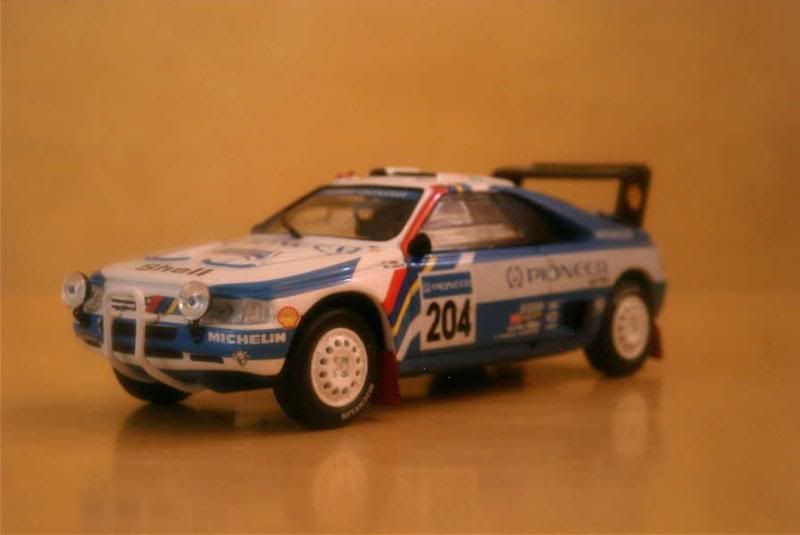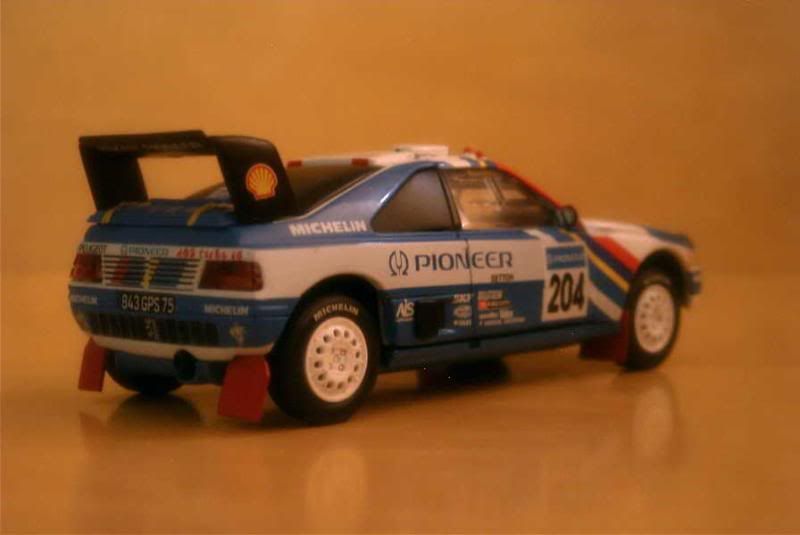 Model:
Peugeot 405 T16
Year:
1993
Maker:
Norev
Scale:
1/43
Distributed by:
Hachette as no.60 of its
Collection Peugeot
press series
Acquired:
brand new, in December 2008, in Souillac, France
A nice model that could have been even nicer if not for poor workmanship - the plague of the models Norev reserve for press series... I'd give 12/20.