A little history
Hino was already a truck specialist when it launched its first car in 1953. Though several models then produced in Japan were indigenous, more successful were British cars built under licence. Hino made a different choice, opting to build the
Renault 4CV
. Despite a few modifications, the most noticeable being the tougher bumpers and the "grille" arrangement, the Hino PA was roughly similar to the French car. The practicality of its four doors when all of its competitors had only two, along with the high standards of quality achieved by Hino soon made the PA one of the most common passenger cars in Japan. It also became quite popular as a taxi.
The Hino PA's discontinuation was synchronized with the Renault 4CV's retirement, which happened during 1961, although the popularity of its taxi version brought Hino to further produce a small series of PAs during the mid-Sixties.
The PA's retirement didn't put an end to the collaboration between Hino and Renault. Having learned a lot from the PA, Hino decided to keep its layout, with rear engine driving rear wheels, for its new Contessa 900. It was followed in 1964 by an elegant Contessa 1300 penned by Michelotti. This car was often compared with the Renault 8, and thanks to the French constructor's help became the very first Japanese car to be regularly imported in France.
The days of Hino as an automobile manufacturer were numbered, though. In 1967, Toyota took over the company and immediately suspended the production of its passenger cars in order to concentrate on commercial vehicles. It is as such a producer that Hino is still known to this day.
About the models
Though the Hino PA is rather forgotten outside of its native Japan, the ease of modifying 4CVs models allowed several manufacturers to reproduce it.
Model:
Hino PA58
Year:
1954
Maker:
Norev
Scale:
1/43
Distributed by:
Hachette as no.111 of its
Voitures Françaises de Collection
press series
Acquired:
brand new, in December 2006, in Souillac, France
Norev made a minimum of efforts to produce this Hino. The new grille is simply stamped onto the front end, and the steering wheel is on the left as with the original Renault 4CV - fortunately the whole passenger compartment is made in black plastic, making this annoying detail hardly visible. My rating is 10/20.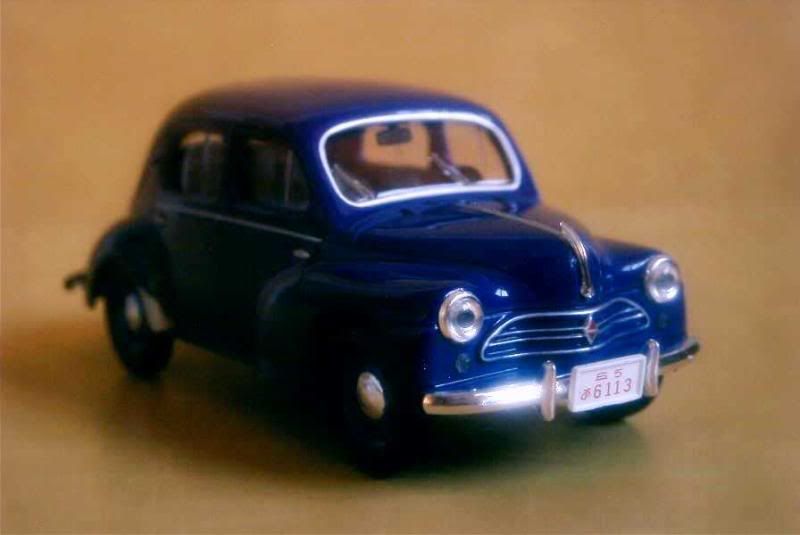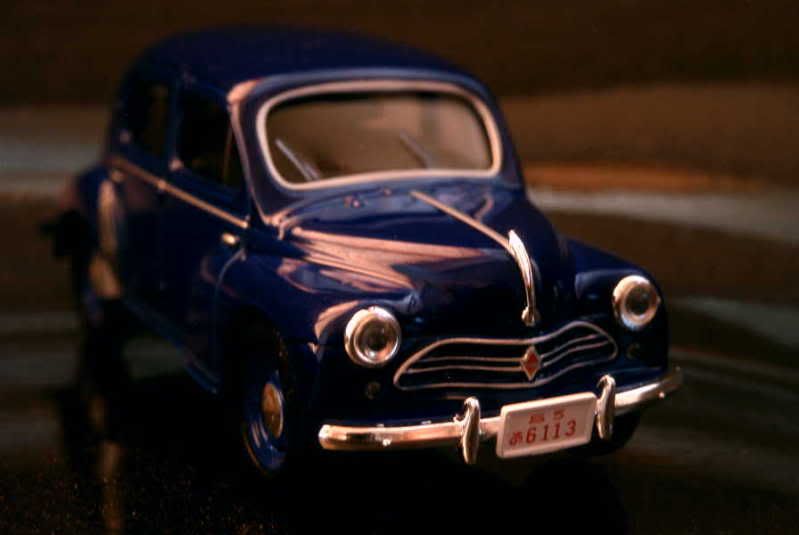 Model:

Hino PA62
Year:
1966
Maker:
Ixo
Scale:
1/43
Distributed by:
Altaya as no.51 of its
Taxis du Monde
press series
Acquired:
brand new, in March 2004, in Souillac, France
Ixo followed the same recipe as Norev to make a Hino in Tōkyō taxi guise out of its Renault 4CV. Again the steering wheel remains on the wrong side, and unfortunately is much more noticeable. More efforts have been made to reproduce the front grille, here made of a separate plastic part, but anyway I find that Ixo's mould is inferior to Norev's one - note that Ixo even skipped the high-recognizable 4CV's door handles, mounted flush into the doors. Therefore, I'm again far from impressed and give a 9/20 rating to this die-cast.