A little history
Extreme dirigisme in post-war France had the government decide that the now state-owned company Renault would limit itself to the production of popular cars. Apart from the tiny
4CV
, the only cars produced at the Billancourt factory were rather utilitarian: the panel vans and two-door estates based on the defunct
Juvaquatre
, and the Colorale series, a large and upright estate that can be considered as an early crossover. These rules nonetheless soon became more lax, and Renault planned to launch a new car in the 2-litre class, then occupied by the sole Citroën Traction Avant. Originally, the car was to be an outgrown 4CV, that is, a bulbous four-door saloon with a rear engine. Ugly sketches and concerns about the weight balance brought Renault engineers to revert to a traditional layout, front engine driving rear wheels, fitted with a body reminiscent of Chevrolets and Plymouths of the era.
The design of the Frégate, as was its name, was progressing well when a new conflict erupted in faraway Korea. News reached Renault that the French authorities would forbid any new car to be introduced after January 1st, 1951 in an attempt to curb the industry's appetite for raw materials. The Frégate was hastily introduced at the Paris motor show in October 1950 in order to circumvent this pending rule. In retrospect, this proved a fateful decision. The new model had been insufficiently tested, and the very first cars to be delivered suffered from so many flaws that production had to be halted until November 1951 in order to correct a few of these problems. Unfortunately the Frégate immediately gained a poor reputation, from which it never fully recovered. Worse: nothing changed on New Year's day, 1951, so the Frégate's premature launch proved totally useless…
The main complaint of early Frégate owners regarded the poor performance of the car. The Frégate had received the 2-litre four of the Colorale and, with only 56 bhp to put in motion such a heavy vehicle, sluggishness couldn't be avoided. This was still acceptable from the truck-like Colorale, not from the top-of-the-range automobile the Frégate pretended to be. Designing a new engine would require several years though, so the car's repute was harmed even further.
The Frégate was also involved in a crucial yet tragic event in Renault's history. On February 11, 1955 Renault's dynamic CEO Pierre Lefaucheux lost control of his Frégate while driving on an icy road and was killed in the accident. Renault lost the man to whom has to be credited both the 4CV and the incoming
Dauphine
. Ironically, one of the only reasons to praise the Frégate was its road handling…
Finally, Renault was able to improve its Frégate in 1956. A new
Etendard
("Standard") engine, a 2.1-litre four rated at 77 bhp, allowed decent performance. Two new models were added in a revised range: the luxurious Grand Pavois, laden with chrome and receiving a two-tone paint job, and the Domaine estate. During the following year, a Transfluide version proposed a semi-automatic transmission, a rare offer among European cars of the time. If Renault seemed bustling then, it wasn't without a reason: the launch of the new DS by archrival Citroën had hit the sales of the Frégate hard. Attempting to counter the near-perfect "goddess" proved futile in the end. The Frégate's sales sagged until the car was retired without a successor in 1960. With the exception of the ephemeral Rambler, a rebadged AMC shortly produced during the Sixties, Renault deserted the upper section of the automotive market for the next fifteen years, until the R20/30 range was unveiled.
About the models
Model: Renault Frégate

Year:
1954
Maker:
Ixo
Scale:
1/43
Distributed by:
Altaya as no.26 of its
Nos Chères Voitures d'Antan
press series
Acquired:
brand new, in February 2005, in Souillac, France
A little plain perhaps… well, the original car is anyway. My rating is 12/20.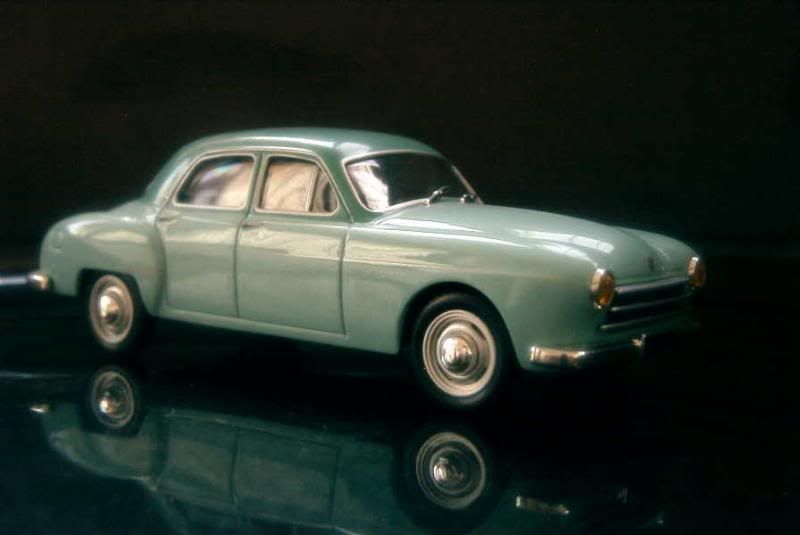 Model:
Renault Frégate Manoir

Year:
c.1958
Maker:
Eligor
Scale:
1/43
Distributed by:
Atlas as no.24 of its
Les petits utilitaires des années 50-60
series
Acquired:
second hand with neither stand nor box, in October 2007, in Brive, France
A nice model, though many details look a little too much "plastic-like" to my taste, and overall presentation is simpler than Ixo's version. I'd give 11/20.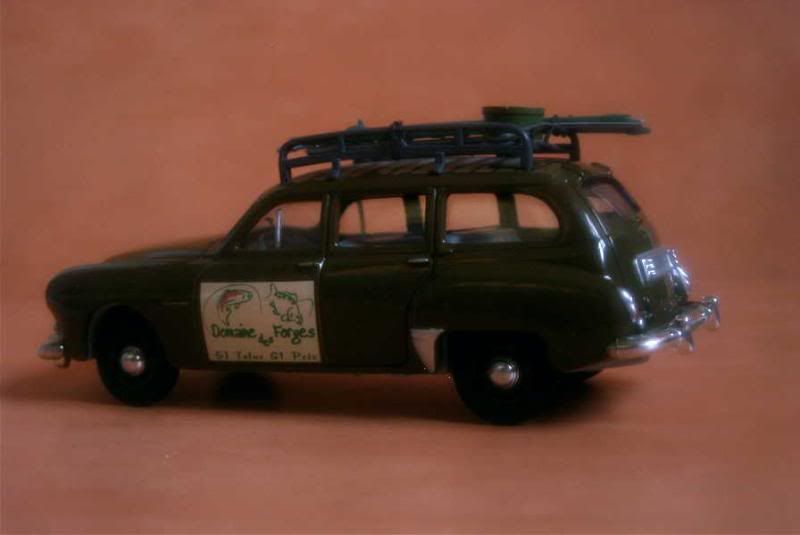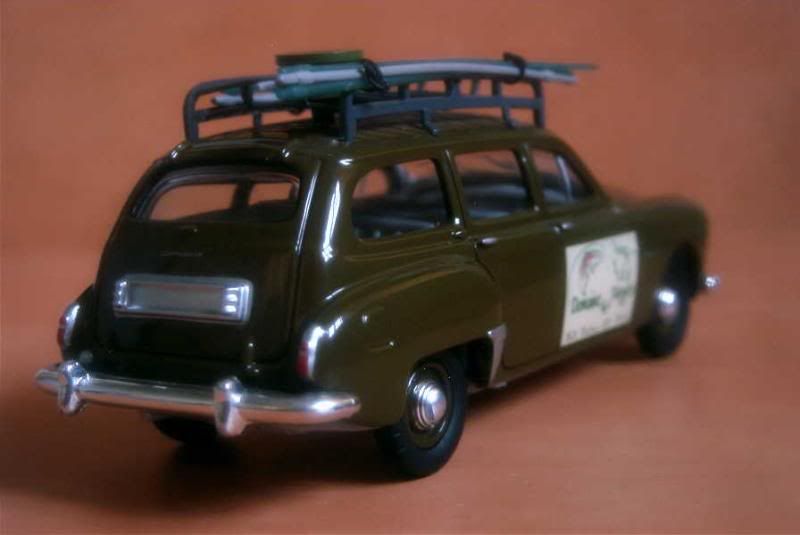 Model:

Renault Frégate
Year:
1959
Maker:
Norev
Scale:
1/43
Distributed by:
M6 as no.7 of its
Renault Collection
press series
Acquired:
second hand with neither stand nor box, in July 2006, in Brive, France
Pleasant, though I noticed when I first got this model that it seems to incorporate details from cars built during different model years. That's often a problem with die-cast manufacturers basing their models on collectors' cars rather than original documentation. For this reason I'd limit my rating to 11/20.